November 2022 saw a tidal wave of advancement in artificial Intelligence (AI) with the record-setting debut of Open AI's Chat GPT-3. It reached the 1 million user mark in just five days compared to the ten months taken by Facebook to hit the same milestone back in 2004.
The scramble to get generative AI deployed in some form or the other within organizations is only getting wilder, and it hasn't spared traditional newsrooms either. The days of scouring through advertisement-filled Google search results to get in-depth research for news stories may just be drawing to a close. Let's examine how this transition could pan out for the newsroom.
From Fear to Cautious Optimism
In a similar vein to the mass strike of Hollywood writers and actors, after the initial concerns among the journalistic community about AI taking away their jobs, cautious optimism is gaining momentum. Mastery over generative AI (GenAI) is now becoming an essential skill in the newsroom to enable journalists to leverage the incredible opportunities it brings.
Nine months after the Chat GPT-3 launch, newsrooms globally have already started deploying GenAI tools in some form or the other. According to industry estimates, currently, the biggest use cases of GenAI in newsrooms are text summarization, research simplification, and text correction. Other applications like audience behavior modeling, organization-specific LLMs, unreal engine-based AI news anchors, and video promo creation are also gaining traction, simplifying the editorial process and enabling journalists to focus on storytelling.
AI's Impact on the Topline and the Role of Niche Content
Let's take a step back and examine the business models of mass media news outlets. For example, consider the Old Grey Lady, recognized as the undisputed leader in successful global subscription-based news models. The content is not niche. It is very much mass media consisting of politics, business, sports, entertainment, games, and more. Niche content is largely absent because not only is it costlier to produce, but there are also fewer audiences. Conversely, niche content tends to attract a higher premium regarding subscription rates. So how does GenAI fit in here?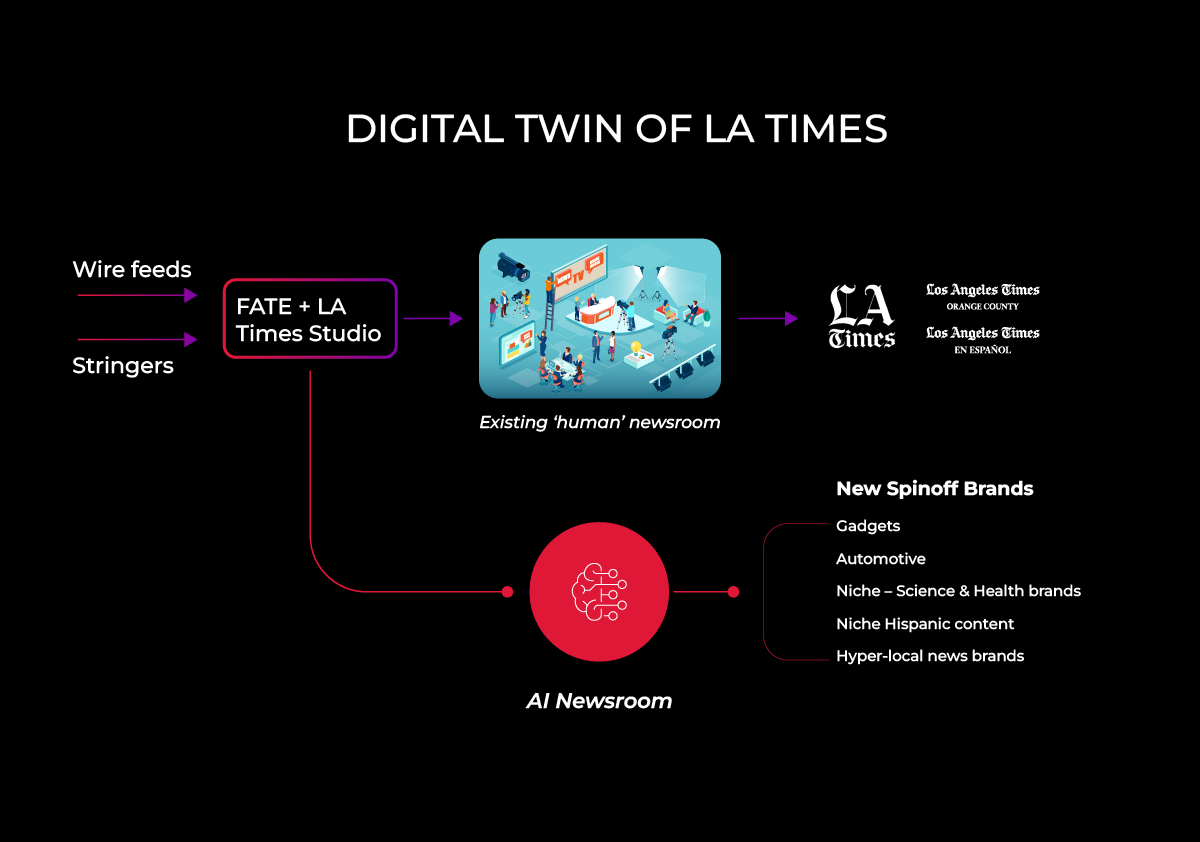 Imagine a parallel AI-driven newsroom solely focused on creating niche content, operating at minimal cost, and running alongside the existing 'human' newsroom. With the parent newsroom's core news gathering and media management infrastructure being utilized, the possibility of publishing abundant niche content at scale could become economically viable. Examples of niche content could be uber luxury content around say yachts or private jets, art, sports for e.g Lacrosse, or health and wellness focused only on specific diseases like cancer. With autonomous agents (AA), AI's next tidal wave, this can soon be a reality.
Autonomous Agents: AI's Possibly Next Advancement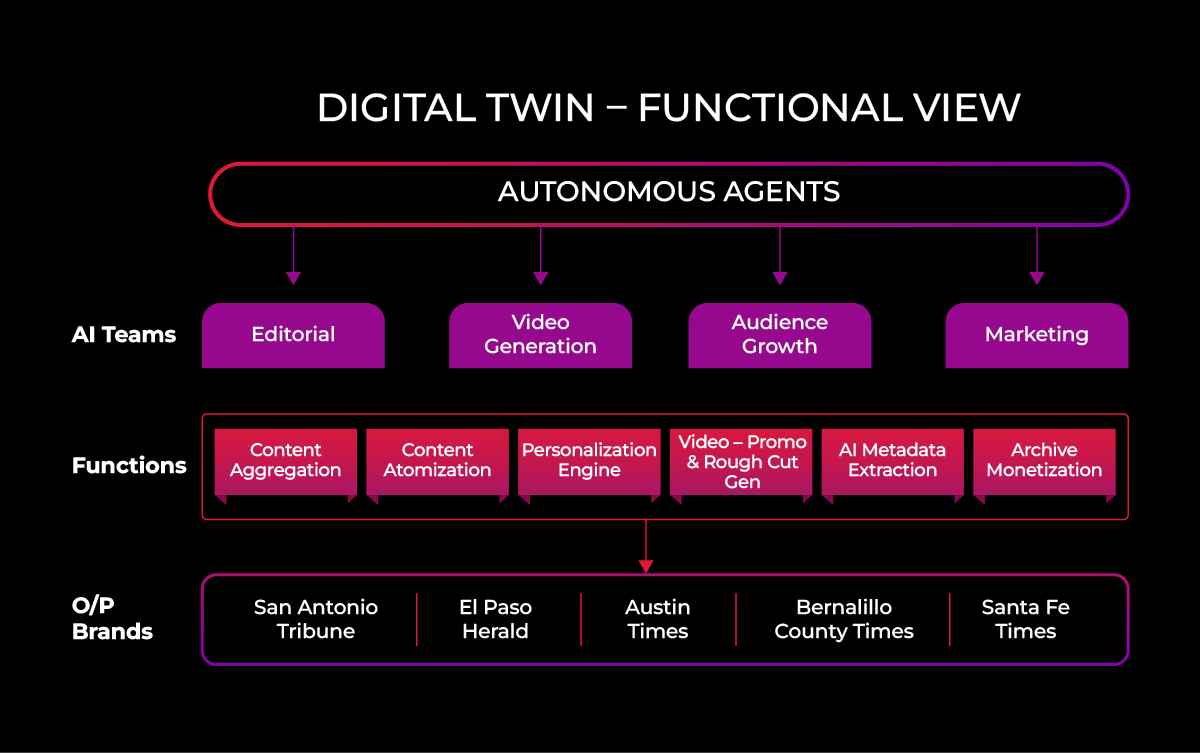 Autonomous agents are large language models (LLM) backed programs to which you can specify a goal, for example, "create a two-minute sports highlight video of last night's Soccer game and publish it on Threads." There is no need for complicated prompts and manual iterating upon the result. AAs create their own tasks, prioritise them, conduct online research if needed, execute, and iterate upon them till the specified goal is achieved. All without any human intervention. Recent AAs, such as those from AutoGPT and BabyAGI, are pushing the boundaries of what's possible.
In a newsroom, AAs could handle various tasks, including aggregating incoming content, atomizing it into individual components, extracting metadata, generating fresh video or images, as well as discovering and inserting relevant material from archives to enrich the story. Ultimately, they would also take charge of publishing the story to a content management system (CMS) or social media platforms.
An Opportunity for Growth
AI brings incredible opportunities to a newsroom and, if harnessed responsibly can deliver impressive topline growth. Even without niche content, newspapers can utilize AI to generate personalized e-paper editions tailored to each reader's preferences, all with minimal cost increases. As AI adoption accelerates, we can expect a surge of niche content and new AI-powered business models. But in the AI powered gold rush, lest we forget, content is and always be the king.
About the Author
Jay Chauhan,
Group Practice Head
Jay is an award winning broadcast media executive. He heads the digital video services portfolio at TechM. Previously, Jay was the COO of a leading digital news business, founded a digital healthcare startup as well as a music festival. Jay has twice received the Commonwealth Broadcasters award for innovative engineering.