Posted by: Manoj Vidwans On May 12, 2020
What the future holds for OTT players
The Covid-19 pandemic has forced many enterprises to embrace remote working, a practice that may cause a shift in working patterns, along with holding relevance in the post-COVID-19 world. With no access to theatres, malls, and other sources of entertainment, people at home have resorted to Pay-TV and OTT (Over-The-Top) platforms for their daily dose of entertainment. People are looking for different ways to keep themselves entertained during the lockdown, and the big spike in online-search for 'Movies to watch during coronavirus' adds more weightage to the claim.
Streaming video platforms such as Netflix, Prime Video, HULU, Disney+, HBO+, Quibi, and others have the right mix of programs that keep people entertained while they observe self-quarantine. With no original content creation, these platforms are also adding library content to beef up the offerings. Along with original content spanning different genres, languages, etc., many OTT service providers offer the power of television through exclusive tie-ups with broadcasting networks. Like AltBalaji with Zee5, Hotstar with Star India, MX Player with Arré and Hoichoi, and Hulu with ABC and NBC.
As per a report, video streaming grew by 20 percent across the globe, a meteoric rise by 26 percent in the USA alone. The consumption patterns have significantly changed, along with a shift in primetime to 10 am - 5 pm, where there has been a 40 percent increase in streaming.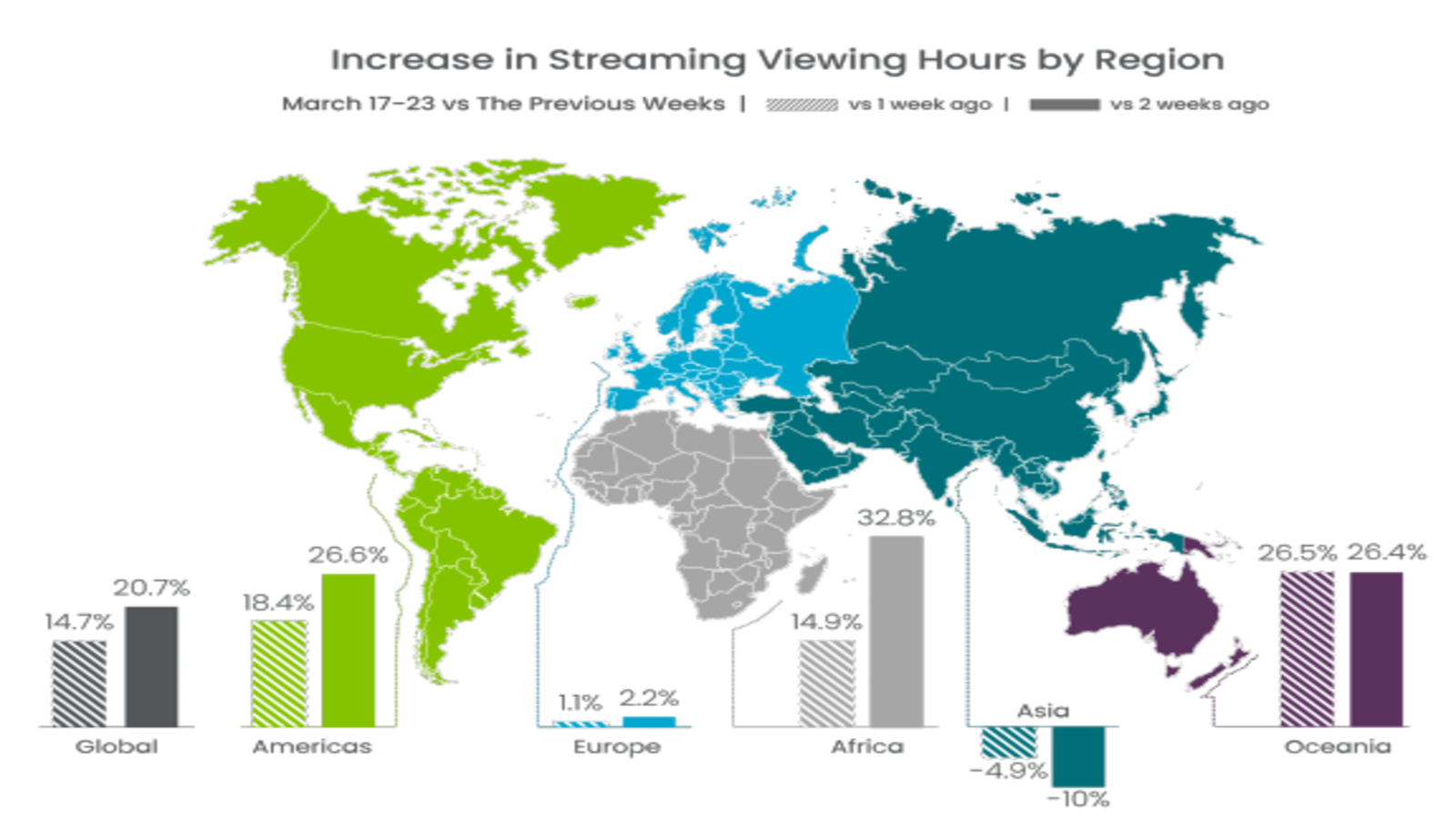 Figure 1 Source
This can be termed as the golden era of content on the back of OTT platforms, as more than 50 percent prefer watching more streaming video services during the outbreak. OTT and Pay-TV video services will have to best position themselves for maximizing the value of transactional, subscription, and advertising revenue.
Sports content is often the biggest contributor to the per-channel revenue for all Pay-TV services. The disruption of sports broadcasting due to Covid-19 has led to significant erosion of revenue for operators and Pay-TV providers. With an increasing number of OTT platforms, users have more viewing options at their disposal. This might result in growing video consumption but not necessarily result in increasing ARPU from subscriptions as platforms compete to reduce churn rate & increase stickiness on their platforms. The total Pay-TV revenue is expected to shrink by 3.4 percent in 2020 despite strong gains for SVoD (subscription video on demand) and TVoD (Transactional Video on Demand).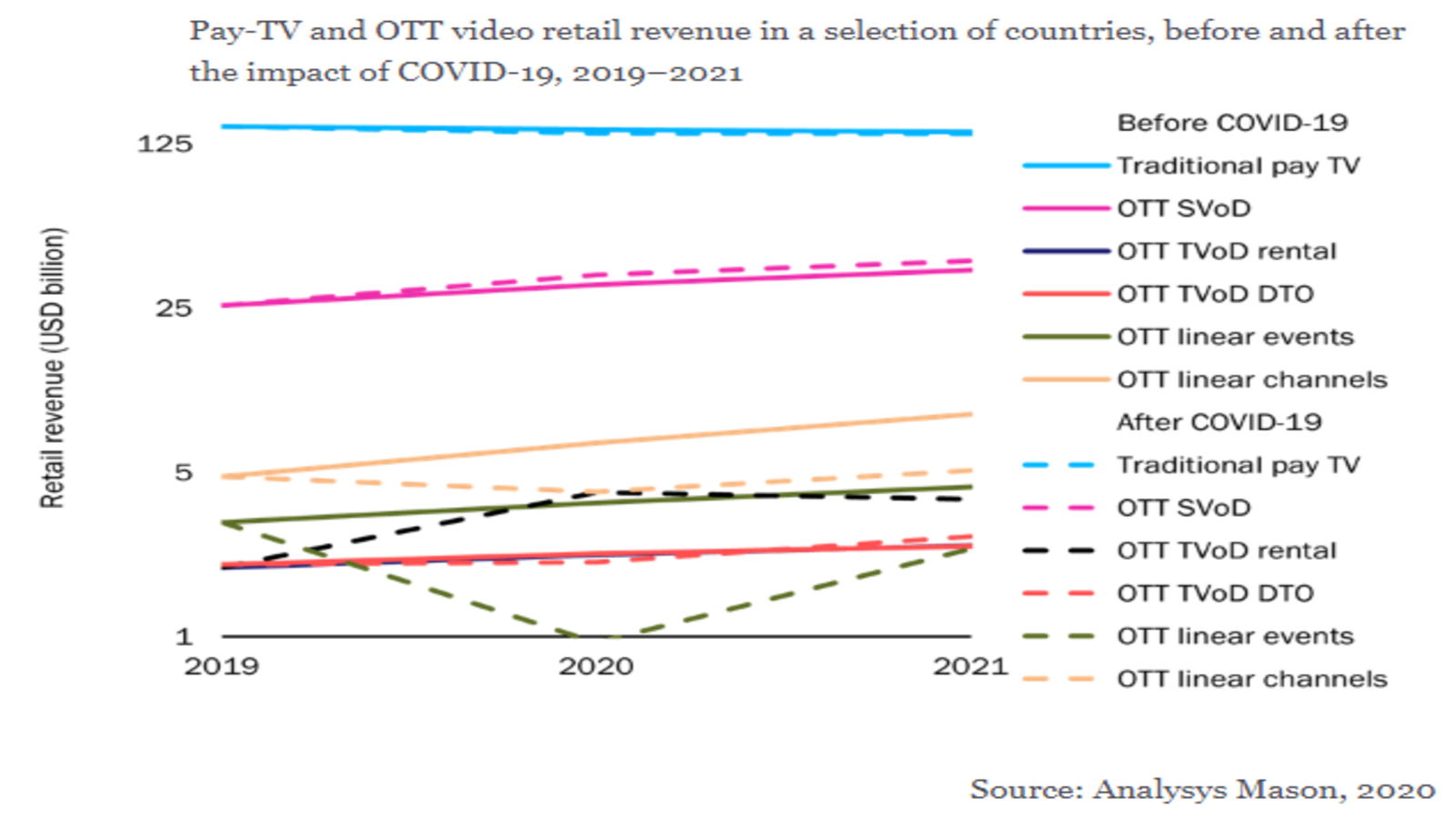 Figure 2 Source
Myriad platforms with deep pockets are creating a spate of 'originals' including high-end cast, crew, and production values. These platforms can amortize content produced in one country in different markets by localizing the content as per the market. Subscription VoD services owned by large D2C (Direct-to-Consumer) companies are also grabbing a piece of the ever-expanding OTT market through acquisitions.
Apart from solving the customer acquisition problem in the newer markets, this also helps them increase their content catalog. OTT platforms owned by traditional broadcast networks can offer a multi-tier pricing, along with access to dozens of TV channels at a fraction (or free) of cost!
Though linear TV viewership is up by 6-7 percent, OTT video is up by 38 percent during the pandemic period. Many broadcasters and large production houses with immense production experience, knowledge about consumer preferences, and understanding of content are venturing from linear TV services to digital media services. Content is the king for OTT platforms, and quality content entails high production costs that have to be recovered through subscription and/ or advertising revenues. Beyond programming costs, companies also need a significant chunk on user acquisition, user retention, along with marketing the individual shows.
The OTT industry is witnessing an unprecedented growth on the sidelines of home confinement due to Covid-19. However, the scenario may change once the home confinement ends, as it may result in the deceleration of paid subscriptions. The game will be about gaining eyeballs and keeping the users hooked on to the platform. In the long run, OTT platforms need to think beyond views and build sustainable strategies that drive growth & monetization.
Newly launched SVoD services are not only experimenting with the programming format but also offering attractive proposition to the creators & studios (e.g., owning the IP), which are not offered by other competing platforms. Along with focusing on producing diverse quality content, smaller subscription-based streaming platforms also need to focus on customer acquisition, appropriate monetization plans, improving service reliability, and strategies for customer retention.
While OTT platforms with deep pockets and rich content library may thrive amid the growing competition, the road is rocky for smaller OTT players. However, this is the right time to convert viewers into subscribers and understand viewing patterns as the captive at-home audience is looking for entertainment options to kill boredom during the lockdown.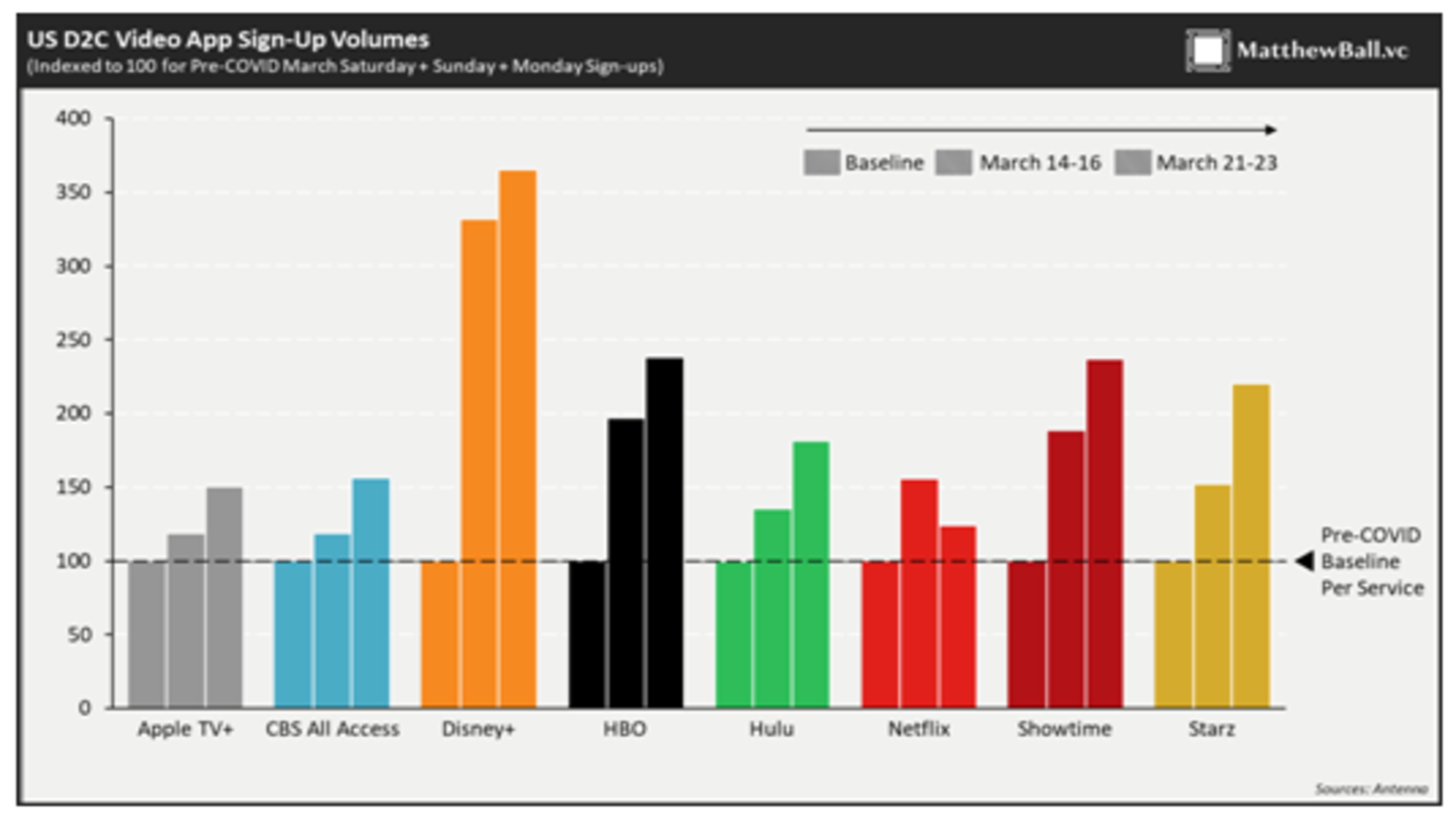 Figure 3 Source
Though Covid-19 is driving a record number of free-trials, improved LTV (Lifetime Values), reduced CAC (Customer Acquisition Costs), etc. for most OTT platforms, it is critical to understand that things might take a major turn once people have access to other options of entertainment. This is where analytics would play a major role in understanding user behavior, improving viewer experience for building higher LTV, converting viewers to paid-subscribers, and devising long-term strategies for increasing DAU (Daily Active Users), and MAU (Monthly Active Users).
The vast creation of visual media has resulted in a 'content bubble' that can be loosely compared to the dot-com bubble, and the platforms with adequate funding & content differentiation will win when the streaming bubble busts. With growing competition, over-the-top distribution platforms with limited premium offerings/ unviable business models/limited budgets may bite the dust or focus on limited markets.
Along with a focus on delivering quality content, OTT players need to be future-ready for the 5G wave. Low-latency and high-throughput offered by 5G will give rise to new formats - infinite endings, infinite Ad creatives, and dynamic Ad insertions. Both large and small video-streaming platforms need to focus on building a robust infrastructure to deliver quality service to their customers and offload technology costs, wherever necessary for improving reliability and reducing overhead costs.
Recessions force hard choices, and OTT platforms have to build fool-proof strategies that account for the post-COVID-19 scenario else Covid-19 could become the proverbial pin that bursts the bubble!
About The Author
Manoj Vidwans
Manoj is Tech Mahindra's global lead - Media and Entertainment. He is a strategist who specialises in business planning, digital monetisation, P&L management, OTT and media transformation. He has over 23 years' experience across television broadcasting, advertising and OTT video businesses.