Posted by: Sai Hogirala On July 08, 2020.
5G - Future in Logistics and Supply-Chain Industry
The trucking industry loses approximately USD 2.5 billion each year as 'revenue leakage'. In-depth visibility in the supply chain is one of the prime factors that add up to this lost revenue-making opportunity. Industry 4.0 enabling technologies such as AI, ML, IoT, and 5G aid in driving efficiency through SKU level tracking, integrated view into operations, 360˚ view of end-to-end inventory tracking, and more.
Improved coverage in indoor environments with 5G's high-frequency band & far-flung coverage in densely populated areas with lower-frequency bands provides organizations with improved visibility at every stage of the supply chain.
We, at Tech Mahindra (TechM), did a deep-dive into the Industry Trends shaping the logistics & supply-chain industry. 5G is the essential driver of change as it holds the potential to transform the sector in a big way.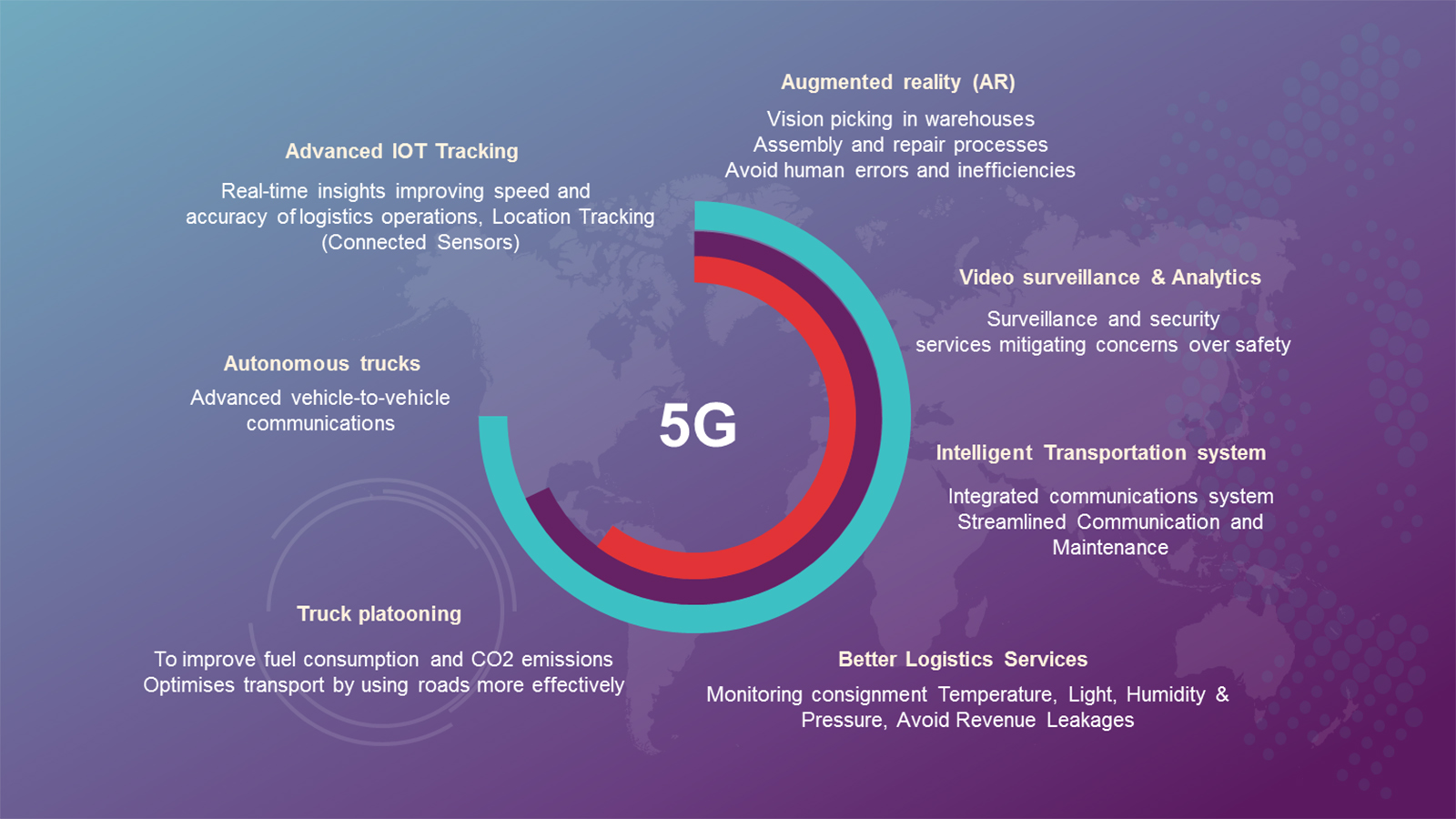 The amalgamation of AI, ML, Cloud and 5G has the capability to optimize and enhance warehousing & fleet operations.
With 5G, cargo owners, freight solution buyers, and other industry players will be able to minimize (and steadily eliminate) the factors that earlier contributed to revenue leakage. Tech Mahindra, through its 5G4E (5G for Enterprise) unit, has been providing a range of services to enterprises for establishing private wireless networks that span areas of operation & enable a plethora of IoT use cases.
Here are some of the key areas where 5G can create a substantial change in the supply chain industry:
Spot-on location-tracking and route-optimization
For fleet providers, vehicle tracking is one of the biggest concerns, especially in 'dead zones' where location tracking does not work. With 5G's improved network connectivity, fleet owners can realize 'enhanced vehicle location tracking and situation-rich, context-rich road condition analysis' using high-resolution GIS mapping & GPS features for precise tracking of the on-road vehicle.
A series of cameras, radars, and LIDAR sensors attached to the vehicle provide situational awareness that will be useful in analysing the surroundings. The driver can opt for receiving timely alerts about road conditions thereby averting mishaps in the transit.
The collective information will be useful in avoiding delays, along with enabling route optimization, which is considered a critical part of modern logistics.
Virtual Mechanic and Predictive Maintenance
Poor maintenance of fleet vehicles increases the risk of a malfunction. 5G networks can help in improving the driving efficiency through real-time vehicle condition monitoring based on the vehicle diagnostics data. This data will be crucial for monitoring/adjusting the vehicle and improving the vehicle's efficiency by sending timely alerts on potential maintenance (or repair conditions).
Predictive maintenance using 5G will become a common practice as the vehicle's performance is monitored over time. Mishaps can be averted as breakdowns can be anticipated in advance.
AR assisted vehicle repair and maintenance will be useful in providing additional support on and off the road. Using AR for specific fault codes, the mechanic will have a clearer picture of the parts that require repair. Anomalies that can be resolved by the driver (or vehicle owner); the network edge can push AR-enabled DIY resolutions.
Efficient Asset Performance Management & Tracking
The primary reason for revenue leakage is the lack of visibility in the supply chain. With weak network connectivity, real-time tracking of fleet vehicles, containers, etc. becomes a challenge. Connectivity and bandwidth offered by 5G networks remove this hurdle as tracking up to the SKU level is possible. Hence, the fleet owners get complete visibility of the fleet vehicle, along with the consignment that is inside the vehicle.
Warehouse owners can reap significant benefits using 5G through real-time monitoring of asset performance parameters. Data from IoT sensors for assets such as forklifts, cargo transporting vehicles, buildings, etc. can be analysed at the Edge for realizing predictive maintenance.
5G opens up new doors for remotely monitoring and managing workers. Remote video surveillance solutions fuelled by 5G can help with automatic face detection and time recording for workers, ANPR (Automatic Number Plate Identification) at entry/exit, and timely detection of any intrusion attempt.
Worker location tracking using geo-fencing & indoor navigation helps in tracking of worker activities, along with ensuring worker safety. Workforce safety within a warehouse can be significantly enhanced with 5G.
Key KPIs positively impacted with 5G
Benefits offered by 5G can positively influence KPIs (Key Performance Indicators) for industry players across the logistics and supply chain sector. Shown below are some of the key business KPIs that be realized with 5G: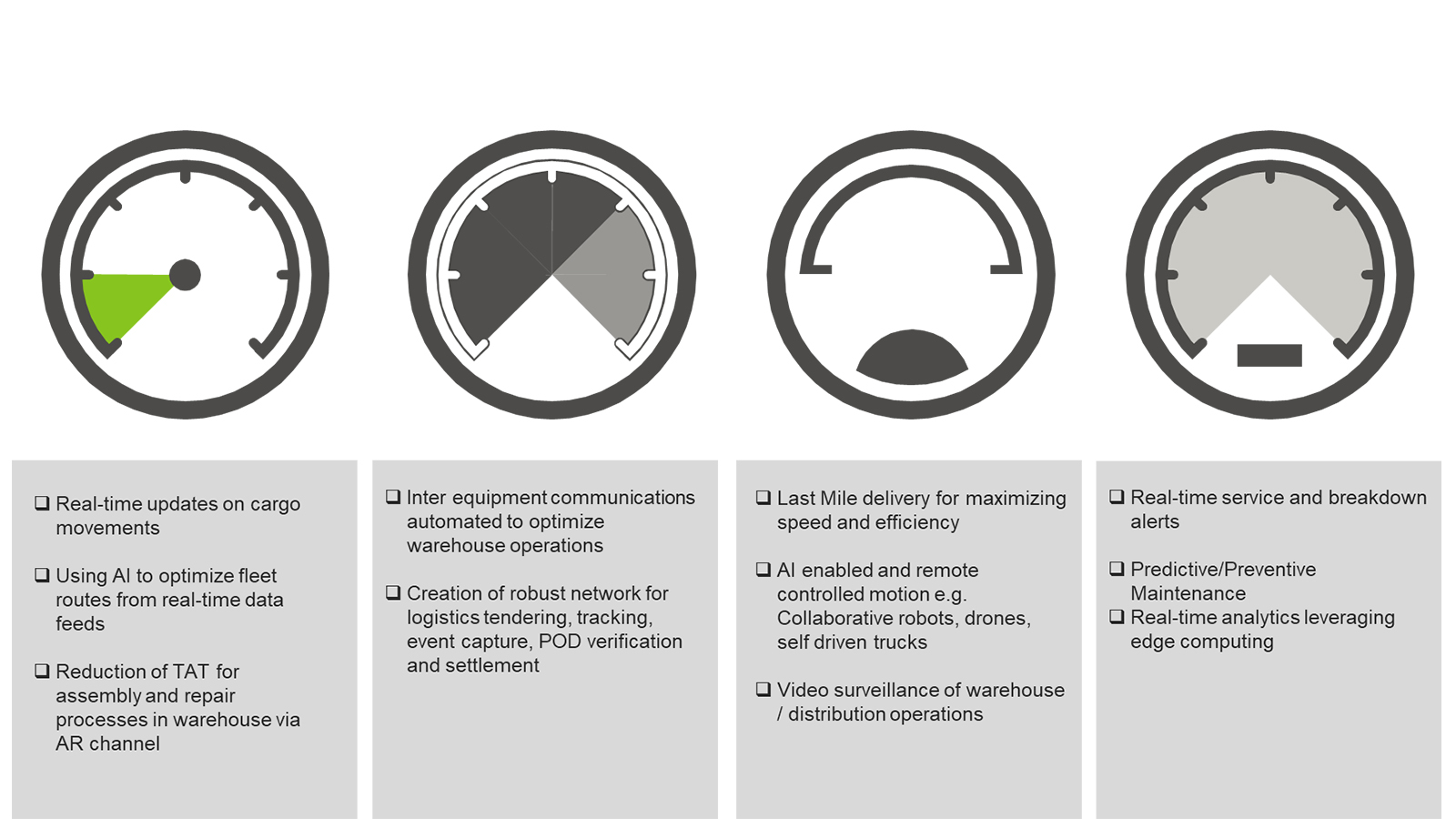 Through 5G, organizations in the logistics and supply-chain industry can drive efficiency, minimize losses, and provide safer work environments to their crew!
know more
About The Author
Sai Hogirala - Domain Consultant with TTL&H practice at Tech Mahindra
Sai comes with in-depth business knowledge of Supply Chain, Transportation & Logistics domains. He has total 15+ years of experience in Warehouse Management, Transportation and Freight Forwarding spanning across 3PL & Contract logistics.