Posted by: Deepak Aggarwal and Balakrishnan K
5G - Unlocking Enterprise OT Data and Monetization
Approximately 14.5 million Industrial establishments hold a billion assets worth $4.5 Trillion. These include 10.7 million factories, 3.3 million warehouses, 500K Oil and Gas fields, 50K transport organization and ports, 10K military bases, 54K mines, and 263K hospitals and labs (source: Harbour Research, IDC).
IT side of the digitalization has been ongoing over the past decade. Enterprises have leveraged the cloud to move a significant part of their IT assets to the cloud. The OT side of digitalization has started over the past few years, but most enterprise initiatives are in Pilot phases. Hardly 5-10% of asset data is referenced today.
Technological innovations like AR/VR, Robots, Cobots, AGVs, 4K/8K Video & analytics, massive IoT, Digital Twins, and the need to inference and monetize data from assets drive the OT digitalization initiatives driving OPEX optimization, Improving Customer Experience and Revenue Augmentation. This digitalization leads to a data Tsunami with an expected 250 Mn connected cares, 50 Mn remotely monitored patients, 20% annual increase of container traffic at port etc.
This data explosion and the need to inference the data generated by the assets necessitate an infrastructure that can support it. Higher bandwidth and reliability, ultra-low latency, denser connectivity, and mobility drive the need for an intelligent network with 5G and Multi-access Edge computing within an enterprise. They offer benefits such as low latency, ultra-high data rate and reliability, network slicing, and ability to handle a high density of connected devices.
Monetizing this latent data enabled through a 5G network can provide enterprises with several benefits: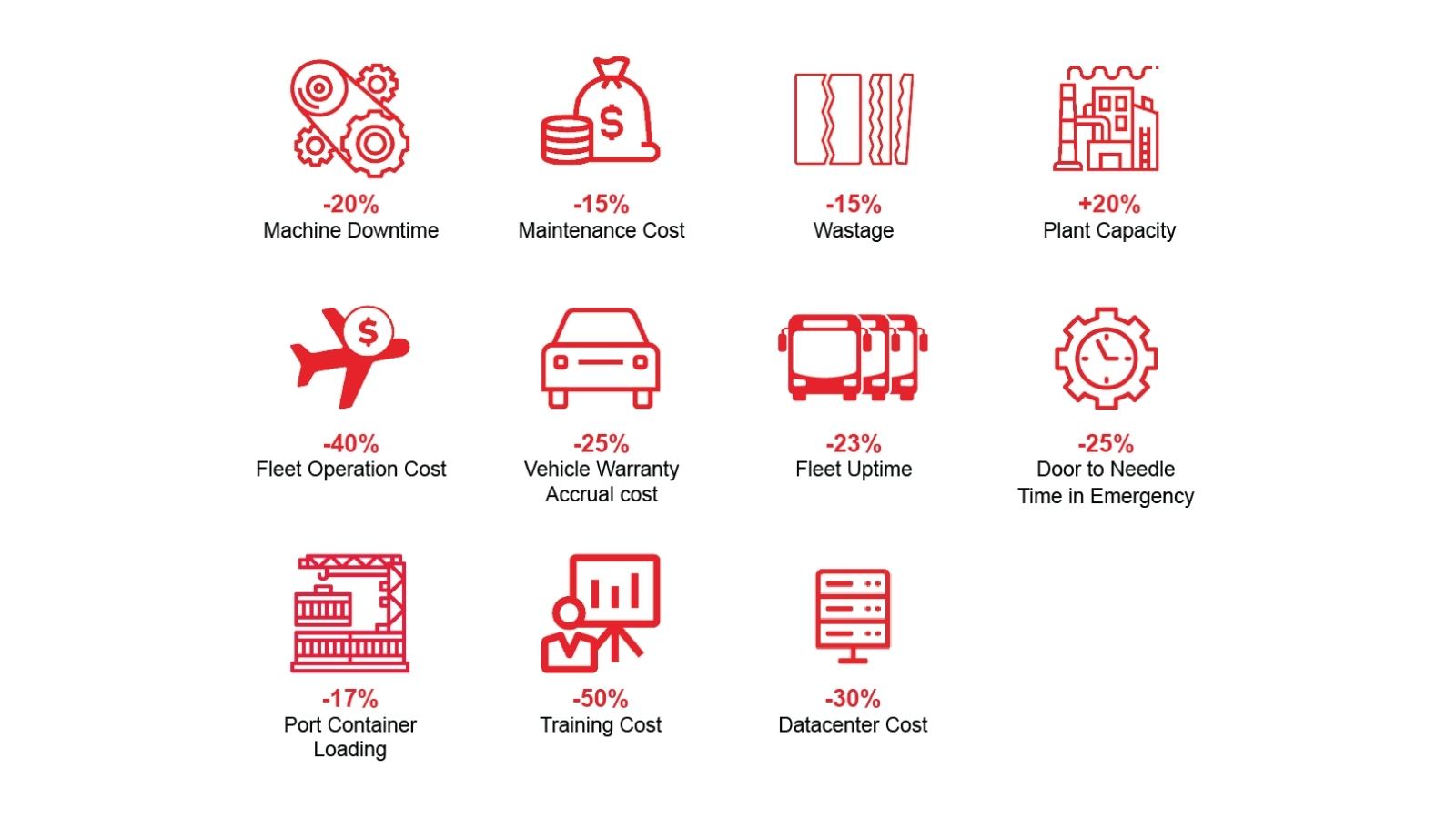 With our decades long expertise working with operators and enterprise networks alike, Tech Mahindra is in a unique position to be the partner of choice to drive digital enterprise initiatives. We have launched "Catamaran" - a strategic initiative to drive 5G and Edge adoption into enterprises with this very objective.
We bring together an End-to-End Suite of Pre-Integrated, Production Ready, Secure, end-to-end OT centric Enterprise solution suite. It enables digitization at scale based on flexible business models – right from turnkey offering to the complete End to End Solution as a Service. Our offering integrates 20+ partner solutions in combination with our IPs.
Tech Mahindra's 5G for Enterprise offering includes:
A Secure private wireless network, multi-access edge compute, and inter-connected premises and cloud over SD-WAN
Digital solution stack comprising of devices, platforms, applications, technology stacks
Bringing together digital solutions and the network together as a Solution Integrator
As 5G is in on the cusp of disrupting the very way we live, Tech Mahindra is hosting the 5G NXt of Everything Conclave on 27 and 28th January 2021. Keynote speeches, Panel Discussions along with solutions by CSPs and tech service providers that will promote collaboration between major players in the 5G space. Do join us to #UnlockTheNXtNow!
Author's Bio:
Deepak Aggarwal, SVP, Corporate Strategy and Growth, Tech Mahindra
Deepak is a versatile techno Business professional with entrepreneur orientation having close to three decades of experience in R&D. Currently; he is overseeing Tech Mahindra's '5G for Enterprise' initiative with E2E digital solutions, relevant to 5G, Edge and OT in Manufacturing, Healthcare, Energy & Utilities, Transport & logistics and Media & Entertainment.
Balakrishnan K, VP, Business Development, Tech Mahindra
Bala is a techno business professional with around 2+ decades of experience. He is currently involved with driving Tech Mahindra's 5G for enterprise solution portfolio and strategy across several industry verticals. Bala works closely with Tech Mahindra's enterprise customers in driving their enterprise OT strategy enabled over 5G and Edge.