Aftersales revenue leakages could be taking away about 150 to 200 basis points of aftersales profitability. These leakages are significant as aftersales service are a major revenue earner and high margin contributor for automotive manufacturers. Furthermore, the nature of aftersales business is such that it comprises several opportunities for revenue leakages.
Majority of the causes of aftersales revenue leakages are related to the underlying IT systems. To eliminate these revenue leakages arising from system issues, we recommend a multi-step approach encompassing collection of data related to revenue leakages, analysis of entire aftersales service order to cash cycle process hierarchy, mapping of applications to processes, development of analytics solutions and dashboards and using insights from these dashboards to initiate corrective actions.
Susceptibility of Aftersales Service Business to Revenue Leakages
Revenue from aftersales are susceptible to leakages due to multiple reasons:
Large complex business processes, for example parts management process involve multiple business activities related to order management, warehouse and inventory management, logistics and transportation, invoicing and collections management. This high complexity results in errors and multiple process and system failure points that can cause revenue leakages.
Intricate system landscape involving exchange of data externally with dealers and internally with enterprise resource planning (ERP), product lifecycle management (PLM), contract management and claims management systems resulting in fragility and chances for revenue leakages due to system issues.
Product and services variety (extended warranties, service contracts, roadside assistance contracts) and several order types such as daily, weekly, monthly, quarterly, emergency, and automated minimum stock replenishment orders, further adds to complexity and system failure points.
Ongoing or recurring customer and dealer transactions, for e.g., automated daily ordering of parts, yearly auto-renewal of service contracts, daily / weekly / monthly automated invoicing. Failure to execute any of these recurring transactions or processes can result in revenue leakages.
Financial Impact and Key Reasons for Aftersales Revenue Leakages for Manufacturers
According to our internal research, the revenue from aftersales for US light vehicle market for 2025 is estimated to be $ 230 -250 billion. In addition, Aftersales revenue is likely to provide high margins and good business growth for the next 10 - 15 years. The impact of revenue leakages on automotive aftersales profitability could be as high as 150 to 200 basis points. The combined effect of all these factors is that aftersales revenue leakages have a significant financial impact on the automotive manufacturer.
The key reasons for these revenue leakages are data issues, failure to execute transactions, system failures, misalignment between policies, masters, and system, etc. In other words, majority of these reasons can be directly or indirectly attributed to the underlying IT systems.
Tech Mahindra's Approach to Eliminating Aftersales Revenue Leakages
Given the high financial impact of revenue leakages on Aftersales profitability and that majority of these leakages are due to underlying IT systems, we recommend the following steps, to reduce revenue leakages:
Collect data about past revenue loss events due to system failures, identify areas with high system failure areas contributing to revenue leakages and quantify the loss.
Consider the entire aftersales order to cash process for various product types and order types
Analyze Aftersales processes at L1, L2 and L3 level of hierarchy. Map applications to processes.
Develop analytics solutions and dashboards that provides visibility, alerts and insights regarding system failures that result in revenue leakages at all levels of this business process hierarchy.
Use these insights and data visibility to initiate corrective actions, such as correction of masters and system enhancements to prevent recurrences of these system failures or to eliminate them.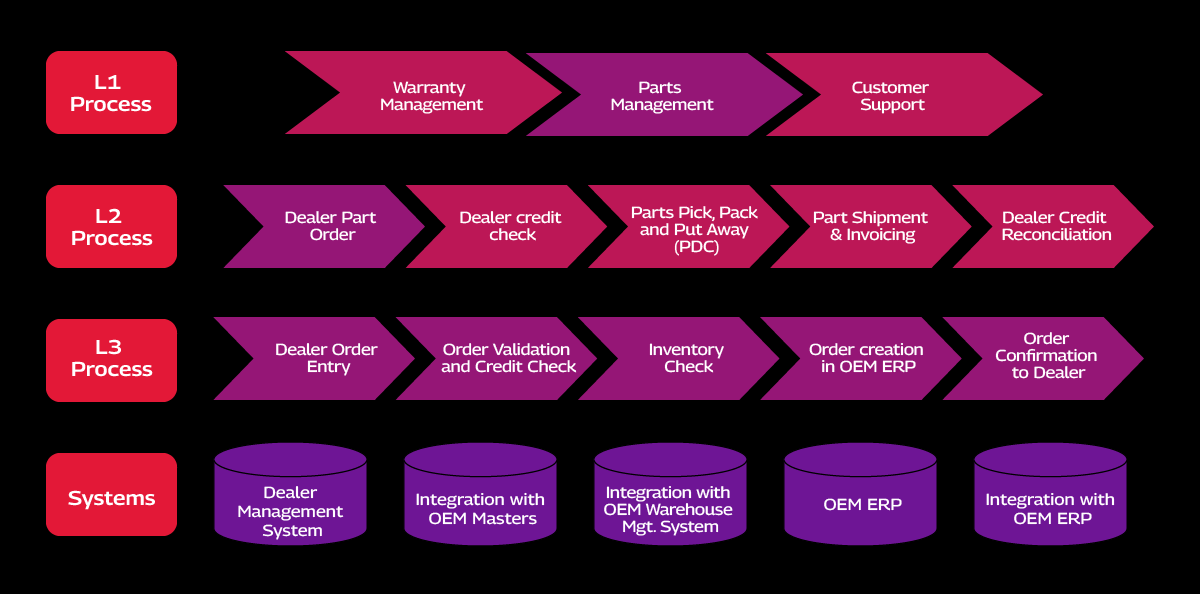 Our approach for reducing aftersales revenue leakages
Addressing Aftersales Revenue Leakages: A Call to Action for the Automotive Industry
There is a significant financial impact of Aftersales revenue leakages on the automotive manufacturer and that the aftersales service business is at a high risk of these leakages. However, it is observed that majority of these revenue leakages can be directly or indirectly attributed to the underlying IT systems.
To address the challenge of aftersales revenue leakages, we recommend a step-by-step approach, that comprises collecting data about past revenue leakages, analyzing Aftersales business processes and mapping them to underlying IT applications and developing Analytics Solutions and Dashboards. Once the automotive manufacturer has such an analytics solution, he can use the insights and data visibility generated from this solution, to initiate corrective actions to reduce these revenue leakages.
About the Author:
Namendra M. Belhe,
Principal Solution Architect, Tech Mahindra
Namendra has over 19 years of experience in Automotive Industry and Business and Technology Consulting. He holds bachelor's degree in Engineering and Post Graduate Program in Management from S. P. Jain Institute of Management, Mumbai.