Posted by: Kalyan Kuppuswamy On December 4, 2019.
Bi Governance – A Myth or A Reality?
Customers across industries have understood the power of data. Businesses are cognizant of data being the NEW OIL. Well, one way it is true… however, OIL in its literal sense will deplete itself, at some point in future, upon continued exploitation of natural non-renewable resources. However, beauty with data being that "the more we consume", the better for businesses towards the instituting DATA DRIVEN ENTERPRISE.
Data is being captured across all fronts, in the genre of structured-unstructured-semi structured-IoT categories, as if there is no tomorrow. While the madness makes sense from business standpoint, organizations are inevitably getting into compulsive actions to build custom business applications to tap the hidden intelligence spread across as treasure-trove in data. In this melee, customers are caught in the quagmire of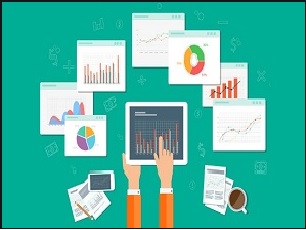 keeping track of "business applications inventory",
identifying right data to process – along with the tussle of deciphering its qualitative characteristics.
This is where governance comes into play. Governance does not restrict itself only with data governance – which primarily controls and oversees data quality, standardization apart from guaranteeing single version of truth. In reality, it is also an embodiment of BI GOVERNANCE.
While business data governance should be the central theme for any enterprise, governing BI apparatus (viz. BI GOVERNANCE) is also equally important. This dominion gets into the zone of applications' execution/behavioral analysis, BI on BI to sort of POLICE the outputs of business applications' harvest on data in various manifestations (i.e. reports/dashboards and other analytical/statistical/cognitive work products). As the industry increasingly getting analytically and cognitively savvy, facilitation of their asset bases (Viz: analytical dashboards, statistical models and AI/ML/DL algorithms) shared across "enterprise intranet" is very important to eliminate duplicate engineering efforts. Naturally, such efforts have a huge –ve effect on discretionary spend, with a consequence of hurting time to market. Thus, bringing about enterprise wide discipline, on the above theme, benefits organizations to fathom user adoption, sense permeation of usage of data insights, be aware of unused business outputs/assets and decipher demography of BI consumption (among business community).
For instance, keeping an eye on unused information delivery assets can help organizations to cut down change management costs significantly by avoiding of ripple effect of a change on them - be it a data ingestion workflow or a report/dashboard or analytical models or learning algorithms etc. In the process, it also helps to comprehend consumption of business technology work products. Quintessentially, those comprehensions pave way to take a hard look on software product licenses in use and trim down unused quantities to save money.
In a highly savvy self-serve business environment, by means of cognitive capabilities, occurrences of redundant "reports/dashboards" establishments can be sensed in real-time to halt/control proliferation of "information delivery silos". This spectacle is an integral and significant fabric of BI governance. "Information delivery silos" are one of the major culprits contributing to "lack of trust" on data – thus, propounding manual reconciliations, rework etc. This must be avoided at any cost.
Cloud is already unleashing its dominance across business verticals. In this paradigm shift, BI GOVERNANCE is more pronounced as resources on cloud are commoditized to a point where every business unit will need to bear the cost of cloud assets to the tune of its consumption. It could be related to either hardware/software or business technology assets or combination of both, depending on "technology orchestrations" on cloud.
It is worthy to note that effective BI governance can not only bring the intangibles of efficiency and operational efficiency, but also help enterprises realize cost savings. A billion $ business can potentially save 0.5 to 1.5% of topline with a robust BI governance, overhauling on DATA/ANALYTICS apparatus.
With the governance market size reaching $3.5B+ by 2023, BI GOVERNANCE is all set to take center stage with its closest cousin data governance.
About The Author – Kalyan Kuppuswamy
With over 20 years of industry experience, Kalyan Kuppuswamy is a seasoned Data analytics professional. A hardcore/tech savvy specialist, Kalyan has held a variety of technical and business roles across delivery, presales and consulting - spanning across verticals like Telecom, Hi-Tech, Semi-conductor, Insurance, Banking and MFG.
Kalyan, currently heads the IPs/Solutions/Platforms for Tech Mahindra's Data and Analytics competency in pursuit of his endeavor to build "thought provoking" differentiators for Tech Mahindra.
Among many other specialties of Kalyan is his ability to pen stimulating technical blogs-white papers (in Data/Analytics Space), on emerging technology trends and "business theme drifts". He holds an MS degree in Software Engineering, from Fairfield University-USA.