Vaccine roll-out is a key component for large scale immunization drives, especially amidst a pandemic. For the roll-out to be streamlined, a transparent supply chain attributed with end-to-end traceability is necessary. The underlying technology that facilitates the transparent supply chain is blockchain. It provides stakeholders with an explicit view of the vaccines in the supply chain, and helps them predict and prevent failures.
To discuss how we can smoothly propel a global immunization drive, an event was organized which saw an engaging conversation between Dr. Raveesha R Mugali, an expert in health system and immunization and Mr. Rajesh Dhuddu, a blockchain and cybersecurity leader. The discussion revolved around the common challenges faced during immunization roll-outs and how to sew a sustainable supply chain.
Here are some excerpts from the conversation.
What are the common challenges that a country faces in the roll-out of immunization programs?
The common challenges include the supply of approved vaccines all over the globe, the authorities must ensure that the supply chain penetration is at its maximum to serve people in the remotest of locations. The pandemonium of the pandemic would require quick proactive actions from the vaccine manufacturers, in such a scenario quality assurance becomes a key challenge during manufacturing and supplying.
To prevent contamination of vaccines, it is also important to set-up a cold chain logistics along with an efficient storage system capable of storing massive inventories. These setups are essential in curtailing vaccine wastage in the supply chain. In third world countries like India, availability of skilled healthcare professional is a challenge. These frontline workers are the most important facets of the immunization roll-out program, not only will they cure the infected but will also play a very important role in minimizing vaccine wastage at point of care.
What are the overall factors account to successful delivery of vaccines and immunization of people?
A wholesome planning at all levels is required, right from social mobilization plan which influences people to get vaccinated to the expansion of cold chain and dry storage to a robust vaccine transportation system. The transit network is an important element here, authorities must ensure regular maintenance and repair of vehicles.
Successful delivery of vaccines requires end-to-end transparency of the supply chain which will make pin-pointed traceability possible. This transparency will be facilitated by blockchain, the hash value of original vaccine created in the blockchain will allow the sought-after transparency and the proof of its consumption will make reuse and counterfeit difficult. The idea here is to be able to track vaccines at a vial level.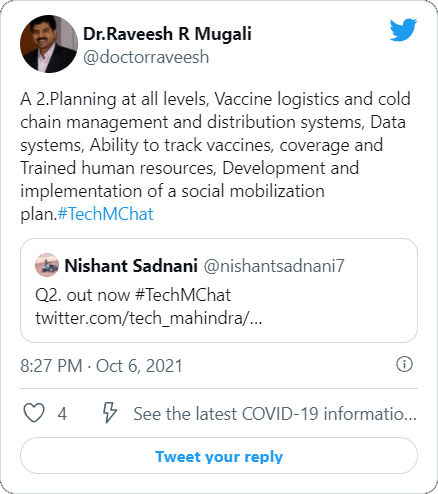 How can transparency and visibility in vaccine supply chain help in saving lives?
Immunization can save millions of lives by fighting life threatening diseases. Each vial of vaccine safely delivered can be used to immunize more than one person. Studies show wastage of vials and entry of counterfeit vaccines occurs in a disconnected supply chain.
Ministry of Health and Vaccine Manufacturers can proactively monitor for adverse events and improve recall management. Distributors can enhance response to supply chain disruptions thereby improving inventory management and safety monitoring while stopping counterfeit vaccines from entering. The same blockchain can be used downstream and upstream to track provenance of raw materials and finished products.
How is Tech Mahindra making an impact in the vaccine distribution scenario?
Tech Mahindra is enabling supply chain participants with a single application that encompasses all the aspects of supply chain in a single platform to enhance traceability and chain of custody through vaccine ledger. This ensures safety of vaccine supply, and adherence to complex regulatory requirements.
A blockchain-based traceability solution for global vaccine supply chain transparency, to predict and prevent failures in supply chains, including problems related to expired vaccines, stock out and counterfeiting.
What are the other steps towards sustainability to be taken by public and private organizations?
Positive communications around vaccine safety must be propagated to encourage people getting vaccinated, we must take giant leaps to build a collaborative platform which can nurture healthcare innovations. Governments must see that immunization programs are executed on a priority basis both at public and private levels.
There are a number of opportunities for emerging technology to re-cast conventional approaches to sustainable development and accelerate progress if deployed responsibly. There can be three areas where new age technologies can be a game changer for sustainability to prevail, it includes building resilient and transparent supply chains; creating stronger and more accountable institutions; spurring responsible sourcing and consumption by private organizations.
Block chain simplifies transparency in vaccine supply chain which gives partners an express perspective on the vaccines in the supply chain and assists them with anticipating and preventing disappointments.