Technology is evolving at an exponential pace and so are business standards across industries. These changes in business standard are often the major factors for data migration. Data, a front runner of modern business ecosystem, is being migrated from legacy systems to a cloud infrastructure. This is not just a recommendation anymore, but a need of the hour.
However, migrating from a system is a fairly complex task and can be a potentially risk affair. To discuss the various challenges of data migration and the ways to minimize the risks, a chat on twitter was organized which saw Ajay Singh - AVP, Field and Partner Engineering, Databricks, harmonize with Saurabh Jha, SVP and Global Head - Data Analytics, Tech Mahindra. Their discussion captured the various facets of data migration – from key customer challenges to the best practices of cloud data migration.
Here is how the overall chat unfolded.
Q1. What are some of the key customer challenges in data migration?
Most legacy systems are built over years and accumulate massive data, extract-transform-load (ETL) workloads, and business intelligence (BI) reports. These legacy systems are no longer adept to process the monumental amount of data generated by today's businesses. Broadly, successful migration of data objects to new age data platforms and automating the same is a major challenge.
Some of the key challenges include; selection of the right platform which is aligned with business needs, time to migrate and ensure that its impact on business is limited, maintaining data governance and security on cloud, defining the right architecture for performance and scalability.
Q2. How is the industry adapting to cloud data migration?
Cloud data has become a mainstream phenomenon, we are witnessing a large-scale adaptation of data lakehouse across all verticals. The rationale behind this adaptation can be the fact that organizations are very much invested in simplifying operations while maintaining higher levels of operational excellence and performance. Migration of data on cloud also gives them the liberty to scale at a faster rate.
Q3. What are some of the best practices that account to successful cloud data migration?
The future of technology, though uncertain, given its ever evolving nature. Architecting a future-proof, mature and stable data platform is a prerequisite to a successful cloud data migration. Implementing DataOps as a part of data modernization process; rationalization of data and its pipelines before migration to cloud; automation of data and data pipeline migrations and minimization of business disruption with failover plans are some of the best practices that accounts to successful data migration.
Q4. How is TechM making an impact in the cloud data migration scenario?
Tech Mahindra's cloud data migration accelerator #Sprinter provides end-to-end migration automation capabilities from any source to any destination. It reduces more than 40% in effort and cost data migration.
TechM IPs such as UDMF and InfoWise complement #Sprinter with a comprehensive data modernization on cloud strategy and its implementation.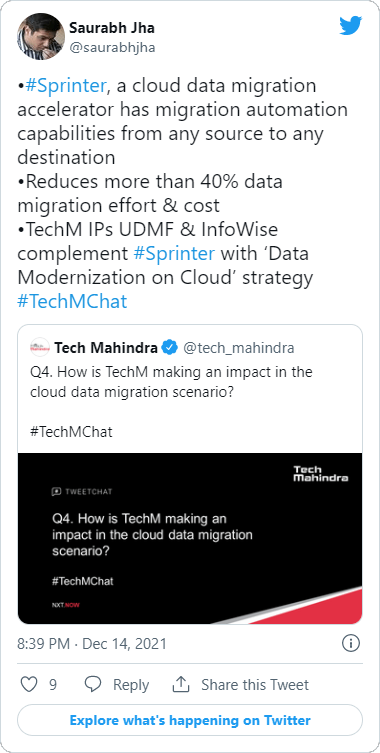 Q5. What are the key expected outcomes for customers through migration projects?
Automation is one of the key expected outcomes as organizations are looking towards reducing overall efforts and cost of migration. They are also looking for a future-proof enterprise architecture which will be secure and accurate and able to effectively support the data movement.
Putting together an effective change management system, fast-tracking migration life cycle, smooth training and transition, efficiencies in data consumption pipelines for both traditional BI or modern artificial intelligence (AI), comprehensive data visibility and accessibility, and standardized security postures are expected by customers through migration projects.
Q6. There is industry buzz about data lakehouse. Can you explain what is data lakehouse?
Data lakehouse is a new, open data management architecture that combines flexibility, cost-efficiency, and the scale of data lakes with data management and ACID transactions of data warehouses, enabling BI and machine learning (ML) on all data.