The process of underwriting for commercial lines is often complex, time-consuming, and is perhaps the most significant obstacle for any insurance organisation. Although underwriting teams are drowning in heavy workload of submissions, it makes business sense to respond to all of them as it unlocks the opportunity to quote more business and thus write more premium. Moreover, it helps maintain important distribution relationships.
However, most underwriters lack an organized approach to prioritize their submissions as they typically begin each day tackling their heavy backlog. Almost all underwriters adhere to a common standard— the earliest submission in, is the first one to be processed. Such an approach leads to several business bottlenecks:
The submission picked not being of the highest priority.
The submission is to be re-assigned to another underwriter.
Deep delays in processing high-priority submissions.
Loss of quality business to competition.
Typically, underwriting teams end up spending time with submissions that are out-of-appetite, resulting in delayed quotes, lost quality business, tired staff, and damaged reputations among distribution partners. Underwriters may spend as much as 40% of their time on manual tasks (such as gathering and entering data for submissions, renewals, and the like), representing a staggering $85 to $160 billion in efficiency loss over the next five years.
As intense price competition and product commoditization continues to choke insurers, best-in-class performers distancing themselves from their competitors by building advanced data and analytics underwriting capabilities that can deliver substantial value.
Digitizing underwriting has proven to be the biggest hurdle for insurers to leapfrog into the future. Insurers can expect new business premiums increase 10 to 15%, and retention in profitable segments jump 5 to 10% by improving their automating of submission prioritization and assignment, smoothening the underwriting process.
A Proposed Solution Overview
The need of the hour is a cognitive solution that effectively prioritises and assigns the submission to the right underwriter with no human intervention.
The solution is expected to:
Step 1: Analyse the incoming submission documents consisting of ACORD forms, loss runs reports, schedule of values, broker specification documents and emails.
Step 2: Set a priority score to the submission by a ML based predictive analytics which accurately predicts the priority output values as rush; high; medium (or) low.
Step 3: Automatically decline submission which have a poor risk appetite and priority score below the minimum threshold.
Step 4: Automatically assign the prioritised submission to the right underwriter based on configurable parameters like priority; type; Lob; limits; UW's workload and performance.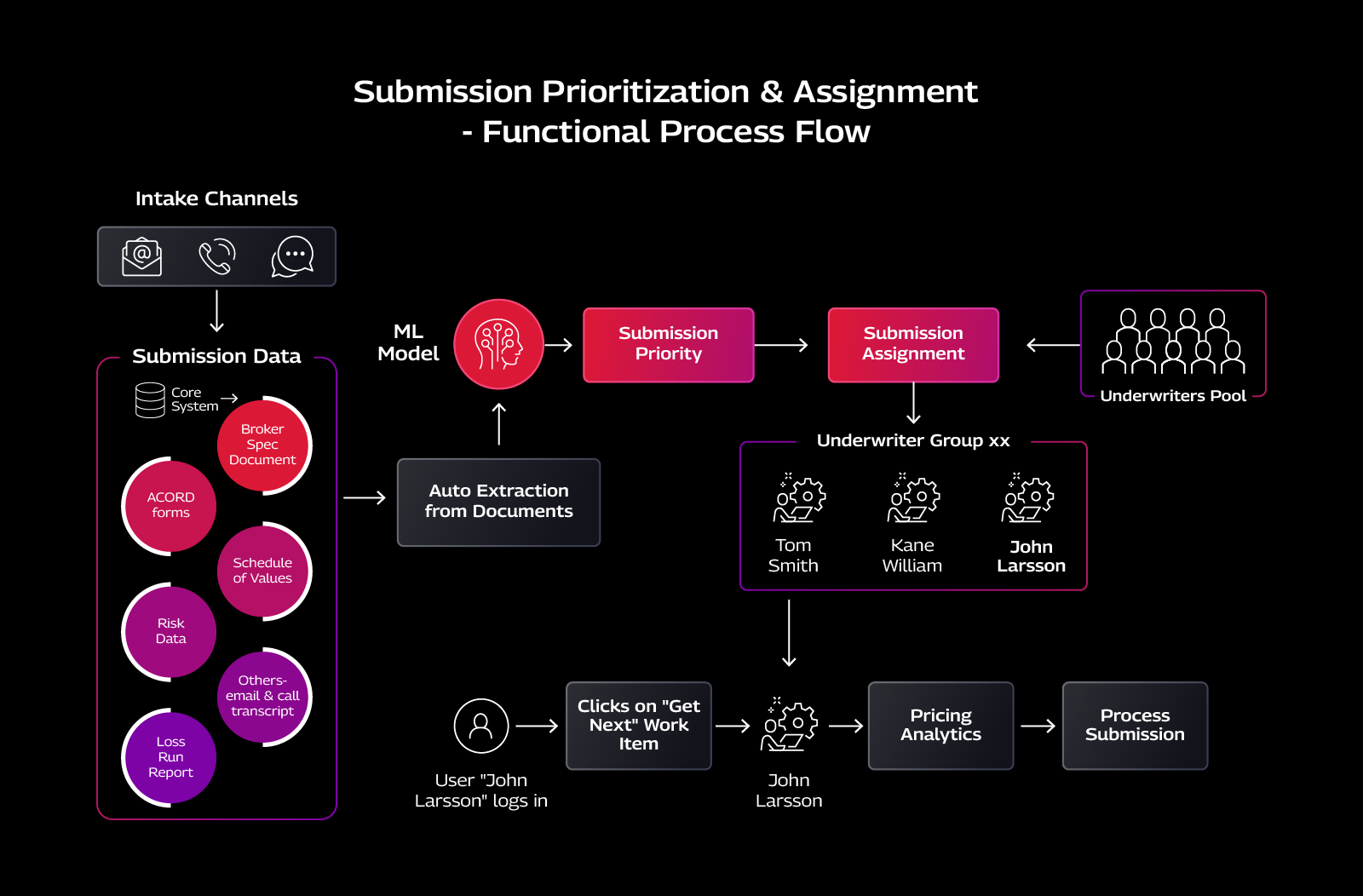 This transformed flow, ensures the right submission is picked up by the right underwriter at the right time, thereby enabling insurance carriers to incrementally improve their underwriting cycle times, bind ratios, and profitable growth metrics.
Our Recommendation for Setting the Submission Priority
Clearly define the different aspects of risk appetite:
It is important to first define and detail out the current risk appetite of the insurer, to pick such submissions with high appetite for processing first.
Decline submissions upfront:
Set submissions with poor risk appetite and submissions with priority score below threshold to decline automatically.
Align with underwriting team's requirements:
Ensure that the priority score considers all the parameters based on underwriter's experience including submission type, limits, risk appetite, risk characteristics, premium, loss ratio and annual revenues.
Sort and assign submissions based on risk tolerance:
Sort and assign the submissions to the designated underwriter based on the priority score along with other configurable parameters.
Potential Business Benefits
Having a priority submission rightly assigned to the underwriter will provide the following business benefits:
2x new business conversion.
50% increase in underwriting capacity.
Improved submission assignment accuracy from 65% to near 100%
Less than 24 hours' turnaround time for submission processing (reduction from 6-8 days)
Improved bind ratio with profitable book of business.
Automating underwriting processes could allow insurers to reap the benefits of $160Bn in efficiency gains by 2027.
The Tech Mahindra Edge
Tech Mahindra has developed an in-house unique automated submission prioritization and assignment accelerator with powerful, user-friendly functions for an underwriter to always work on rightly prioritized submissions. Using the insurer's risk appetite and needs, the accelerator can be customised to process our easily interpretable priority score for the underwriters to work on submissions that have the best chance of getting quoted, bound and being profitable.
To explore how can Tech Mahindra support your digitalization journey, reach out to our consultants –InsuranceCompetency@techmahindra.onmicrosoft.com
About the Author
Arun John,
Principal Consultant – Insurance at Tech Mahindra
Arun is an insurance subject matter expert representing the insurance competency team at Tech Mahindra. Arun brings with him 19 years of experience in the property and casualty (P&C) insurance domain, which includes product management, insurance operations, delivery management, pre-sales, and thought leadership. During his career in mainstream insurance and IT, he has worked on core policy administration systems, digital automation solutions and portals across multiple geographies.