Posted by: Ishan Appu On May 19, 2020.
Digital Platform for Operations and Production Optimization
Reimagining Production Operations of the future for the oil and gas industry through Digitalization
The demand for oil has plunged spectacularly and prices have plummeted sharply to 25$/bbl, a 50% decrease in a short period of time. Apart from the distressed demand accelerated by the pandemic, oversupply due to the price war between Russia and Saudi Arabia has also contributed to this oil collapse story.
Oil companies, especially in E&P (Exploration & Production) or upstream space, are impacted the most by this downturn, suffering a significant cut in their profits due to the oil prices heading south below the break-even costs. Businesses are under tremendous pressure to cut costs with reduced capital expenditures by lowering OPEX (Operating Expenses) of the existing production operations across the value chain and delaying final investment decisions for the project pipeline.
In the oil & gas industry, data is considered to be the core of production operations but deriving tangible benefits through a data-driven, proactive, and collaborated effort remains the biggest challenge.
The major problem with typical production operation is that different functions work in silos, leading to unplanned deferments, reduced operational efficiency, and unconnected workers across the production lifecycle. An integrated and well-packaged solution that encompasses the entire field development lifecycle is a need of the hour!
Digitalization (or use of digital solutions) in the oil & gas sector can improve efficiency, boost productivity, and increase agility. Tech Mahindra's Oil & Gas vertical has served more than 30+ oil & gas clients globally across upstream, midstream, downstream, and oil-field services. With a rich experience of working with the oil & gas industry, Tech Mahindra thrives to power the digital future of this domain.
How Tech Mahindra's Digital Solutions Can Help?
Solutions built on the digital platform provide innumerable benefits through end-to-end optimization across the production value chain:
Operations Optimization: The real-time transfer of operational data from data control systems helps in early problem detection and resolution in immediate timescale, thereby resulting in operations optimization.
Production Optimization: Integration of field data with the existing production management application in the medium term which facilitates an accurate and reliable analysis and optimization of the production parameters.
Field and Reservoir Recovery Optimization: Integration of field data acquired over a period of months to years (long term) to construct, calibrate and simulate a number of field development scenarios in order to maximize the field recovery.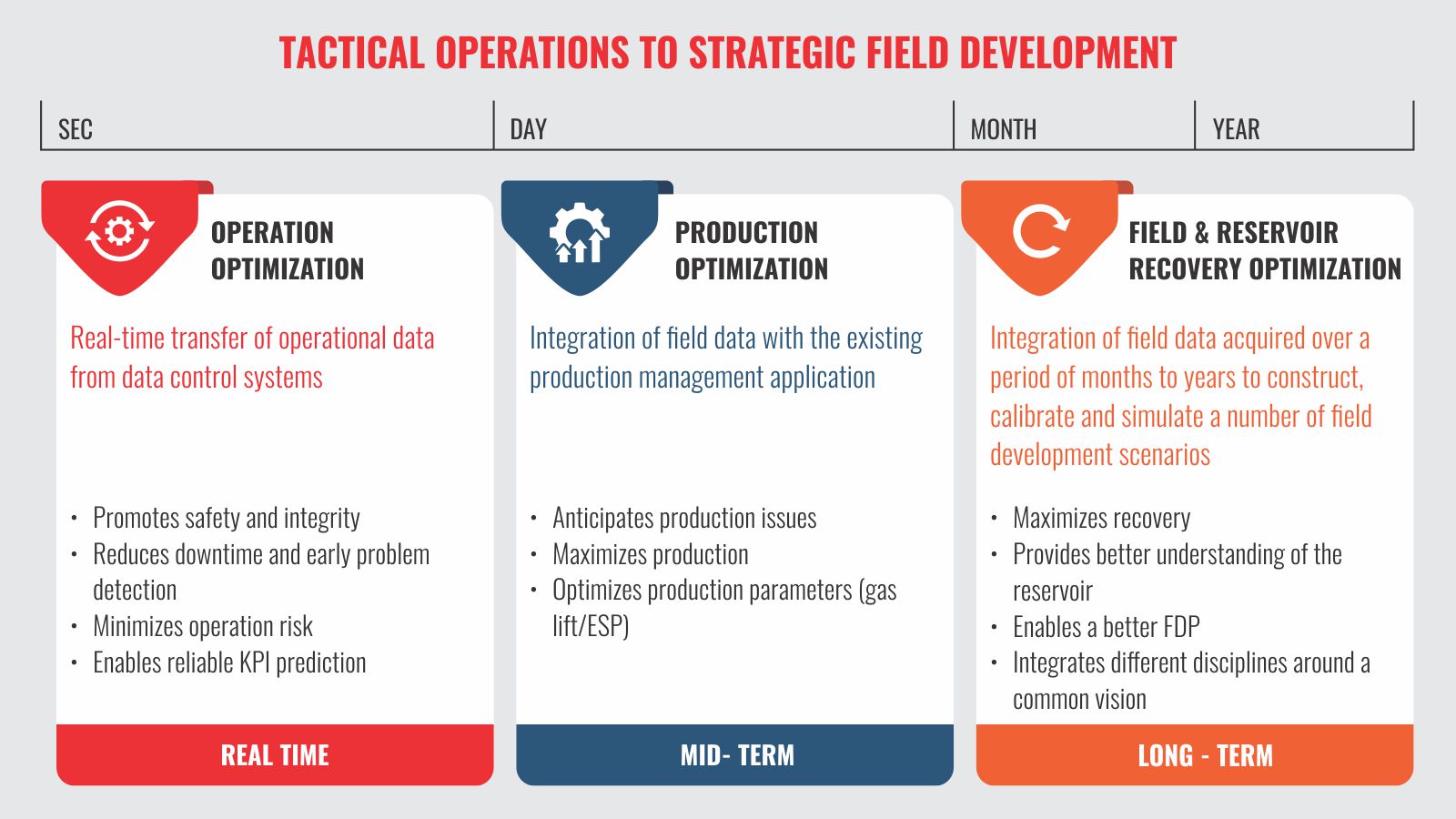 Solution Overview and Benefits
Tech Mahindra's solution is a platform approach with ability to ingest data from hydrocarbon accounting system, Historian, Petex Suite, Risk & Reliability system, SAP into the data lake with capability to perform descriptive and predictive analytics for operation optimization, production optimization with various Industry use cases like ESP, progressive cavity pump failure prediction, chemical injection optimization, and around 50+ Industry use cases having direct improvement on production, asset management and financial positive impact on EBITDA.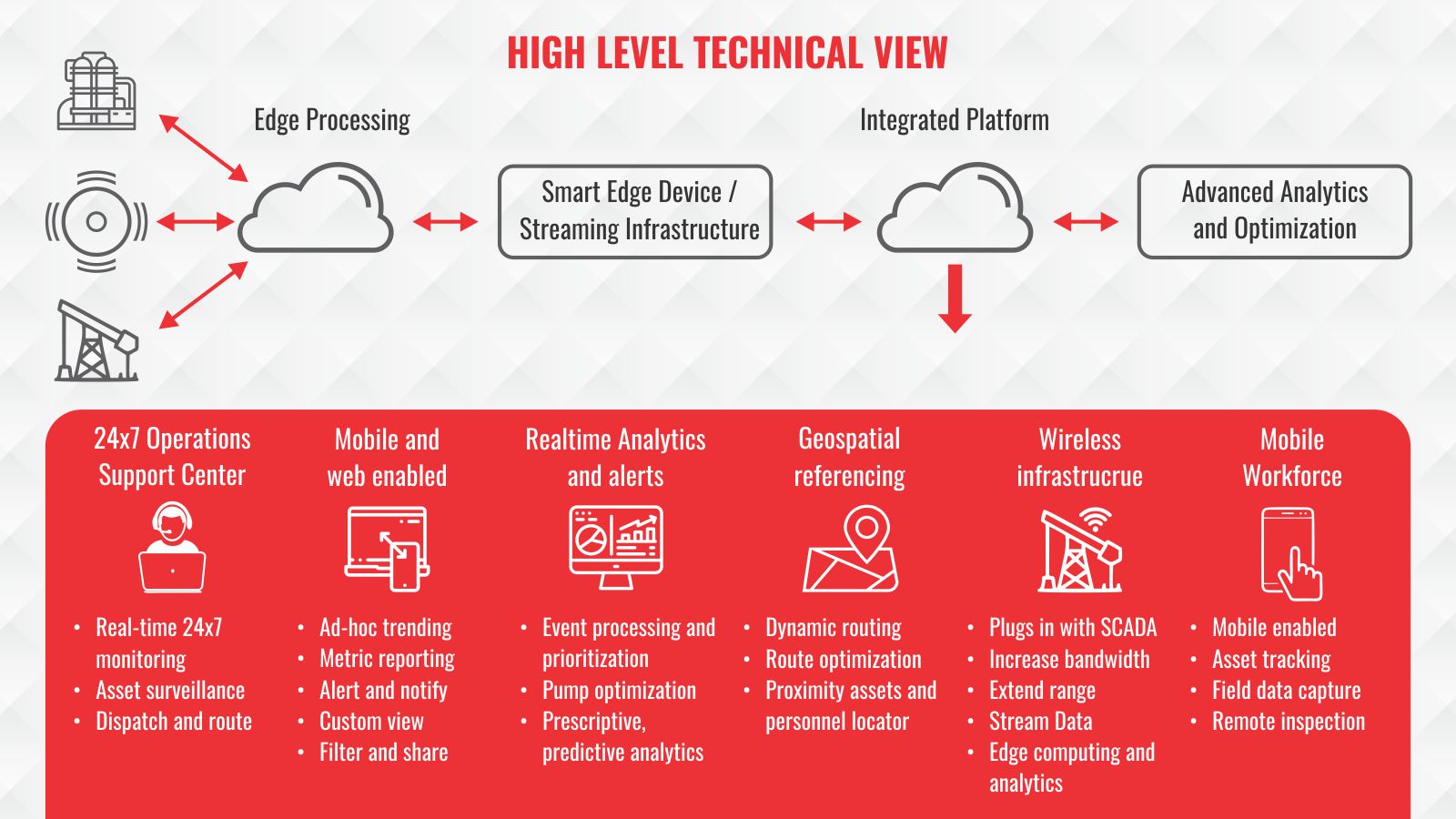 The key benefits derived are summarize as follows:
Reduction of production deferment by 10-15 percent
Reduction in OPEX by 5-10 percent
Availability Improvement to 97%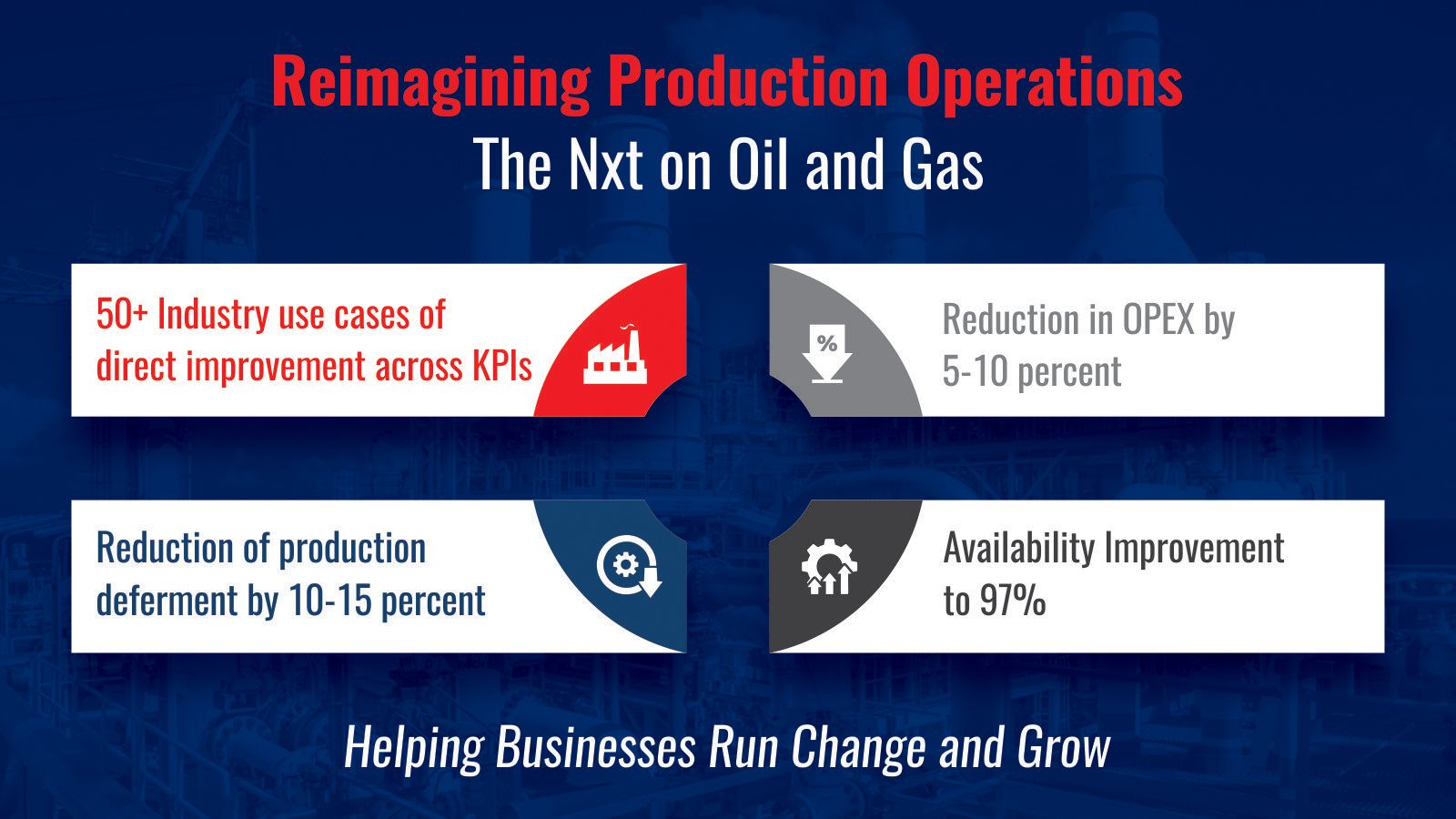 The overall savings can help to ensure sustainability in these volatile market conditions. Our Integrated Operations Solutions & Services enable customers to unlock value from people, assets, and operations, along with providing an integrated & solution that encompasses the entire field development life-cycle.
5G - Key Enabler for Digitalization in Oil & Gas industry
Facilitation of seamless integration with other industry-standard production applications and availability of a low latency & high bandwidth network for enhanced connectivity will play a key role in the successful implementation of the solution.
The fifth-generation network (5G) has the potential to add significant value to the solution by providing ultra-high speed and low latency communication that will help in the enhancement of data transmission for ingesting massive amounts of data throughout the production value-chain.
As the existing Covid-19 pandemic has led to a massive inventory pile-up, the future of the industry will be driven by low costs and higher efficiency metrics. Tech Mahindra's Digital Platform for Integrated Operations aptly fits the current state of things and the future of production operations. Early adopters with a digital mindset will be in a better position to improve profitability by maintaining the sustainability of their production operations.
know more
About The Author
Ishan Appu, Subject Matter Expert- Upstream Production Technology and Operations
Ishan is a recognized subject matter expert in Oil and Gas industry having more than 10 years of experience in Upstream Production Technology and Operations. His experience spans in the domains of upstream operations, field development planning, project management, process excellence, production optimization and stakeholder management. Ishan also has deep expertise in petroleum fiscal, petroleum economics and Digital in Upstream production. Ishan has ideated, conceptualized and developed many Oil and gas industry solutions during his tenure in E&P organizations as well as consulting firms. Ishan is a Petroleum engineer by background from Indian Institute of Technology , Dhanbad. He also has added a business management spectrum to his profile with an MBA from Indian School of Business, Hyderabad.