From the IT services standpoint, a typical organization deals with 3 definite stakeholders which are user, IT and business. The user today expects freedom as in where to work from, what device to use, what application they love and expect the experience as good as they feel in consumer world. Business wants to onboard and retain great talents so that the business outcomes is maximized and hence the revenue of the organization. IT acts as a layer which helps in ideating and looking for opportunities that makes both user and business happy that too in limited budget to change or transform.
The evolution of "digital workplace" can be often seen as the enormous increase in "user experience" which, for business, contributes to gain better outcome. This can be understood better with an example that if IT brings change to satisfy user demands and it doesn't translate to drive expected business results, potentially, either the change would not have buying from the business stakeholders or if it does, most likely, it will fail.
Interacting to customers from various industry and scale, we see that the verticalization, or to put it simply, the business context is far more important than ever. The customers today are not only looking for a solution which is cutting edge but the one which is modern and aligned to the business context and problem of their users in carrying out their business functions.
Why Industry Context is Must in Digital Workplace Solution:
The digital workplace aligned to business answers the question "what's in digital workplace for my business and user". Every organization has different persona of user, different set of devices used in day-to-day business, critical business applications, multiple critical business cycles and many more. Unless the digital workplace solution is context aware, business aligned and aimed to drive business outcomes, it can never be defining the meaning of what's in it for customer.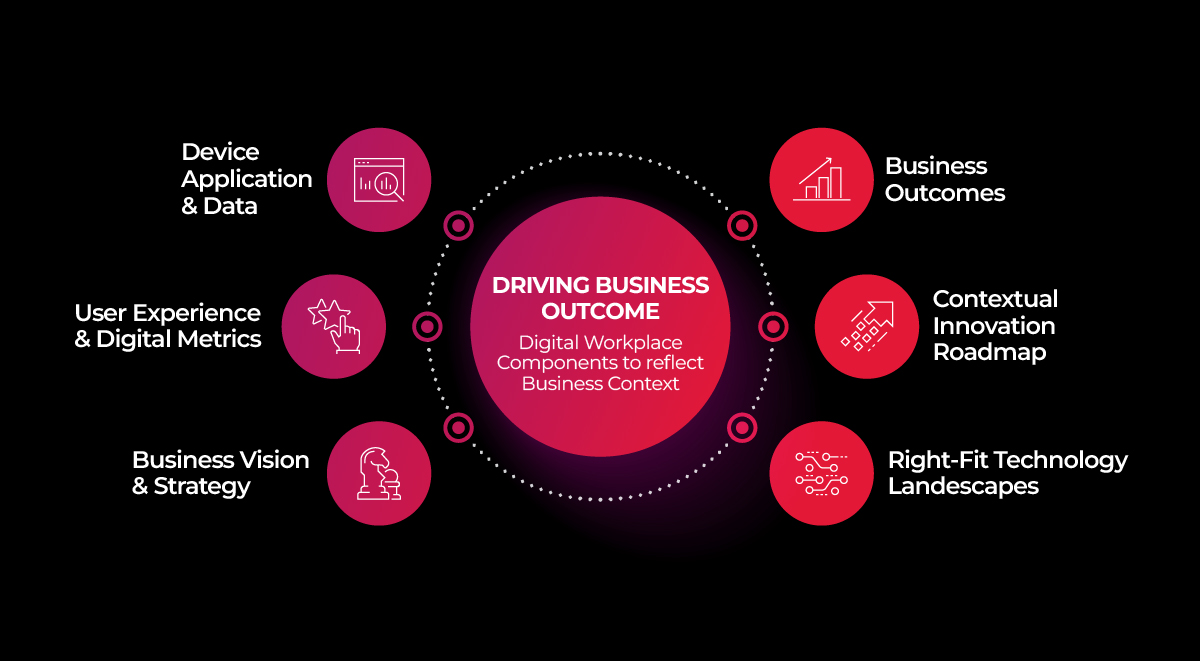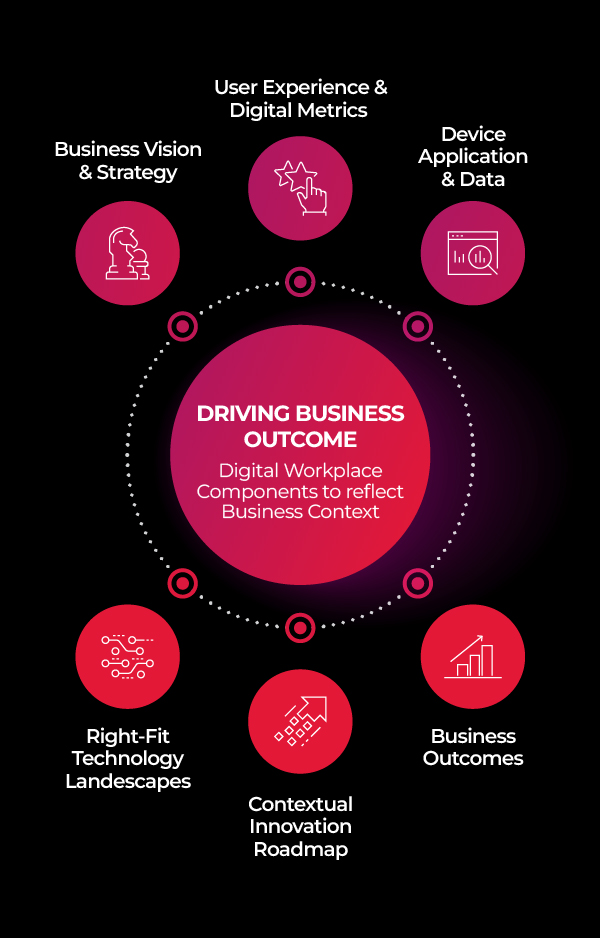 Our digital workplace solution aligns to the business by evaluating each of the core component in context to the business and ensure that our customer finds value in it. Defined below is the example of healthcare provider and how the business context is defined in our point of view for digital workplace for a healthcare provider.
Understanding Business Aligned Digital Workplace for a Healthcare Provider
For years, computers in healthcare served a mostly administrative function. As the technology grew and regulations changed, computers became more and more common in other parts of medical facilities.
Majority of healthcare providers today, especially in United States, are rapidly implementing system to manage and use the patient data electronically for hospitals and major clinics. While this data is very useful for patient care quality, it also comes with federal (or legal) requirement to protect the confidentiality of the data. In healthcare, patient confidentiality is at the forefront of everything that is done. The Health Insurance Portability and Accountability Act (HIPAA) is a very strict law that requires healthcare providers to protect patient's confidentiality and security of their patient medical record or face stiff federal penalties. Such medical records are managed and used by hospitals internally using the system called as electronic health record and electronic medical records (EHR/EMR).
A typical hospital environment has a very diverse and exciting persona of the end users that are linked to core clinical functions, facility administration, admission and discharge tasks, billing, logistics and overall facility management of the health care centre such as hospital or speciality clinics.
Key Characteristics of Workplace in Healthcare
Patient centric workplace in healthcare, especially in hospital environment has below distinct characteristics that builds the foundation of workplace services for clinicians, physicians, and other hospital personnel.
Mobile and Pervasive Workplace


Pervasive computing aims at moving beyond the desktop computer to weave itself into the very fabric of our surroundings, being available for use when needed. Taking the working conditions for clinicians in a hospital into account, this vision is particularly appealing.

Computing for Clinical Care and Key Decisions


Meaningful use of EHR/EMR system is dependent on a robust computing strategy for any healthcare provider. More than 90% of computing environment in healthcare today are used for Clinical decision to improve the precision in treatment, not just for administrative tasks like admission and billing. The workplace in healthcare needs to cater the integration requirement to make the patient record available from multiple sources to desired location and device with required alerts as and when required.

Heterogeneous Devices Across the Patient Care Environment


The problem with current desktop computer technology is that applications run in isolation on homogeneous devices. Computer interaction is designed with the assumption that there is only one user for each computer, which is clearly not the case in hospitals. It is difficult to move a set of applications or services from one computer to another, and it is even more difficult to move them between different kinds of devices, such as from a desktop computer to a (personal digital assistant (PDA). Even though portable devices like PDAs and tablet PCs are increasingly used in hospitals, there is still a need to use different computers during a working day.

Real Time Collaboration – Ad-hoc Patient Management


Working in a hospital setting is characterized by a high degree of collaboration among specialists, such as physicians, nurses, and pharmacists. A study conducted in a public hospital reported that 70 percent of the medical staff consulted clinical records with other doctors and nurses at least once a day, and all of those who participated in the study reported sharing this information at least once a week. It would be difficult to conceive of a hospital where physicians and nurses do not communicate and coordinate their actions.

Integration of Digital and Physical World


Core clinical work inevitably lies outside of the computer and in the realm of the physical world. In this case, the physical world includes the patient and all his or her physical parts, as well as items such as medications, test samples (e.g., blood and urine samples), and surgical instruments. Most contemporary computer systems and clinical computer applications ignore this physical dimension of clinical work and are used merely for retrospective record keeping. In a clinical setting, computer systems may provide a greater benefit to the healthcare profession if they are more closely tied to the physical world by being able to sense it, affect it, and augment it.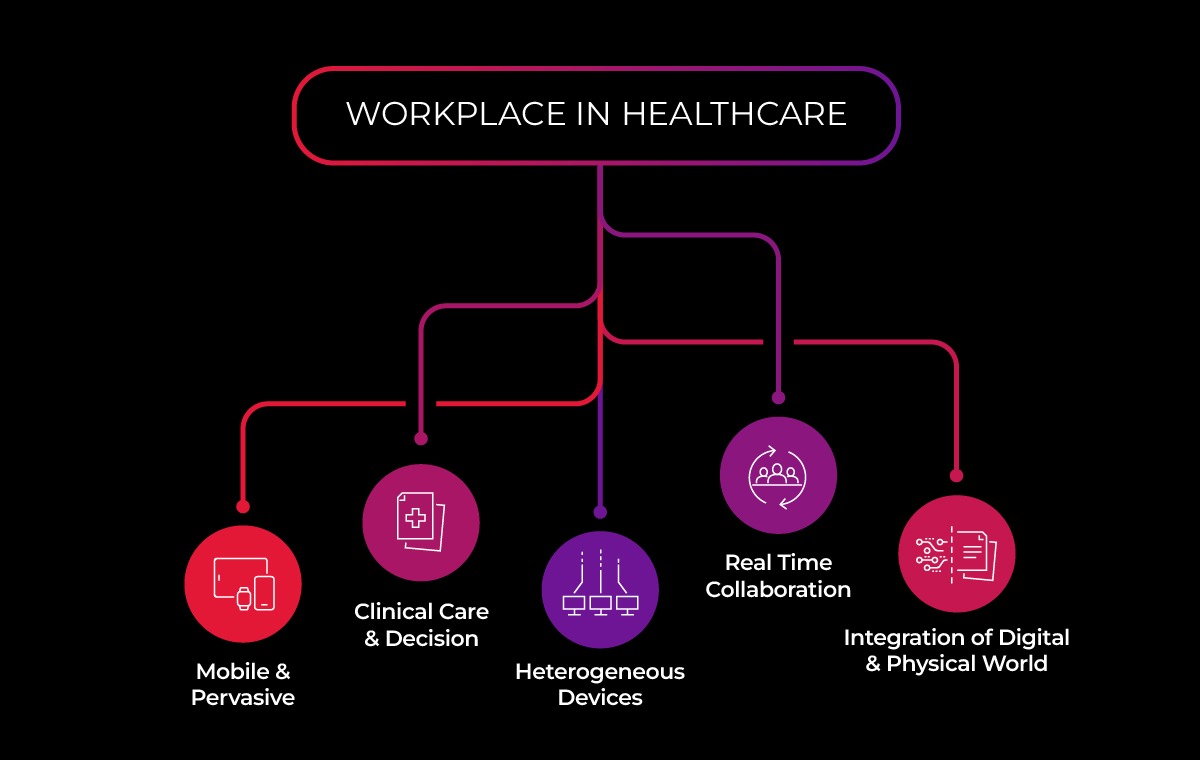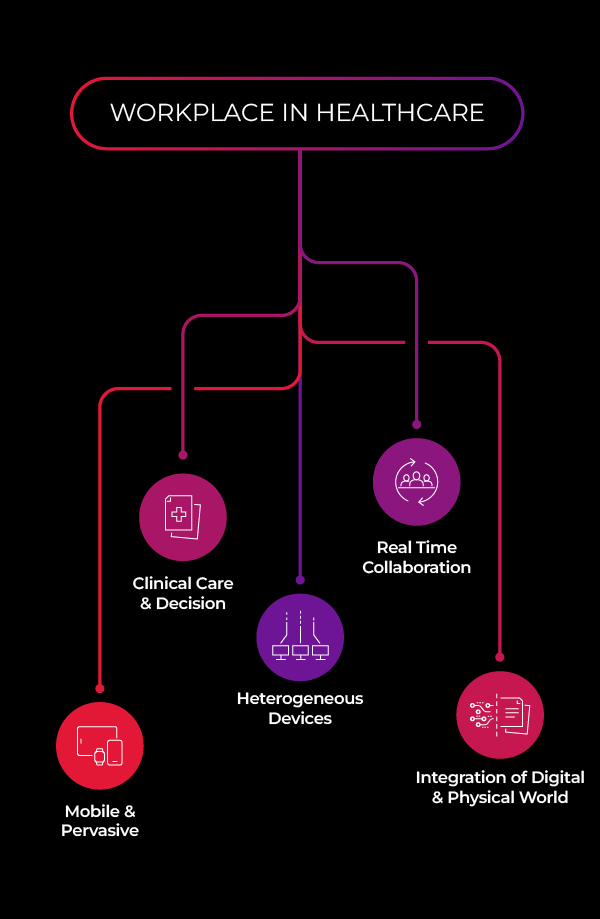 Conclusion
Verticalization and keeping the business context at the core of digital workplace solution is the most important element of Tech Mahindra's Digital Workplace Practice. We understand that the business context is essential for the customer to find meaning in it. The right balance amongst user, IT and business can be established well when the context is prioritized and outcomes are defined, measured, and reported which matters to the business.
About the author
Chandra Shekhar Mukharjee - Digital Workplace -Regional Head (North America) in Tech Mahindra.
Chandra is a passionate technology enthusiast who follows the new and blue in this digitally dynamic world along with the profession of a digital workplace -Regional Head (North America) in Tech Mahindra. He has around 17 years of experience in digital workplace covering almost all areas starting from service delivery, Centre of Excellence (Digital Workplace Practice) and DWP presales solutions for customers with various scale and industries.