In 2022, Earth Overshoot Day arrives on July 28 – a day earlier than last year. This day is marked as the day that we as a race use up the resources Earth generates in an entire year
It is not surprising that there is an urgent call to prioritise climate change, carbon accounting, and incorporate sustainability into business strategies. Sustainability is no longer just about ticking the environmental, social, and governance (ESG) boxes. It is the core of any business and is necessary for surviving as well as thriving.
To replenish what we have already spent, there are three key emerging trends I would recommend that can help:
Renewed Focus on ESG Reporting
ESG reporting is gaining popularity as regulatory changes make it mandatory rather than voluntary. The Securities and Exchange Commission (SEC) in the US issued a broad new regulatory proposal to require climate disclosure in financial reports. Many new ESG standards are also available for consultation from the European Financial Reporting Advisory Group (EFRAG) and the Corporate Sustainability Reporting Directive (CSRD).
Consumers and Customers Care For the Planet
Climate change remains the top sustainability challenge, according to consumers. Previously, customers were more concerned with cost, speed, and quality; however, we are increasingly seeing customers' desire for visibility and transparency into companies' sustainable operations.
Supply chain disruptions affect 75% of all businesses worldwide. Unaddressed environmental, social, and governance risks can disrupt supply chains, decrease sales, increase inventory, impact delivery schedules, and result in high legal costs.
E-commerce growth has resulted in more products and shopping options than ever before. New demand patterns have resulted in extreme volatility, with some items facing stock-outs and others unexpectedly stockpiled.
Introducing the i.Sustain framework
Having an ESG reporting framework means improve transparency for emissions data up and down the value chain. This would require a trusted platform that reduces reporting time from months to hours. It is important to note here that ESG rating methodologies aren't necessarily understandable by companies and investors, let alone by other stakeholders. The data behind the ratings is also complex.
i.Sustain is Tech Mahindra's framework on sustainability, which is powered by SAP intelligent technologies and SAP analytical cloud (SAC). We leverage Tech Mahindra's deep domain, industry know-how and consulting capabilities to combine with our SAP technology strength to provide sustainability solutions. Our framework provides end-to-end data support from identification, data design, the data governance with the right set of data entry, data extractors and automated data acquisition template and validation.
Carbon is our new currency as we enter a new era of carbon accounting. There is no doubt that businesses must be fully prepared for carbon accounting, just as they are for financial accounting.
This is how i.Sustain helps in :
Smart data acquisition: First, we ensure that all the data is complete, consistent, and compliant with the frameworks to build a trusted foundation. The data acquisition can be transitioned from filling template for multiple ESG parameters – manual or recurring collection logic, or continuous integration through the seamless API connection to back-end SAP or Non-SAP systems from all your data sources. We enable automated document information classification, data categorization, validation and extraction using various SAP services. Throughout the process, admin (governance) manages the authorization of sustainability personas, and external sources, including the emission factor database and suppliers' carbon data.
Calculation and business rules: Multiple ESG reporting frameworks, regulations, and standards can be captured to make the ESG data transparent and visible through the best calculation methodology for GHG emissions in a persona based organizational model. We have developed ready to deploy flexible business rules set-up and management, which converts raw ESG data for various emission inventory activities with the calculation and emission factors into meaningful insights as per the global reporting standards and framework requirement. We can support with base model of ESG KPIs, applicable for all industries and develop industry specific KPI's model.
Analytics: The data flow seamlessly from the data acquisition layer to the analytics layer for graphs, visualizations, actionable insights of ESG reporting. We can industrialise and automate ESG reporting to meet evolving regulatory requirements. The decision-makers in manufacturing, operations, sourcing and purchasing, logistics and sales, can track their respective sustainability performance.
Embedding Sustainability in Business
A more robust trade-off framework can be developed where both carbon footprint and performance metrics (cost, lead time, quality, service level) should be given weightage to maintain efficiency and responsiveness across the entire supply chain during decision making.
Carbon footprint (GHG emissions) recording is essential to enable decisions on supply chain network design, selection of modes of transportation, product mix, inventory control, and suppliers' selection,
Businesses can add rules to make conscious decisions on the process of change for better demand planning and transport planning in real-time across the entire value chain. As you can see in image provided, there are some critical action items to consider for decarbonization in the end-to-end supply chain value chain.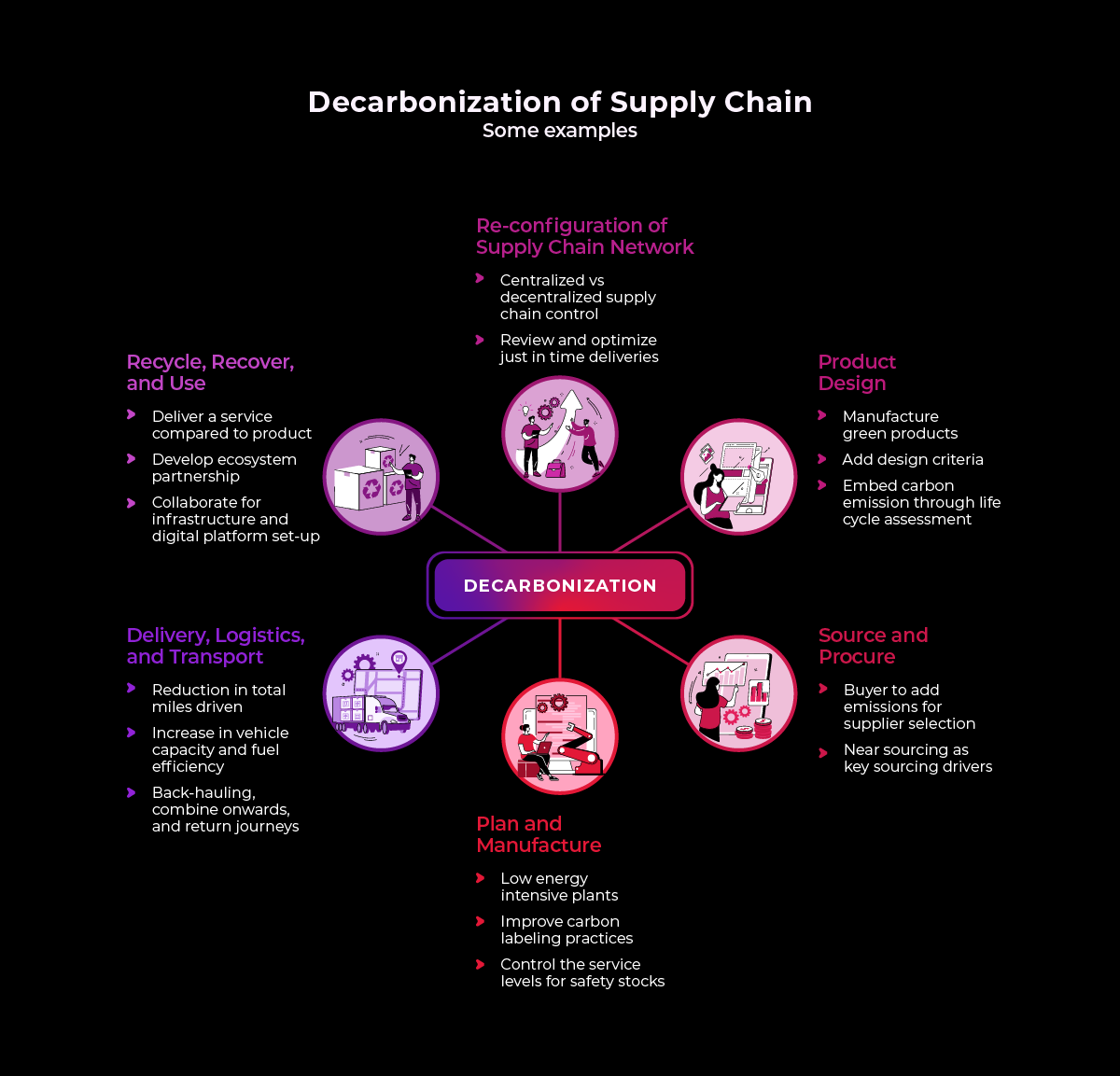 Scenarios modelling:
There are many functional areas in the end-to-end enterprise, where scenarios modelling can be deployed.
For example, for the CPG industry, the below scenario modelling can be applicable.
Model / forecast scope 1&2 manufacturing emissions through sales volumes, product mix, production location, energy, and water efficiency projects
Model / forecast packaging emissions through packaging mix, weight, material substitution, moving to more recycled content, supplier-specific recycled content, recycling rates, and product level packaging specification data
Model / forecast third party transport emissions through production location, network efficiency, vehicle capacity, 3PL vehicle efficiency rates, load, and distance data
Deploy and monitor carbon reduction strategy:
Reducing the carbon impact of our value chain can be achieved in several ways, some examples
Deliver directly to our customers from our manufacturing sites rather than via external warehouses
Back-hauling combines customer deliveries with collections to ensure full loads on both the outward and return journeys
A Smart Framework to #Movethedate and Ensure a Thriving Future for Earth
The incorporation of environmental, social, and corporate governance practises into business strategies is a growing priority for many companies.
There is no daylight between the core business priority and ESG priorities. ESG should be woven throughout for a goal towards Net Zero, with several interim targets to work for a sustainable business.
Wherever you are on your ESG journey, we can help you reach the initial stage of compliance maturity, harmonize ESG metrics through ESG reporting and parallelly support in operationalizing ESG into navigating risks and high-value creation by embedding sustainability and taking corrective actions across enterprise activities.
About the Author:
Avanish Kumar
SAP Practice Head, Tech Mahindra
Avanish has over 28 years of experience including the technology industry and SAP domain. Avanish is passionate about working in sustainability, to enable business value driven S/4HANA sustainable transformation for the clients. He has extensive experience in developing sustainability solutions for different industries using SAP technologies and digital platforms.
He is a certified sustainable supply chain professional and a regular blogger on the topic of sustainability, supply chain and SAP. Avanish has a Bachelor's in Engineering from IIT, Roorkee and a diploma on Sustainable Business Strategy from Harvard Business School.