Posted by: Bhargav Chandarana On June 03, 2020.
Future of Refining: Integrated Manufacturing Operations Management System
Agility, intelligence, flexibility, and adaptiveness are some of the key factors that would shape the future of Process Manufacturing. The focus would be on deriving strategic costs, improving profit margins, and gaining a competitive market advantage by leveraging the advantages of a collaborative work environment.
There is a potential for refineries to improve the refining margin per barrel (e.g. $0.5 to $.15) on a case-to-case basis. The percentage of margin would depend on their process and digital maturity.
Digital platforms will catalyze the work environment by:
Taking advantage of micro-services built using open-source technologies
Integrating physical assets in the virtual form called digital twins for real-time optimization, reduced maintenance costs, and improving asset reliability on a continuous basis.
Here are some of the factors that will define the future of refinery:
Accelerated decision making driven by demand sensing
Optimized production driven by trading and execution of an economically optimum plan
Execution of autonomous schedule executed through AI-assisted closed-loop optimization that is enabled by Digital twin
Leveraging the Digital Twin to attain continuous improvements in asset availability, reliability, and integrity
Reduced risk to personnel and process safety through Digital barrier management
Sustainability oversight and continuous optimization
Executive risk-based visibility with next-generation risk models
Product, service, and Business model innovation
Digital platforms built on the principles of microservices architecture with 'Integrated manufacturing Operations management' using open-source technologies hold the future of manufacturing.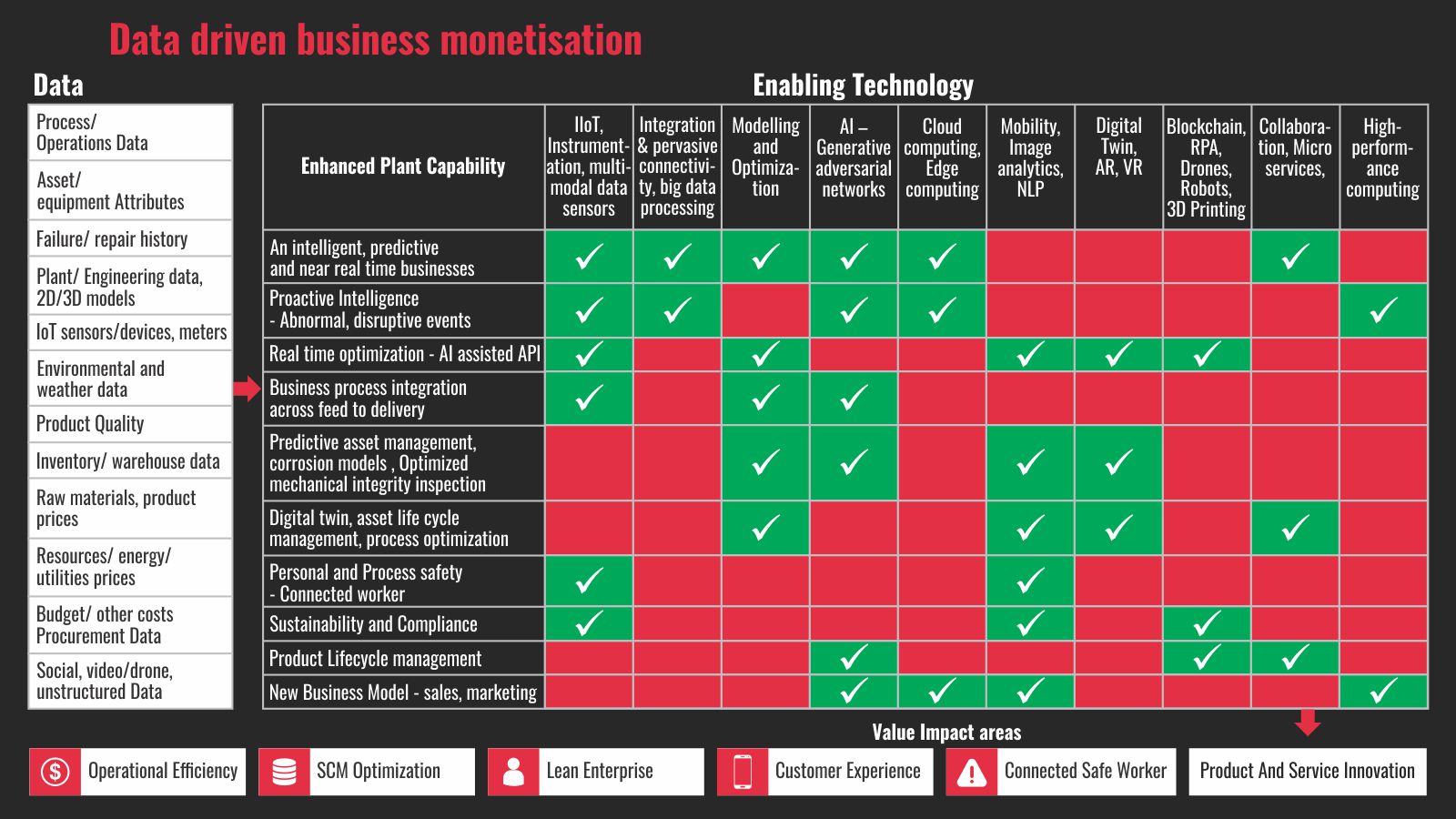 Tech Mahindra's Digital platform for IMOM
The architecture of IMOM (Integrated Manufacturing Operations Management System) is based on open source microservices architecture, with multiple clusters running in the cloud with Dockers and APIs for integrating MES (Manufacturing Execution Systems) applications and SAP, with a data lake, analytics engine, and visualization layer.
The operational data store with simulation and 3D will emulate a physical plant in the virtual world. Digital twin provides continuous and real-time optimizations, along with seamless integration of the refinery plan to execution.
High-Level Logical Architecture
5G/LTE based wireless mesh provides connectivity within the refinery or any process plants. IIoT sensors installed for acquiring data aid in attaining predictive asset management, energy optimization, and process efficiency improvement. A few examples are heat exchanger fouling, fin fan cooler failure prediction, pipeline corrosion UT probes for real-time thickness monitoring, amongst others.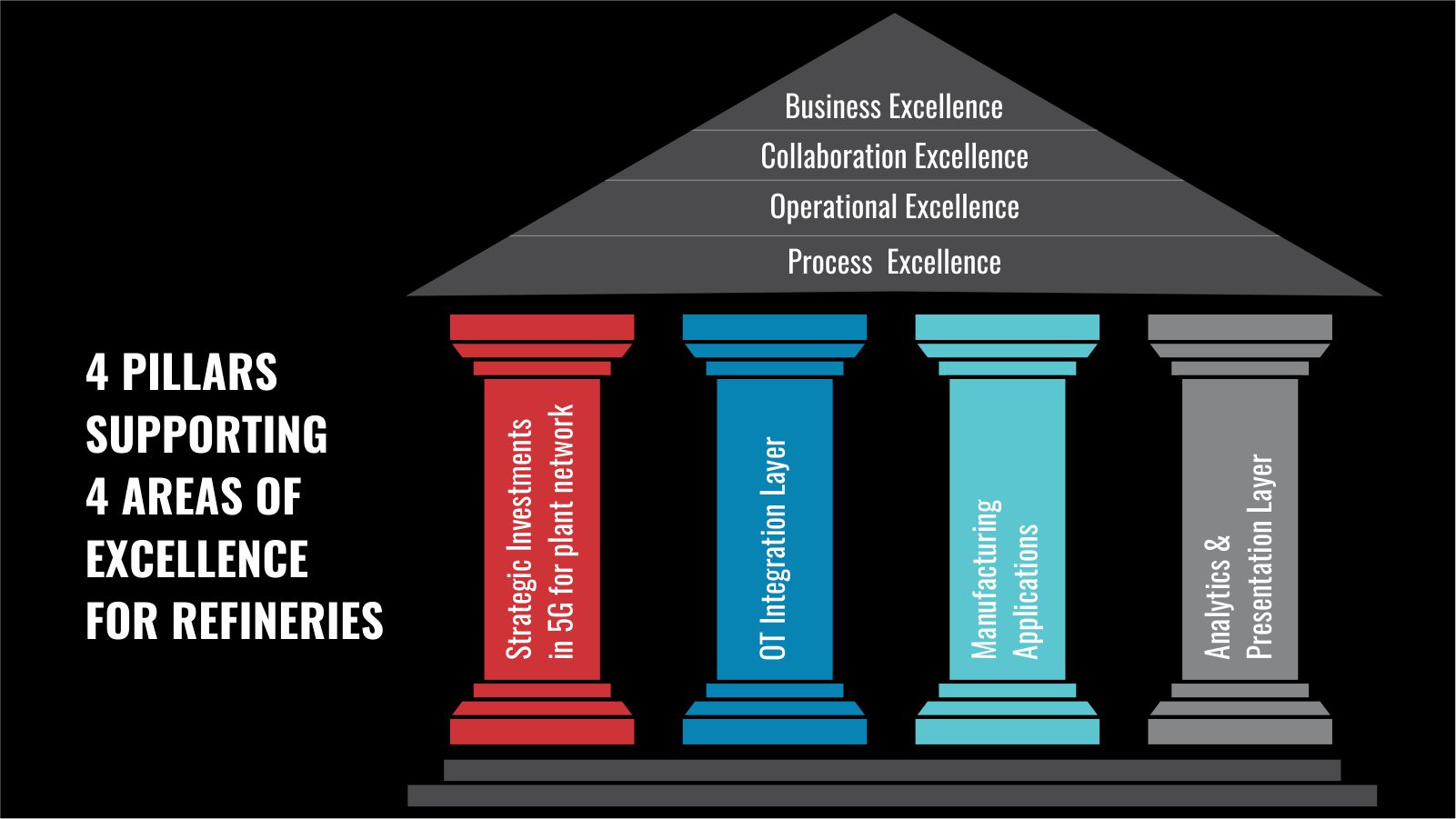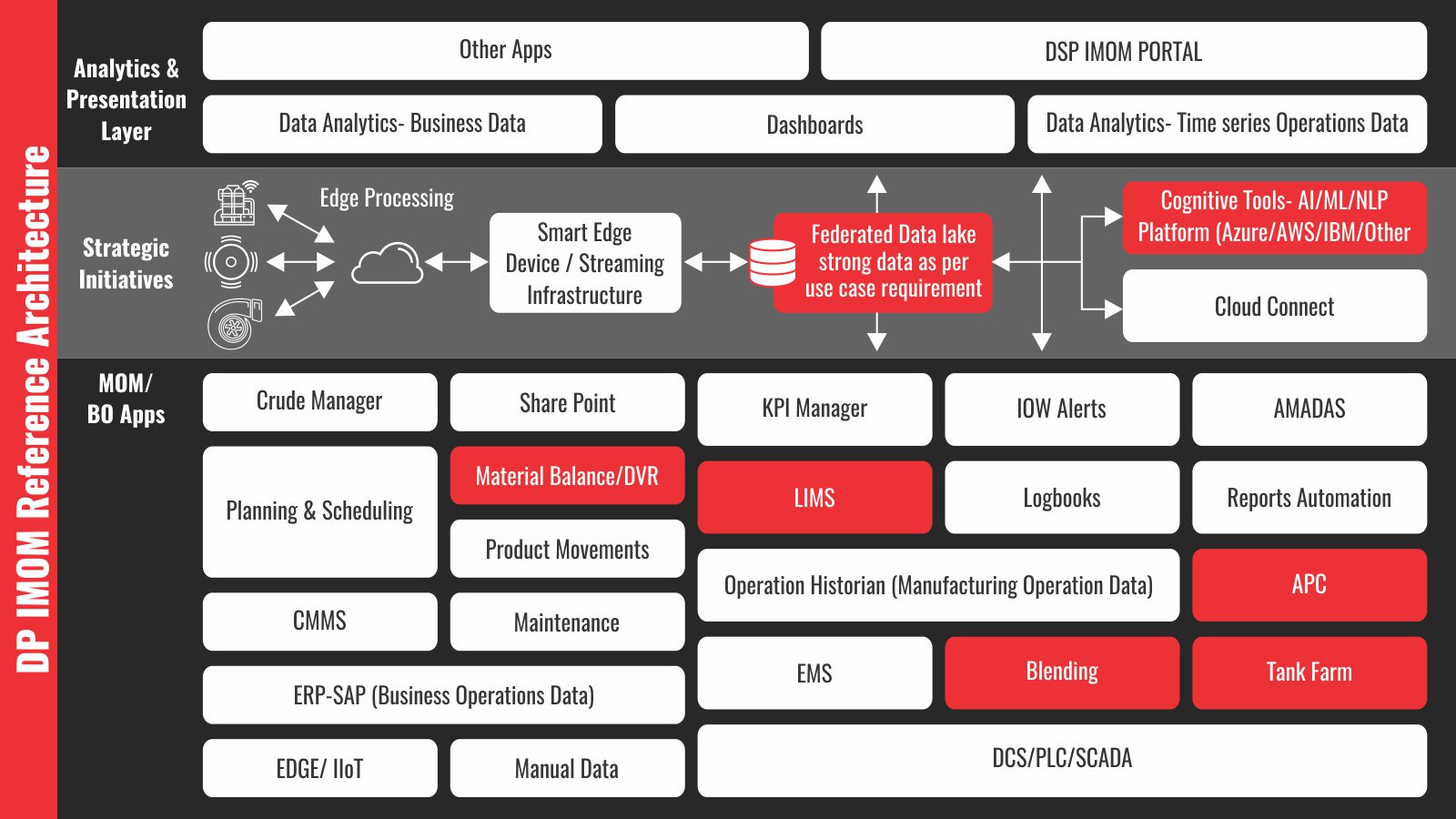 We have identified 100+ usecases where our solution can help in:
Improving asset availability
Reducing the cost of maintenance
Improving yield
Reducing quality give away
Optimizing energy costs, and more.
Business benefits of IMOM (Integrated Manufacturing Operations Management System)
Here are some of the primary benefits that refineries can get by using IMOM for managing end-to-end manufacturing processes:
Improving margins by $0.5 to $1.5 per barrel
Improving availability to 97 percent
Gaining a 10 percent reduction in maintenance costs with every 1 percent improvement in availability
Improved collaboration leading to efficient & informed decision making
Our 5G offerings
Know More
Everything you need to know about our Oil & Gas solutions offerings
Know More
About The Author
Bhargav Chandarana, Subject Matter Expert – Downstream & Midstream Oil & Gas
Bhargav Chandarana brings in nearly 16 years of experience in Refineries, Petrochemicals and Consulting Companies. Bhargav experience spans in areas of Management consulting, Project Management, O&G Supply chain optimization, LNG Delivery Optimization, Shipping and Refinery Operations. Bhargav has been delivered multimillion-dollar refinery commercial optimization project and worked for designing digital roadmap for a new petrochemical complex to name some of his recent works. He has designed Integrated Manufacturing Operations Management systems for Refining & LNG business and designed automated backcasting tools for refinery planning. Bhargav holds a Bachelor of Chemical Engineering.