In today's digital era, businesses seek innovative ways to drive revenue growth and optimize operational efficiency. Generative artificial intelligence (AI) is revolutionizing revenue operations (RevOps), a holistic methodology integrating sales, marketing, and customer experience. RevOps, when combined with Gen AI systems, propel businesses to new heights of success. Tech Mahindra incorporates RevOps in its digital business services, achieving a 27% increase in revenue per advertiser for a large retail e-commerce client in the SMB segment. This success includes onboarding 2.5K advertisers and a customer satisfaction score of 35%.
RevOps plays a significant role in assisting advertisers in manufacturing or retailing without hiring digital marketers, optimizing their ad campaigns with guided expertise. Manufacturing, financial services, and software industries also benefit from RevOps, enhancing marketing strategies, building customer journeys, optimizing workflows, and driving more sales and higher profits. Implementing and optimizing the RevOps strategy comes with challenges, which generative AI systems address, including data, technology, and process-related obstacles.
Understanding GenAI and its Benefits
GenAI is the latest buzzword, and everyone wants to get on this bandwagon. Understandably, GenAI has several benefits in a typical B2C customer journey.
1. Expanding labour productivity Major Tech companies have introduced innovative AI-powered platforms or models to save time by 'learning' from multiple sources to provide structured responses, images, or videos tailored to specific needs.
2. Personalizing customer experience Building and training complex models for hyper-personalization require careful consideration of data sets, accuracy, purpose, and outlier handling to adapt to evolving business landscapes and user feedback.
3. Accelerating R&D through generative designRapidly generate unique and functional designs to meet evolving customer expectations, while optimizing resources and budget for efficient R&D.
4. Adopting emerging business modelsEmbrace innovative business models that prioritize speed, profitability, and customer growth, leveraging generative design's potential to adapt to dynamic market demands.
Understanding GenAI in the Context of a Customer Journey
During our conversations, Customers seek comprehensive market requirements, affordability, and better user experience for their products or services. Brands can exceed expectations by leveraging generative AI (GenAl) to offer a quantum leap in experience or design. Adobe's addition of generative AI tool (generative fill for Photoshop) exemplifies this smart utilization. GenAl bridges the gap between opposing forces in launching new products, accelerating time to market, and delivering improved designs swiftly.
To make a better sense of how generative AI for business is applicable in achieving (or enabling) business goals, in the next part, let us look at various challenges that a business faces (irrespective of industry).
Maximizing Revenues through Gen AI Implementation
In the context of revenue operations, challenges are categorized into data, technology, and process-related. Gen Al overcomes these challenges and enhances revenue.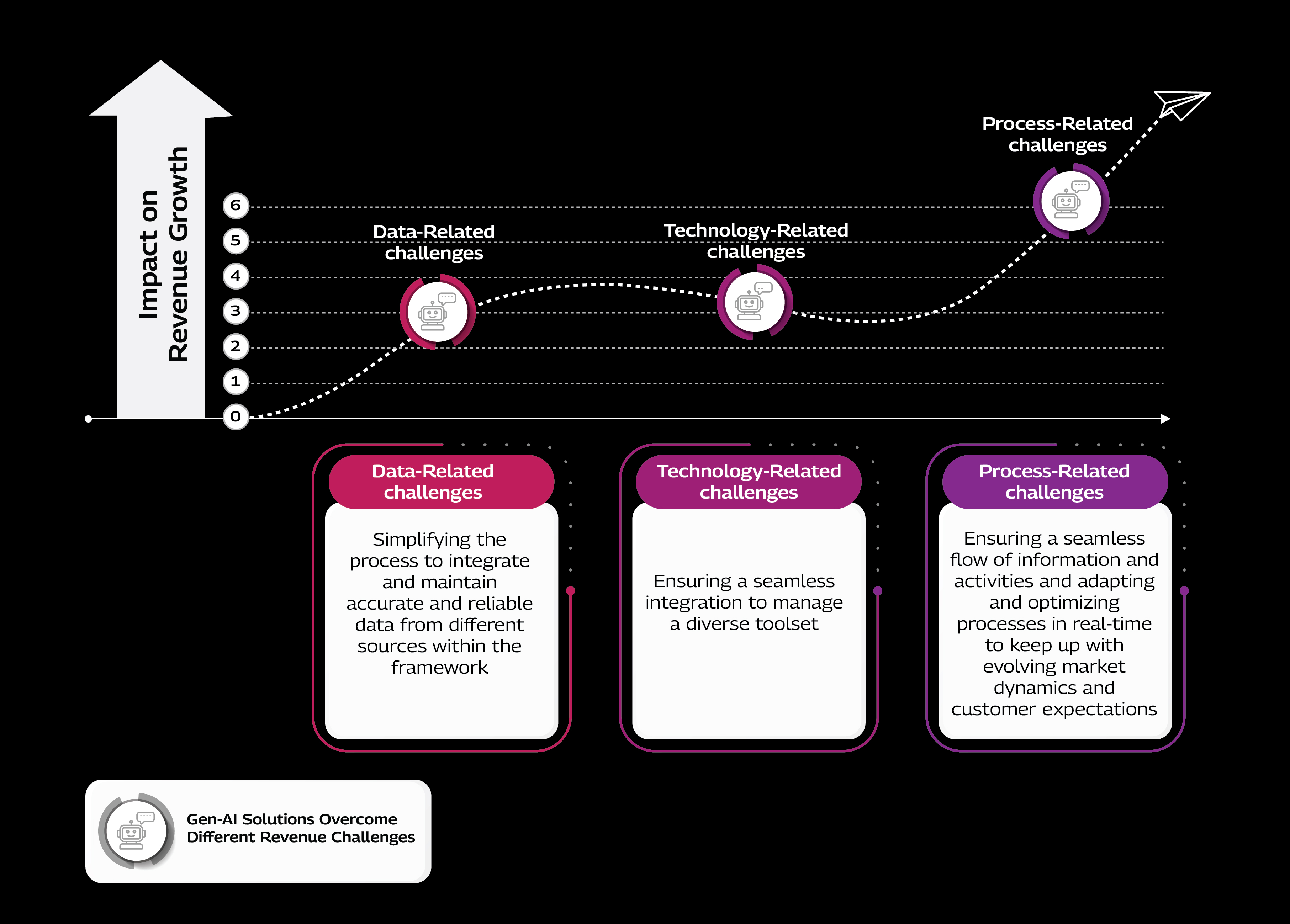 Data-related Challenges – Measuring and sharing data across marketing, sales, and CX teams, generating insights, and enabling revenue acceleration.
Technology/System-related Challenges – CRM availability, integrated customer journey orchestration, connecting leads to salespeople, and efficient sales operations.
Process-related Challenges – GenAl's role in generating content, serving personalized content, customizing ads, improving relevancy, and reducing time and effort.
Adopting Quick Alternatives and Winning Strategies
GenAI certainly helps a Chief Revenue Officer (CRO) to implement a framework for measuring and improving collaboration within an organization, reducing time to market, and implementing winning strategies.
Below are 2 of the key challenges at the top of the funnel faced by marketers: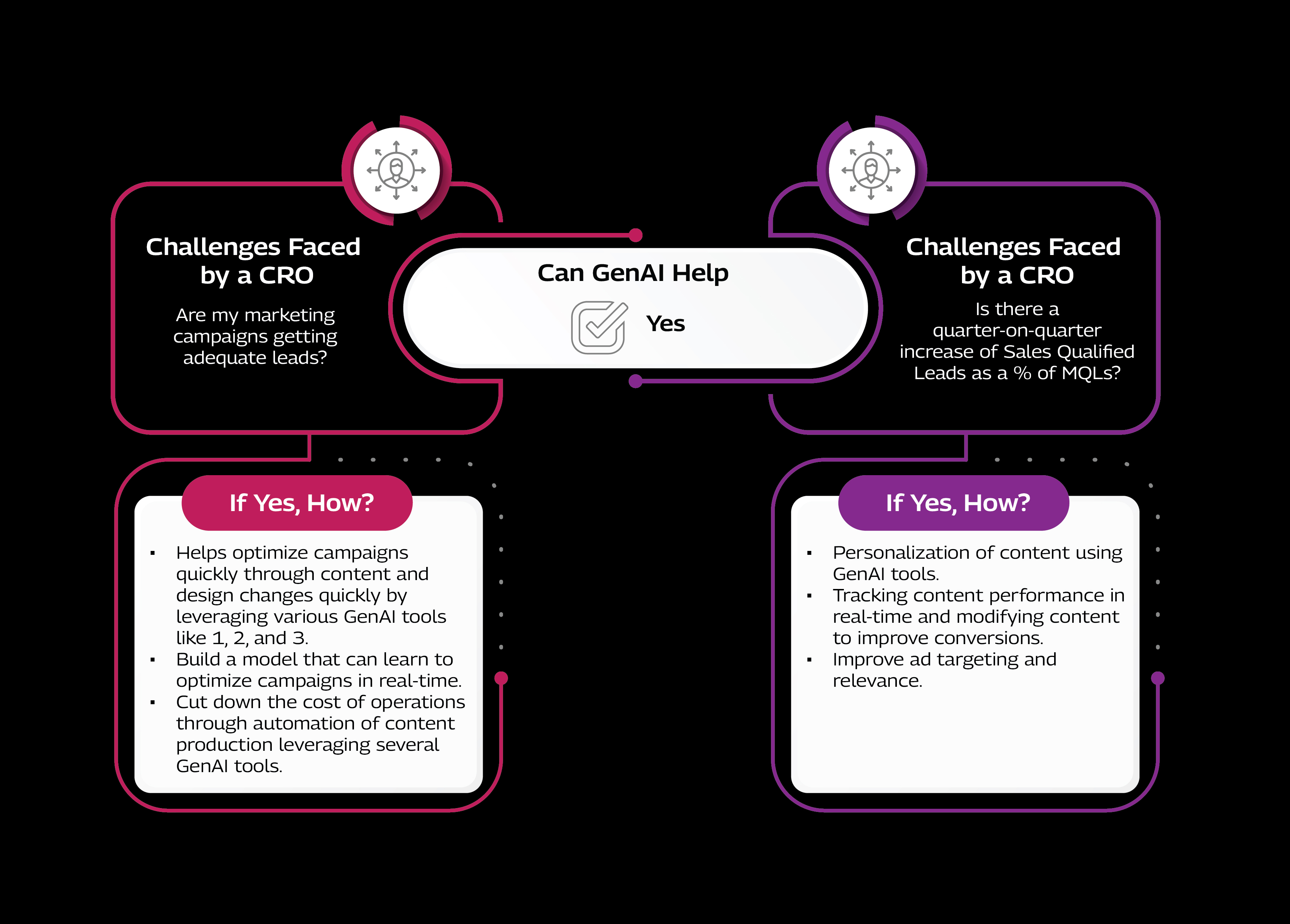 However, more practical implications soon will help reach a conclusive understanding of how Gen AI will drive RevOps and help in business growth and operational excellence. Watch this space for more relevant information in the coming weeks.
About the Author
Sathish Kasthuri,
Group Practice Head – Trust and Safety,
Tech Mahindra Business Process Services
Sathish Kasthuri has over two decades of experience in leading business expansions across service lines, with revenues upwards of USD 90 Million. His hands-on work experience includes setting up a Center of Excellence (CoE) for varied digital competencies in the areas of Trust & Safety, Generative AI, Conversational AI, Metaverse moderation, and Revenue Operations. He has 10+ years of experience in driving digital transformation programs across multiple industry segments. With the world moving towards 'anything as a service' in the metaverse, ensuring user safety and building a platform that people can trust have become paramount. Bringing together an emerging technology and integrating it with current business realities to drive profitable growth is what Sathish enjoys the most.