Posted by: Anand Chourikar On July 08, 2020.
Integrated Asset Management enabled by 5G
The Oil & Gas Industry is currently witnessing an unprecedented crisis in the wake of the COVID-19 pandemic. The fallout from the Saudi/Russia price war is adding further woes to the sector. These factors have led to a demand downturn and companies are finding it difficult to protect margins. Increased maintenance costs, low asset availability, and poor asset performance have resulted in high operational risks.
Integrated Asset Management (IAM) has a direct impact on the company's profitability as it provides better visibility of assets and field equipment's. Process Harmonization help in reducing OpEx (Operating Expenses), reducing maintenance costs, and mitigating operational risks.
Oil & Gas companies worldwide spend a mammoth over $15 billion on asset maintenance, spares, & asset performance. Even with such huge spending, more than 75% of the organization's Asset Performance is below the average Business KPI benchmark:
Availability >= 97%
Maintenance Costs < 2.5% NARV (Net Asset Replacement value)
Spares Costs <1% NARV (Net Asset Replacement value)
Arriving at an Optimum Asset Strategy is essential for achieving profitability and improving financial performance.
Rather than following a risk and reliability-based asset strategy, a majority of the companies mostly resort to the time-based or reactive maintenance activities resulting in preventive & breakdown maintenance. The impact of poor asset performance can be a big impact on profitability, consider the following example:
Two percent availability improvement for a company with $200 billion revenue can result in savings up to $110 million, along with improvement (or savings) of 7.2 days of production.
End Result - Improvement of 1.67 percent in profitability
Successful asset performance management requires close cooperation and harmonization between different functions namely - maintenance, reliability, process engineering and operations. Operational performance as well as asset performance should also be considered.
Integrated Asset Management enabled by 5G
Integrated Asset Management enabled with 5G technologies has the potential to be the next-generation of asset management in Oil & Gas downstream with the following benefits:
Optimization of manufacturing practices
Better and timely prediction for industrial maintenance
Improved and enhanced workforce-safety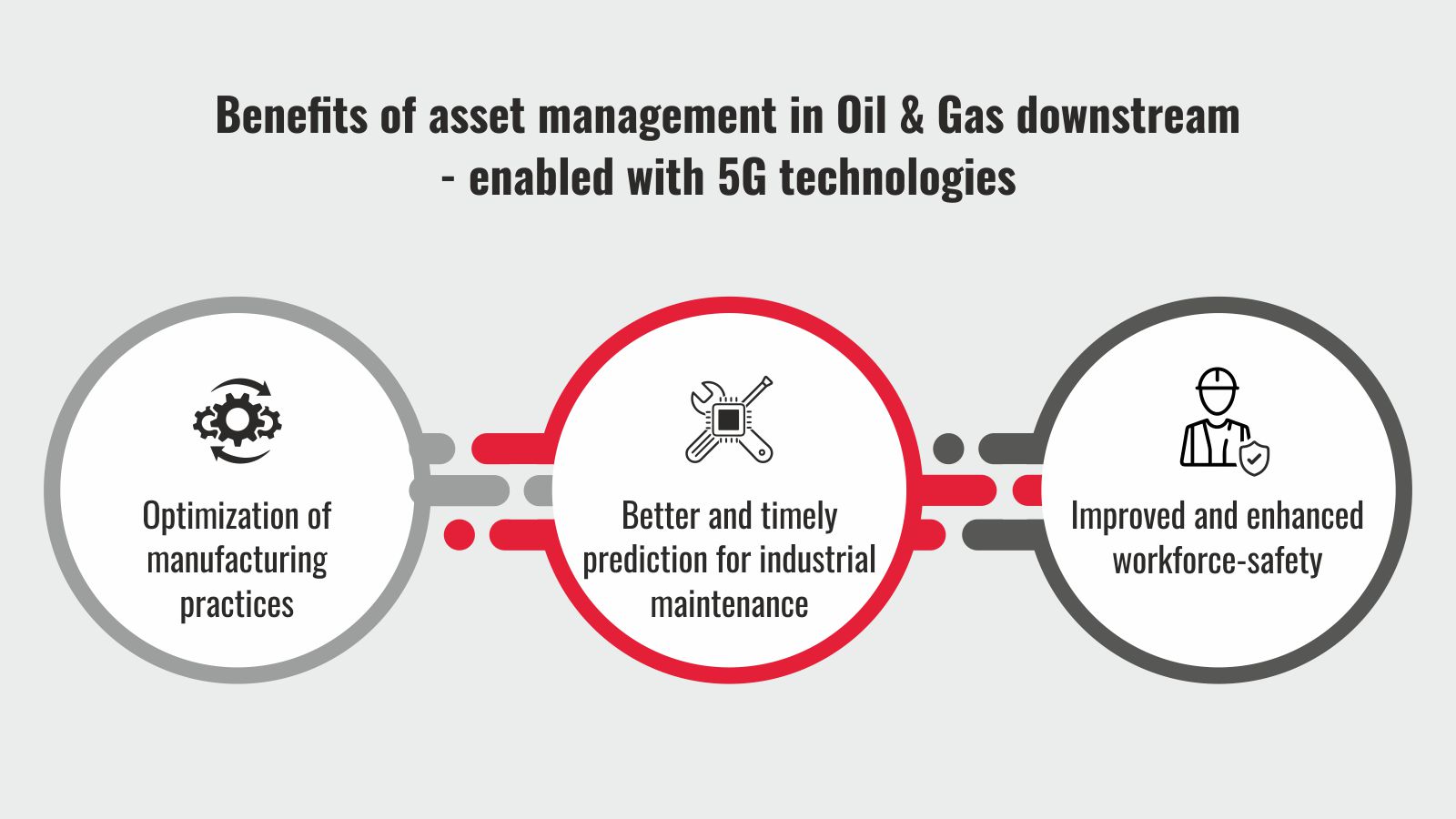 With 5G technology, opportunities are endless as the large-scale deployment of wireless sensors is possible with edge computing to enable AR/VR and image analytics. 5G will be useful for predictive asset management for several rotating equipment, and corrosion thickness monitoring. Energy efficiency improvements such as steam trap monitoring, heat exchanger fouling, and failure prediction of fin fan coolers through vibration and bearing temperature analysis can be achieve using 5G.
We, at Tech Mahindra, have identified more than 100 use cases in Upstream and Downstream oil & gas.
In Oil & Gas Upstream, accessing data and optimizing the production or drilling operations becomes highly challenging as offshore & onshore production sites are base at remote locations. Harsh operating conditions of upstream exploration and production applications amplify the challenge.
In oil rigs, communication and transfer of data using low-bandwidth satellite connections are laden with latency, which can impact the speed of decision-making process. The satellite communication mechanism is also extremely costly!
The cost of operations can be optimize by 5G technologies, thereby saving on satellite communications. The installation of edge computing brings the intelligence close to the rigs. This minimizes data transfer to onshore at RTOCs (Real-time Operations Centres) or Production monitoring centers located far away from the production sites.
Tech Mahindra (Techm) helps global Oil & Gas companies in the following areas:
Defining the right Asset strategy and processes
Defining APM (Asset Performance Management) studies
Increasing reliability and availability of assets using APM
5G enabled technology implementation
Our solutions help clients in reducing maintenance costs, improving efficiency, and maximizing equipment availability. We bring in business processes, integration platform, and prebuilt business KPIs for accelerating our client's journey towards integrated asset management.
Components of TechM's solution for Integrated Asset Management
Here are the key components of TechM's industry-leading solution for Integrated Asset Management: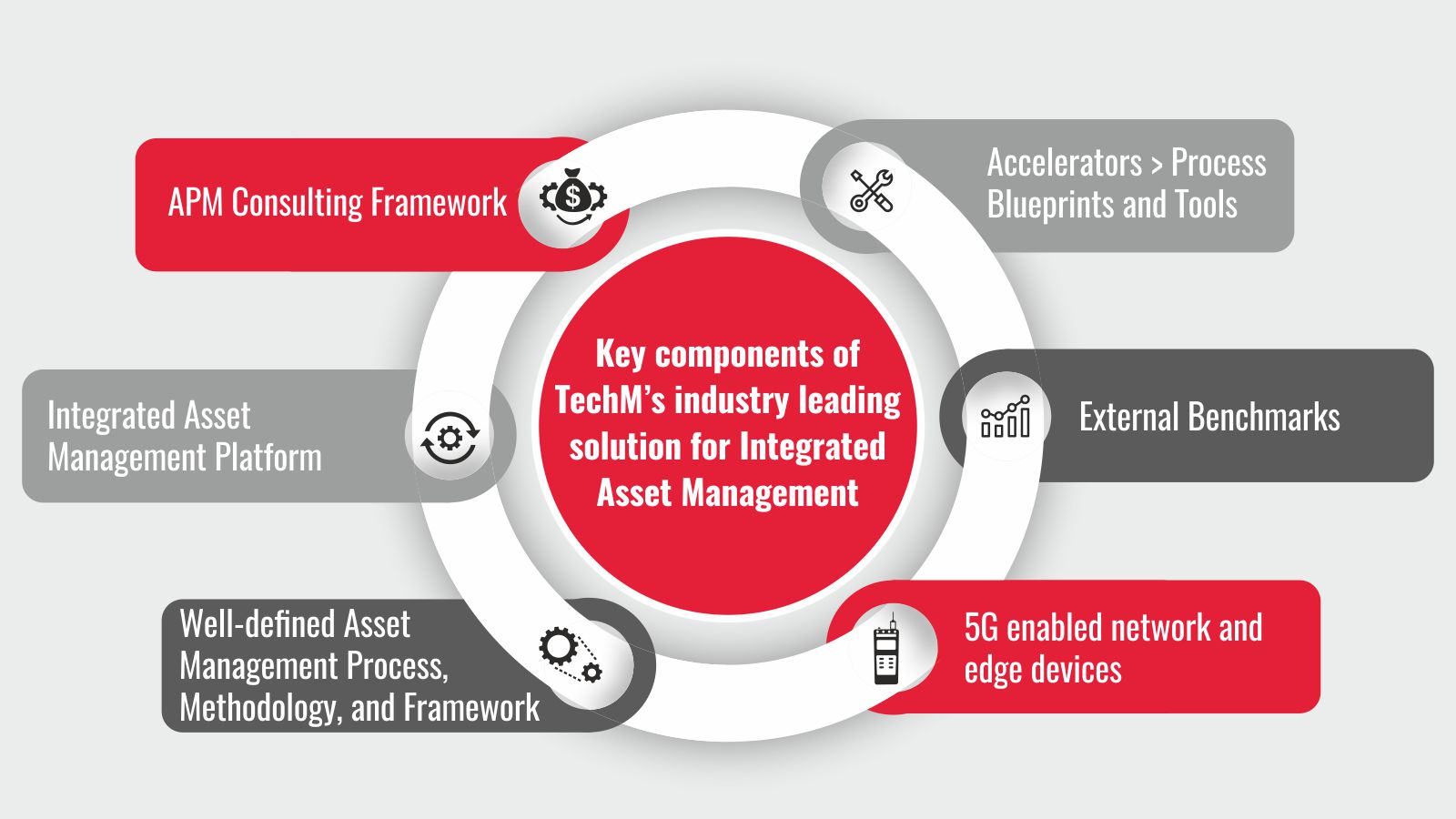 APM Consulting framework
Integrated Asset Management Platform
Well-defined Asset Management Process, Methodology, and Framework
Accelerators Process Blueprints and Tools
External Benchmarks
5G enabled network and edge devices
TechM enables Oil & Gas companies to move the value chain by improving its Asset Management performance against industry benchmarks. This helps companies enter into first quartile performance that enables the next generation of APM 2.0 (Asset Performance Management 2.0) practices.
About The Author
Anand Chourikar - IBU Head CVEU - Senior Management Consultant Asset Strategy & Performance Management
Anand has more than 21 years of experience in Oil & Gas and worked for leading organizations in Asset Management & Maintenance, Turnaround Management, and Capital projects & Facilities Management functions for large refinery in India and worked on Digital Transformation Solutions in Asset & Turnaround Management in SI organizations. He has worked on RCM, RBI standards, Asset Strategy & Performance Management, Asset Information Management, digitization of Process documents and build asset strategy workflows and process templates. Anand has presented papers on Operations Integrity and Operational Risk Management. He is BE Mechanical from NIT/REC Nagpur and Full time 2 years regular MBA from SP Jain Mumbai.