Posted by: Shourya Sarkar
Digital Transformation in Oil and Gas Industry via Digital Process Mining
A quick glance at the challenges and disruptions across the global Oil and Gas sector reveals a humungous window of opportunity for driving process transformations within the existing business/revenue models, and more so post the Covid-19 pandemic.
However, to gain competitive advantage, the Oil and Gas businesses need to be tactful and strategic simultaneously by analyzing massive volumes, varieties and velocities of data generated from multiple sources. The structured/semi-structured/ unstructured data getting amassed from the ever increasing digital footprint in each and every business process transformation can then be utilized for generating valuable insights.
Key Challenges In Oil And Gas Vertical

Key Disruptors In Oil And Gas Vertical

1) Time and Cost: Energy transactions are complex and involve an extensive range of orders and documentation such as purchase invoices, funds for bank release, shipping documents, etc. adding complexity to the processes.
2) Transparency: Businesses devote time and energy in ensuring placement of documents and their accessibility for stakeholders. It comprises of, audits, compliance documents, and paperwork.
3) Supply Chain: O&G Supply chains are structured in a complex fashion involving suppliers, shippers and customers. They demand large administrative overheads, creating potential for errors.
4) Payments: Oil and Gas contracts have a complex fee structure, involving cross border businesses requiring intermediaries and additional charges.
5) Efficiency: Paper contracts and Outdated trading platforms impacting efficiency and transparency while managing large capex led projects

1) The typical business model now stands irrelevant with oil prices under $50 per barrel. Resource abundance means lower oil prices and focus shifts to cost, efficacy, and speed. Talent is not scarce, exploration capability is no more a differentiator, and growth is not limited to megaprojects, etc.
2) Thoughtful technological developments are disrupting timeworn ways of operations, enabling step fluctuations in efficiency. Jobs, comprising knowledge work are getting substituted by automation on a great scale. The remainder requires increased machine-human interface, with an exponential growth in data generation, more so with all equipment wanting to connect to cloud.
3) Growing demographic shifts lift demand of work environment change. Digital natives of the era, and millennials come with their own expectations of collaboration, accountability, pace and technology.
4) Organization agility, Digital organization, Millennial managed organization, Decentralized decision making and redefining what is the core business are some of the imperatives for the future.
The Finance, Accounting and Procurement processes are some of the key focus areas in this industry that are keeping the CFOs & CPOs concerned because they are significantly contributing to margin pressures, irrespective of its scale, i.e. smaller independent, or oil & gas supermajor. The sector needs to closely investigate the associated workstreams like Accounts Payable (AP), Accounts Receivable (AR), General Ledger (GL), Procure-To-Pay (P2P), shipment-To-Cash (S2C), Record-To-Report (R2R), Order-To-Cash (O2C) et al.
All processes and workstreams are continually getting complex, due to the huge scale of operations and magnitude of transactions involving different IT-based activities that create massive amounts of data. Tech Mahindra BPS can apply Remote Process Mining techniques that can help Oil and Gas firms in achieving highest efficiency and complete transparency within workflows. Our tech works on the collected event logs, learning about the processes that need automation, which leads to efficient BOT deployment along with waste elimination- reducing cost-to-serve, and thus improving processes across the Upstream, the Midstream & the Downstream Service Value Chain.
With TechM's Digital Process Mining methods powered by the leading 'Celonis platform', Digital transformation in oil and gas companies can be accelerated for:
A faster & better decision making through 'process transparency'
'Finance & Procurement Insights' that generate business value
Optimized expense structure with controlled costs
Monitoring real time performance with target comparison
Provide intelligent recommendations to reduce costs
Identify sources for additional revenue
Meet regulatory and security requirements
Auditing, Compliance, and Fraud prevention
The Celonis-TechM partnership works on the ideology of combing the best of both worlds, i.e. best-in-class platform and technology expertise, coupled with best-in-class business process transformation know-hows: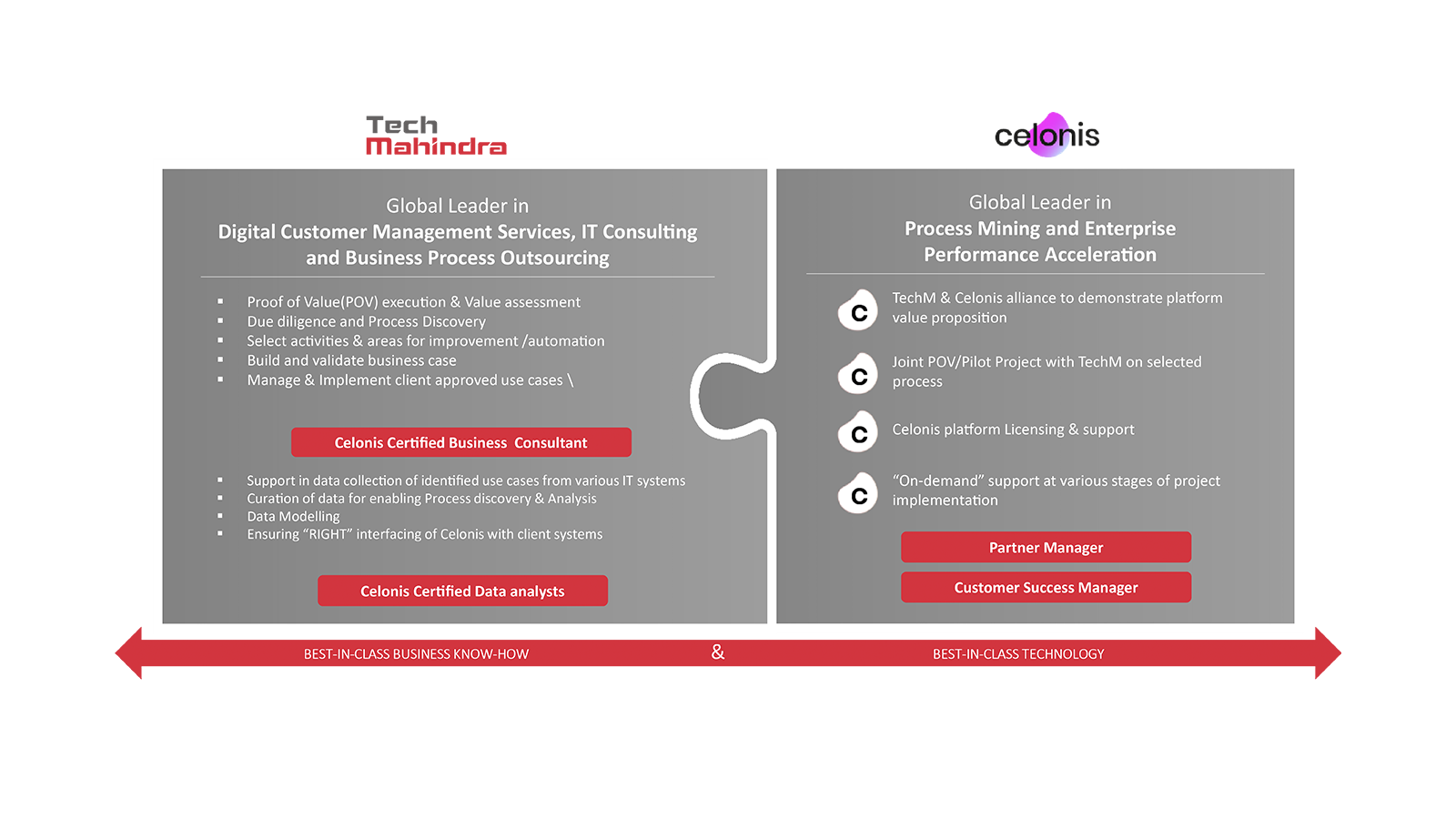 Understanding Digital Process Mining: Process Mining uses AI driven analytics for extracting information from the present data. Data-mining algorithms are then applied in identifying trends, patterns and hidden details from the event logs. The new knowledge gathered is then used in improving and enhancing business processes. Similar to an X-ray, Process Mining works to provide clear illustrations of workarounds, patterns and inconsistencies in the processes that are impacting business performance, to help diagnose problems based on facts, and produce faster resolutions.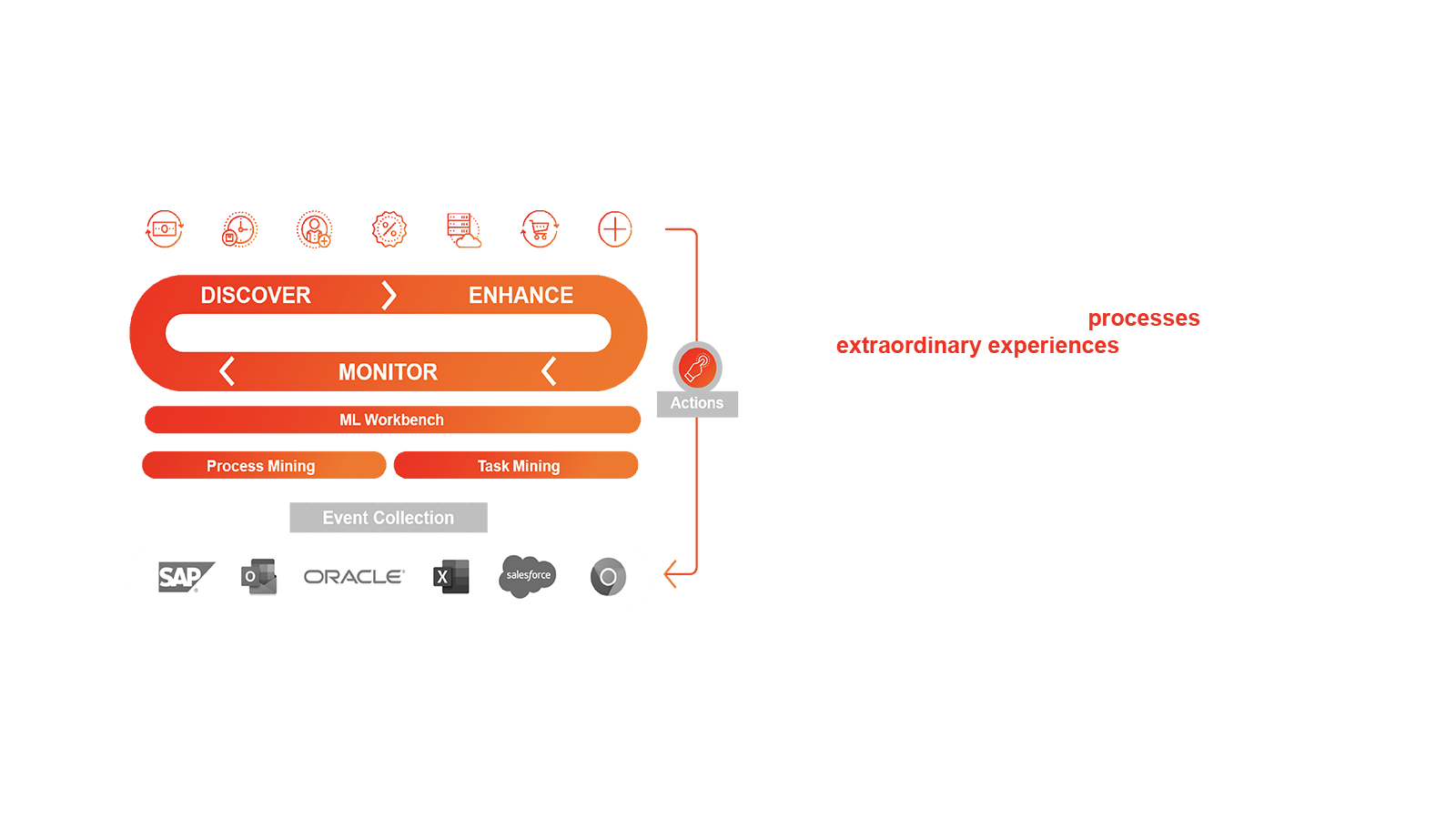 Journey to Superfluid Oil and Gas Enterprise: Our joint digital process mining capability is one of the most effective and proven enterprise performance accelerator for digital transformation in Oil and Gas industry.
With this tool we can cater to an enterprise of any size and shape, and deliver a superfluid experience to both internal as well external stakeholders of the organization that visualize the actual processes within systems like the ERP,CRM, and domains like Oder management, Cash Management, O2C, AP, AR, Procurement and IT. All this can be combined with the power of AI-driven root cause analysis, to continuously improve recommendations and deliver – Productive Operations, Rapid Order Processing & 100% delivery compliance.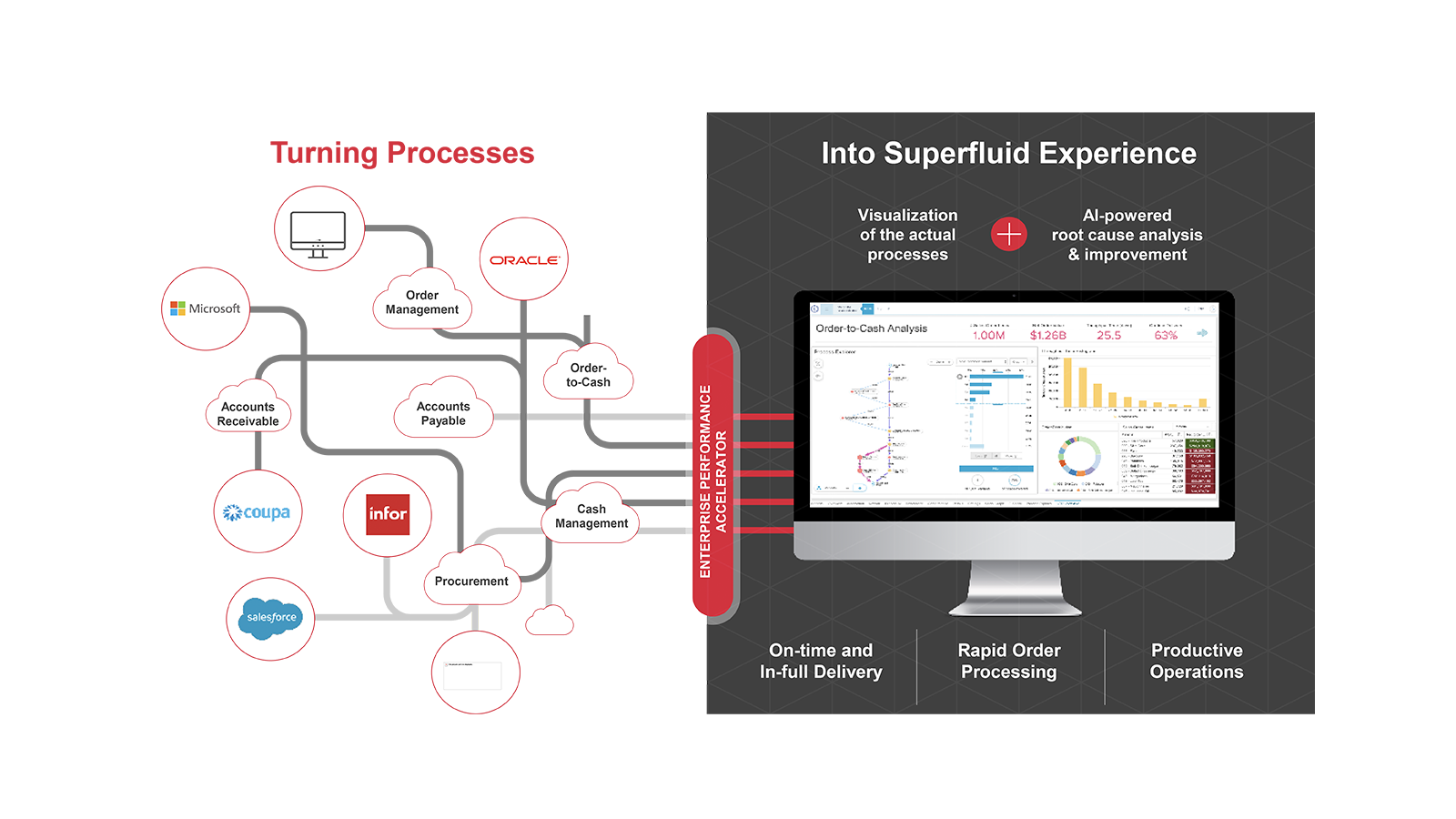 How do we do it : We leverage a 4-step approach depicted below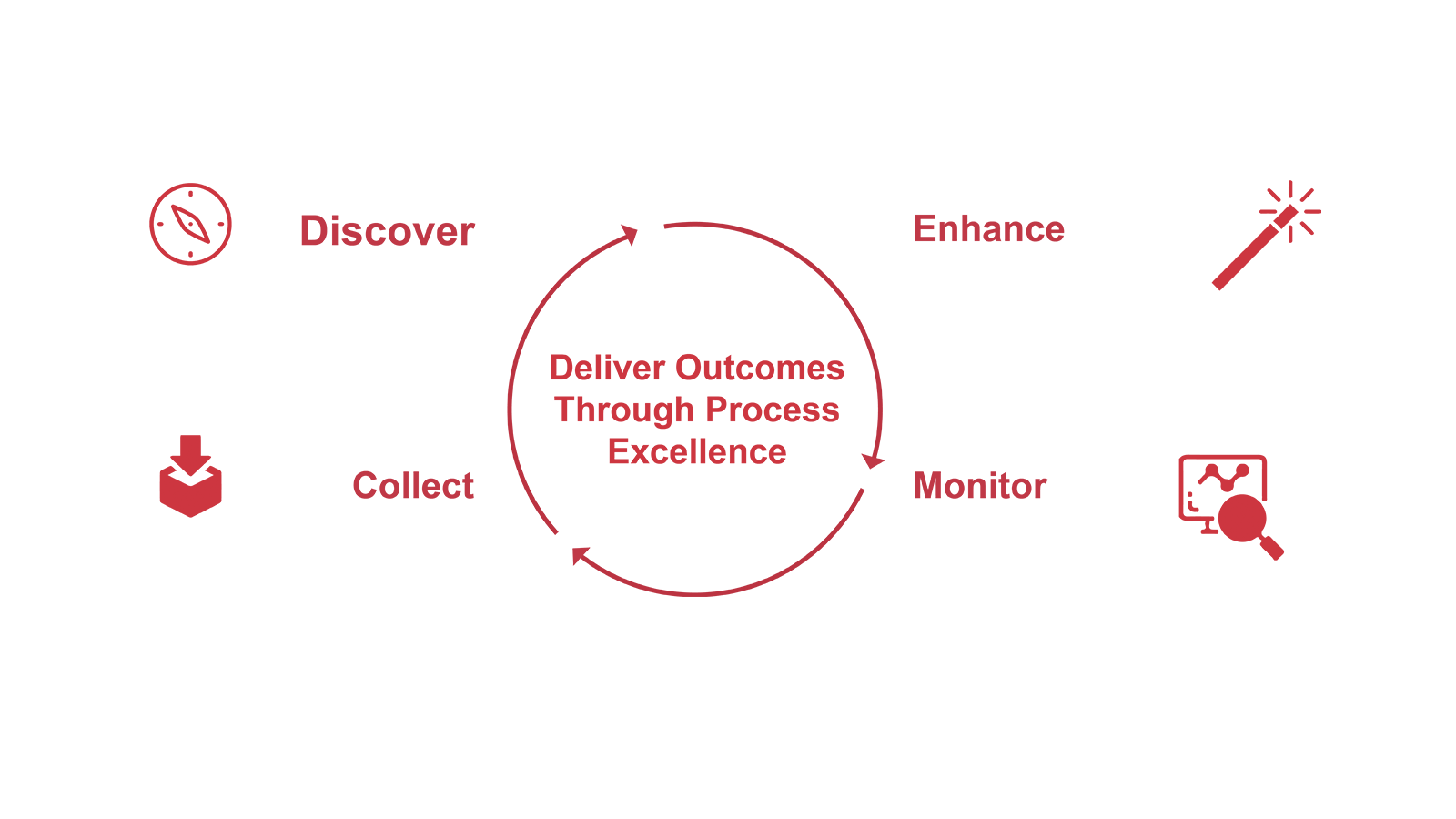 For instance, let's visualize how Digital Process Mining Streamlines Financial operations of an Oil and Gas corporation while intelligently assisting the various roles involved:
| | | |
| --- | --- | --- |
| Executive, Finance | Manager, Finance | Individual Contributor |
| Responsible for reducing operating costs, streamlining operations, and ensuring compliance, they need to be aware of cost per PO and SO, volume of compliance violations, and return on capital. | Responsible for optimizing working capital, improving overall productivity and delivering quality, while eliminating the root-causes of manual rework and balancing risk. They need to be aware of DSO, automation rates, cost per invoice, and blocked order rates. | They're responsible for working capital optimization by processing invoices at the best time, and driving productivity through reduced handling time. They need to understand DPO, cost per invoice, and compliance concerns by reducing maverick purchasing. |
| Discover: Helps you in understanding the existing approach towards cash discounts and quantify the potential- basis percentage realization. | Discover: Helps in understanding frequent 'late payment occurrence' and the underlying root cause to help prioritize improvement efforts according to highest ROI. | Discover: Helps in discovering glitches for a 'perfect payment execution', while discovering the root cause of issues, e.g. invoices with a wrong baseline date being sent by vendors and getting early payments. |
| Enhance: Machine Learning (ML) to help predict liquidity levels, provide recommendations to aid in locating invoices primed for cash discounts, for maintaining ideal working capital all the time. | Enhance: Once an issue is identified, ML and AI usage will proactively analyze and flag master data issues automatically, before delaying invoices or forcing manual rework steps. | Enhance: Using ML and AI can put a hold on invoices once discrepancies are identified, such that disbursement is not initiated until the invoice is actually due. |
| Monitor: To track cash discount developments continuously over the time and benchmark other operational costs to provide further opportunities | Monitor: Can measure the trends over time for DSO and highlight actions to be taken for specific customers, geographies, business units or sales channels that are not showing signs of improvement. | Monitor: To track invoices paid earlier/before time, and proactively look at- should you see an unexpected peak. |
An intelligent process mining platform can enable 100% compliance throughout the organization, helping in relieving working capital and delivering insights needed to drive the right actions. To have a better understanding of the same let's discuss a few possible scenarios:
| | |
| --- | --- |
| Can we optimize financial processes while ensuring compliance across the organization? | Yes, end-to-end audit trails can highlight who touched what, when, and why, ensuring financial compliance throughout the organization. |
| Can we ensure longevity of existing drill sites and refineries to leverage investments in the best manner possible? | Yes, we can accomplish it through detailed oversight of performance from each site or refinery, enabling orientation of business and its operations while optimizing throughput and maximizing return on investment. |
| Can we monitor the entire network and distribution health to become cost effective with fewer movements? | Yes, intelligent digital process mining provides an overview of tracking shipments and material movements, to give transparency into the root cause analysis for volume metrics, miles cost per truck load, and route optimization. |
Procurement: A key challenge in the oil and gas sector lies in managing organizational spend and ensuring procurement policies are adhered throughout the supply chain complexities. Coupling this challenge with ever evolving external pressures, a need for quick reaction times, and limited visibility into spending/buying behavior, maintaining precision sounds impossible.
However, the technology underlying Digital Process Mining Intelligence can enable procurement leaders to navigate these difficult conditions, eliminate maverick buying, and reduce costs by visualizing how processes really flow. Starting with sourcing contracts, PO creations, goods receipt/service entries, and payments, the Intelligence gathered from digital process mining helps in digital transformation in oil and gas industry. Now let's try to answer a few pertinent questions to convey the benefits of digital process mining intelligence:
| | |
| --- | --- |
| How can one know that their procurement practices are being followed throughout the oil and gas supply chain? | Combining datasets from all associated systems, Digital Process Mining Intelligence visualizes workflows and surfaces discrepancies ensuring only best practices are followed throughout the organization while making proactive recommendations. |
| How can it be ensured that each drill site or refinery has what it needs, at the right time, in the right quantity, each and every time? | Process Mining technology can track entire digital footprint to highlight problematic suppliers, process challenges, or problems impacting delivery; giving recommendations on how to avoid issues in real-time, in the future. |
| How can one know that they're optimizing procurement spend to capitalize on vendor pricing? | A unified digital process mining technology platform can detail out end-to-end procurement process, spot any discrepancies early, identify suitable time to buy, and optimize future performance based on historic and near real-time data. |
To drive efficiency across identified areas for end-to-end oil and gas business process operations, Digital Process Mining Technology can analyze as-is business processes, identify bottlenecks, and recommend best actions. This end-to-end transparency allows one to automate repetitive tasks, simplify complex and sluggish transactions, while optimizing process management throughout the organization.
There are multiple use cases within the oil and gas vertical, such as Lead-To-Opportunity cycle, Sales & marketing Campaigns, etc. where intelligent process mining can enable seamless business operations from optimized business process transactions. A few of them are as below:
Process standardization and transformations effort optimizations during ERP system migrations
Plant Maintenance: Keep throughput high during downtimes, optimize maintenance strategies based on actionable insights from disparate system generated PM data & adaptive AI enabled learning helping to incorporate best practices from PM Ops history, and proactively alerting any deviation from ideal process or timelines with delayed schedules.
Contractor Onboarding: Accurately validate process history with contractors to ensure they're capable of delivering on time and within agreed budgets. Also visualizing/automating workflows/processes within HR, Operations, and Finance teams to expedite hiring/onboarding.
Warehouse Management: The underlying technology can compile datasets from different systems, visualizing overall stockpile and management processes- ensuring 'always have what's needed, wherever needed.
Connecting dots across global processes and systems for a holistic and complete picture of stock, replenishment, and distribution processes. The embedded AI feature can monitor stock levels, notifying whenever something is running low to avoid delivery schedule slippages.
Some indicative and achievable business outcomes by leveraging digital process mining in such use cases within the oil and gas space are –
By detecting patterns in goods movement activities and relocating parts and equipment, the on-time completion rate could be increased from 57% to 78%.
Improve the cycle time of purchasing by 4.6 days while reducing the need of ad-hoc purchases to 12% in a matter of 4-5 months.
Using the Action Engine feature within the Digital Process Mining technology module, the rate of late contractor onboarding can be reduced from 23% to 8%, while the rate of delayed conversation of leads to opportunities can be reduced from 38% to 10%.
A holistic key benefit-outcome snapshot should be similar to: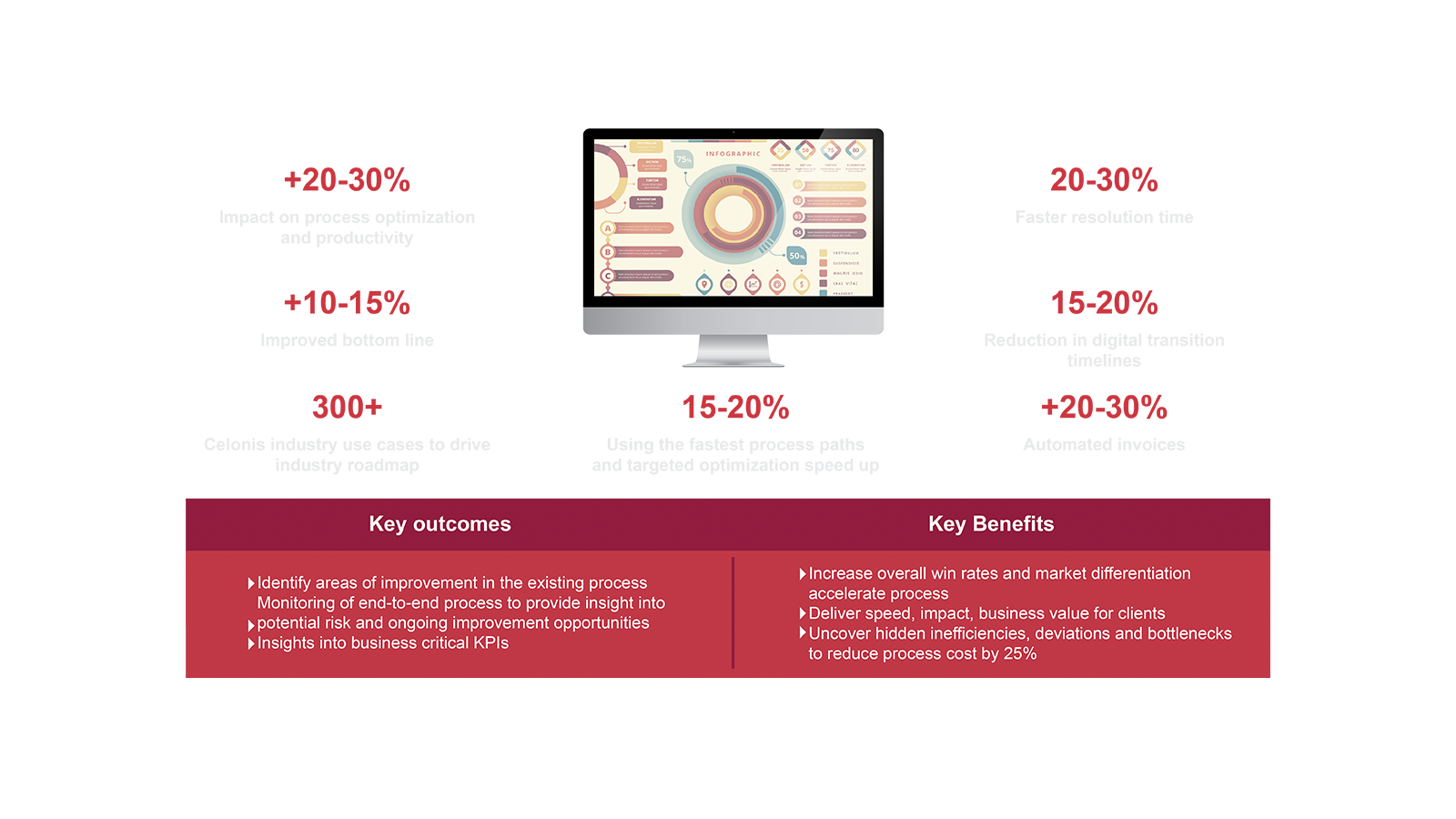 It is quite possible for an efficient & intelligent digital process mining approach to provide average savings per process per year in the ranges of 1.2M -to- 2.9M USD.
CONCLUSION
It is necessary to select the application of process mining, and Oil and Gas organizations can expect the best value from applying it to processes that have been digitized (i.e. supported by an IT system), but are still struggling with unstructured work and unorganized data that is managed outside the IT infrastructure.
Our team's skilled and trained resources can remotely diagnose processes, find gaps and present the business ROI, i.e. the opportunities to automate and optimize processes and the associated volume reduction that can be achieved.
For more details, please write to us at
BPS BTS: - BPSBTS@Techmahindra.com
Shourya Sarkar: - SS00614299@techmahindra.com
Author:
Shourya Sarkar
Presales Consultant – Energy & Utilities Practice, Tech Mahindra Business Process Services
Manages digital transformation solutions for Energy and Utilities globally. Responsible for Presales, GTM, Bids and Transformational Solutions for Utilities vertical. He has over 8 years of experience in ITeS/BPS space in various capacities. Started his career as a Programmer Analyst after completing his B.Tech, then he moved into IT Projects, Program and Transition management roles after completing his MBA, and then he has specialized & established himself in multiple cross industry Vertical Presales, Bids and Proposals Management. He works closely with global cross industry engagement teams to tailor compelling digital led proposals for TechM's E&U prospects & clients.