Earth Day in 2022 is focused on how to invest in our planet. There is a clear need to increase investment in own sustainability capabilities, which I have covered in later part of the blog.
The pandemic and growth of e-commerce has pushed businesses to embrace digital transformation. This accelerated transformation agenda provides an unprecedented opportunity to create green business models by shifting the focus from productivity enhancements and efficiency improvements to sustainability.
There are questions in everybody's mind, "How are you embedding sustainability into the core business strategy and operations from capturing it to applying scalable, sustainable solutions across the organization in a commercially viable manner? How can we embed internal carbon pricing in decision-making by tracking carbon through products? How can we exchange information between companies, across borders, and all the way to planetary accounting?"
The pandemic and growth of e-commerce exposed the limitations of a global supply chain. To provide resiliency and manage supply chain disruption, there is a need to re-look the redistribution of suppliers, ports, logistic routes, energy-efficient sites, and warehouses. So, as you are reinstalling the supply chain, you have to rebuild them and apply environment, social and governance (ESG) principles during the process to boost readiness, rather than trying to make all these investments later on.
The embedding of sustainability during the digital transformation denotes that an organization is looking for future enterprise value and not just focussed on the present value that can extend beyond the organizational boundary to include risks and opportunities in the supply chain.
Why is it so hard to define a sustainable supply chain?
There are many versions for the supply chain: Responsible, Resilient, Agile, Responsive, Digital, Sustainable, Compliant, Green (Net Zero), Transparent, Touchless and Circular Supply Chain.
Let's talk about the commonly heard term sustainable supply chain. What do we mean by this? To keep things simple to start with, I thought of putting my view to decode the differences.
Please see below the diagram, where I have defined the different types of the supply chain in three broader categories under the umbrella of an overall sustainable supply chain.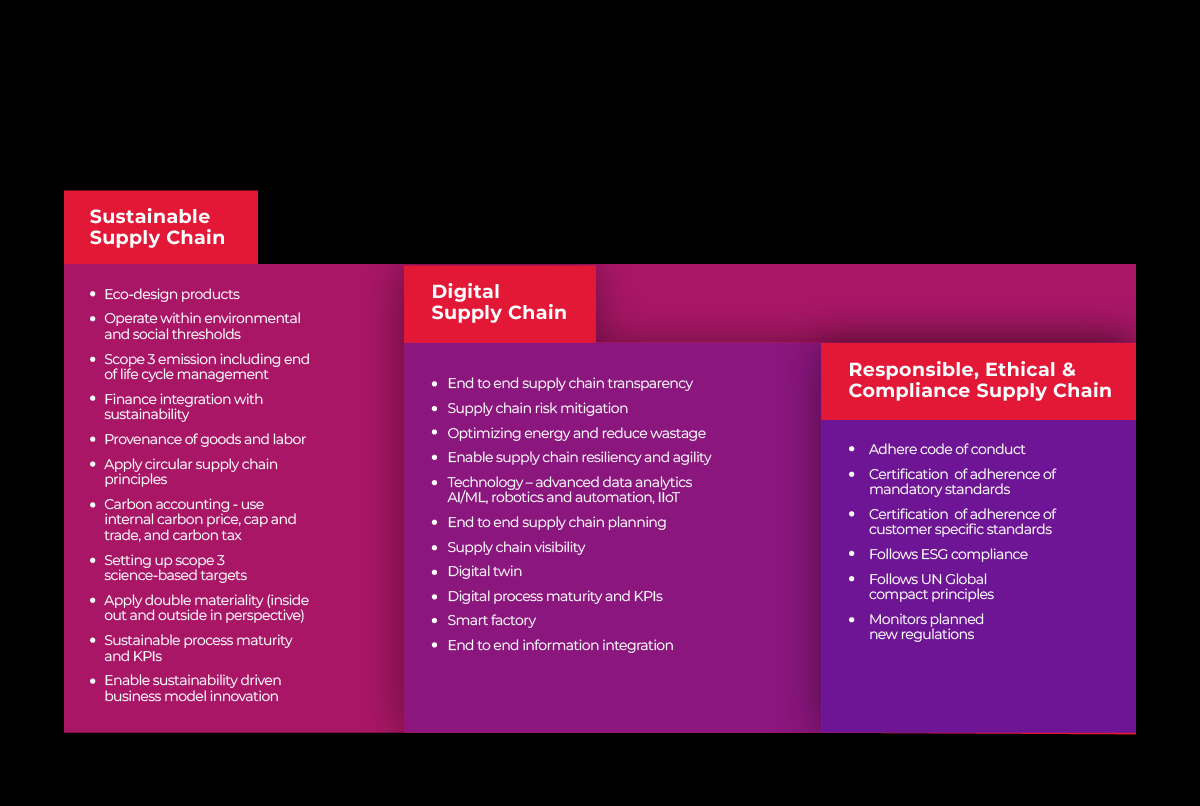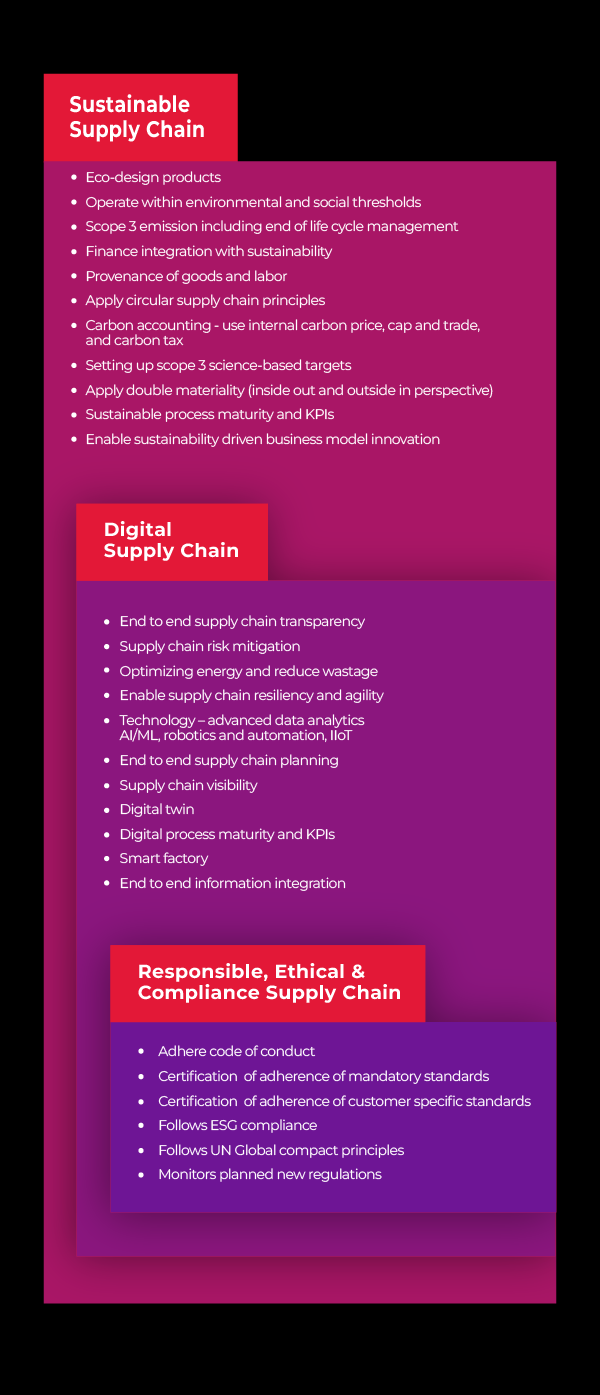 Supply chains may operate within legal and responsible guidelines but still may not be sustainable. A sustainable supply chain integrates ethical, compliant, and environmentally responsible practices without compromising long-term efficiency.
Growth of e-commerce leading to supply chain challenges
The supply chain is a complex non-linear system with a myriad internal/external constraints and variability to include in better modelling, and organizational alignment across the end-to-end supply chain
Here's what continues to exist:
More choices, next-day shipping: Known as the "Amazon effect" and customer awareness of things being out of stock and delays in shipment.
Customer-centric focus: With efforts toward obtaining faster, better delivery to the customer on getting things out the door.
Unhappy returns: More customers are expected to return their merchandise, further complicating an already volatile supply chain.
Supply chain disruption: The chaos at ports, warehouses, and retailers will probably persist.
Demand variability: New demand patterns have spurred extreme volatility, with some items facing stock-outs and others stockpiled unexpectedly.
That's a lot of problems! How about solutions?
In this core section of the blog, I will cover the following solutions framework.
Procurement function strategic role for Scope 3.1 Emission
It is difficult for many suppliers to measure their emissions, so buyers rely on multiplying material spend or material quantities it purchases with category-specific carbon emission factors in the country of origin from industry-specific Lifecycle Carbon Assessment (LCA) Databases, like Ecoinvent, GABY, or CDP and report them in an external carbon accounting solution.
Please see below the diagram where I have summarized the strategic role of the procurement function to manage scope 3.1 emission and adapt to a new operating model together with ecosystem players, suppliers, industry forums and initiatives and using tech tools.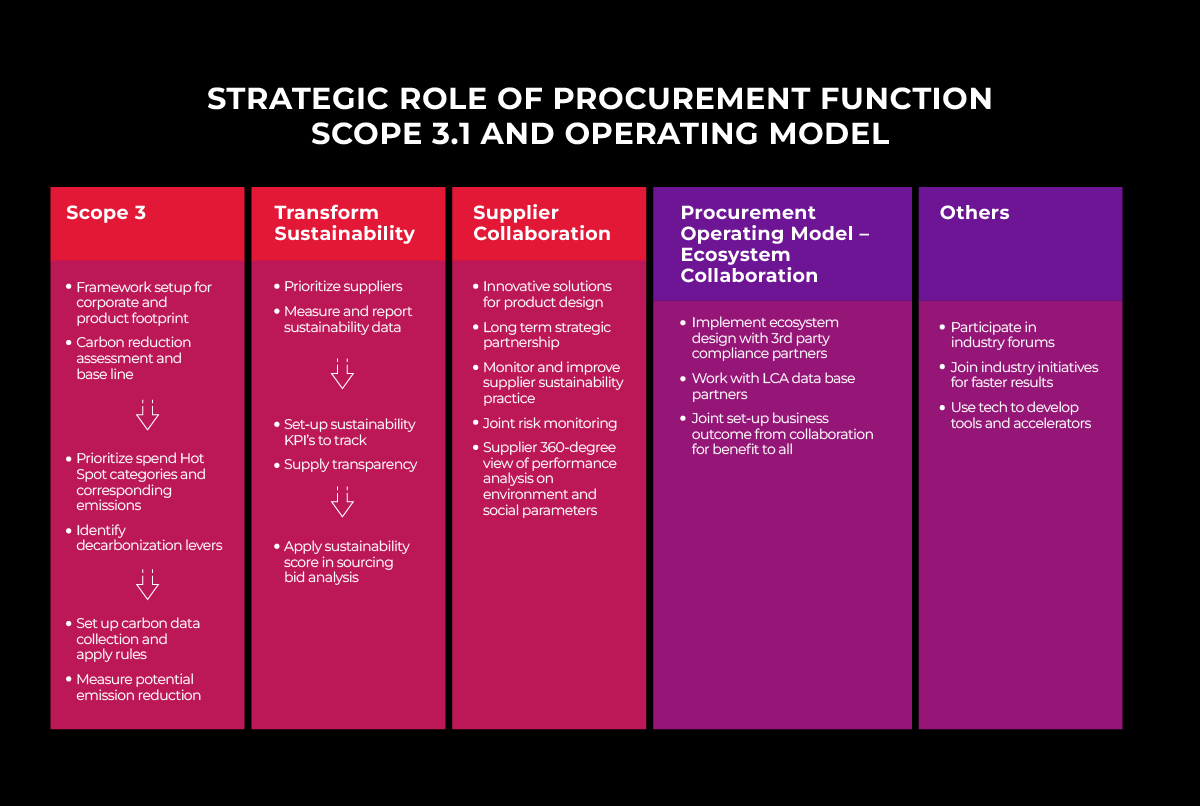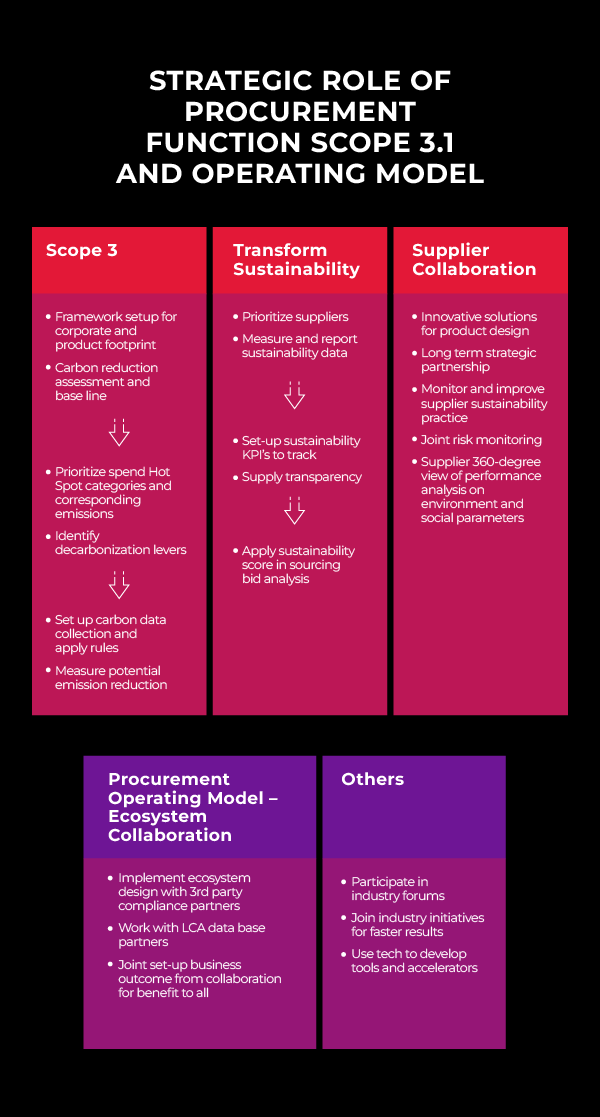 Internal carbon price in comprehensive decision making
There are also two main types of carbon pricing: emissions trading systems (also known as ETS) and carbon taxes. ETS introduces a cap-and-trade system, which caps the total level of greenhouse gas emissions. The second type of carbon pricing is carbon taxes, which set a fixed price that must be paid for every ton of CO2 emitted into the atmosphere.
Carbon accounting is now part of business technology. Please see below the diagram, where I have summarized the carbon pricing types and comprehensive decision-making approach to adopt the pricing type as per the company's maturity.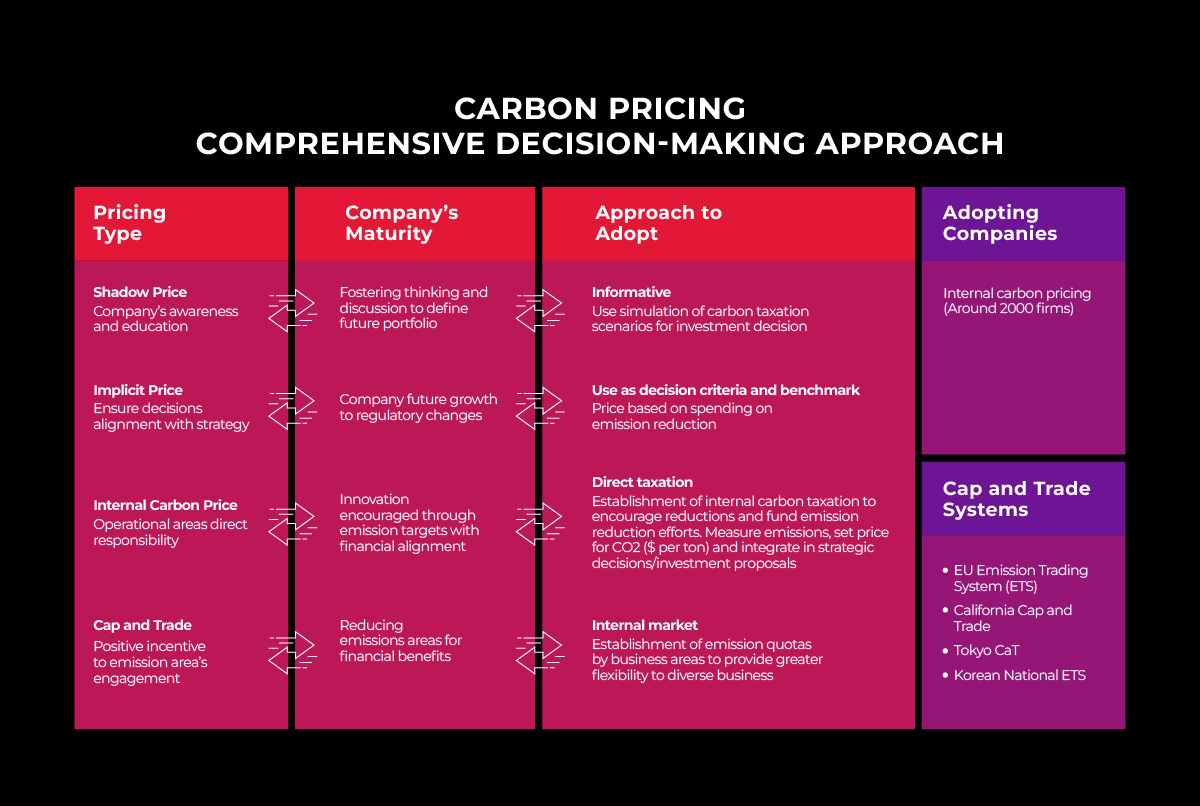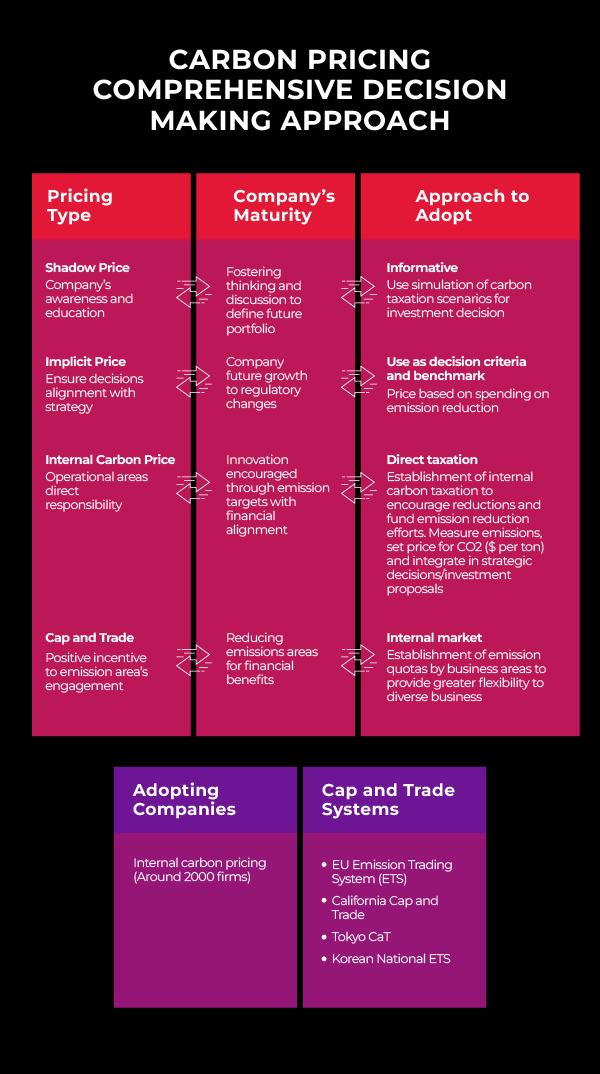 Invest in sustainability capabilities
There is a clear need to increase investment in own sustainability capabilities from design re-manufacturing, refurbishment, and recycling principles into products, developing the product as a service model, exclusively using sustainable materials for Packaging, developing capabilities to proactively take back used products, develop collaborative transportation models and transition to Packaging less delivery.
Network design: Invest in network design capabilities and rationalize the number of nodes, parties, and shipments.
Move to regional supply chain designs: Analyze the network–focusing on locations of second and third-tier suppliers and minimization of cross-border shipping. Design where inventory should be placed and in what form in the network. Intelligent management of in-transit inventory
Value networks: Focus on building multi-tier outside-in processes across logistic and network players and drive interoperability through networks.
How to enable a sustainable supply chain design model
Please see below the diagram, where I have summarized the framework for a sustainable supply chain design model to achieve the sustainable performance of supply chain in an integrated way.
There is an urgent need to integrate the supply chain with financial planning to move towards
Eco-design and carbon pricing linked investment scenarios to operate within ESG thresholds.
Enable more market data for varying demand in synchronized planning.
Unified data model across end-to-end supply chain across ecosystem partners from source to delivery.
Cash flow management for proven technologies to enable supply chain transparency, risk event management, carbon footprint and enterprise sustainability management.
Infrastructure and digital platform set-up for circular economy principles.
Prioritize investments in digitalization to increase the level and intensity of connections with partners.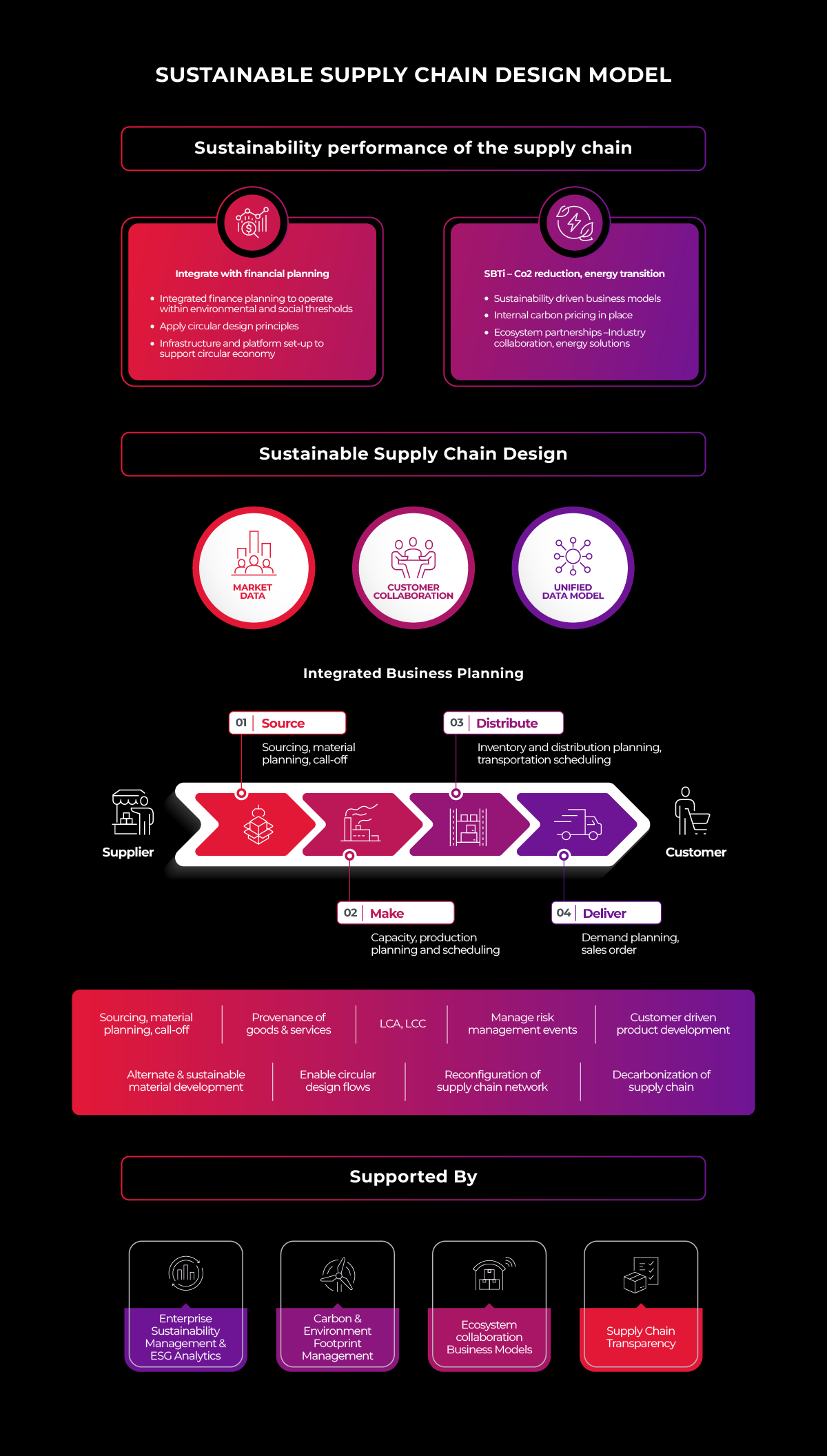 Can we scale up the solutions quickly?
The timescales to achieve a sustainable future are sinking. To re-cap some areas to scale-up:
Enable sustainable supply chain design model with integration with financial planning
Redistribution of suppliers, ports, logistic routes and reinstalling the supply chain and apply ESG during the process
Adopt the carbon pricing as per the company's maturity for comprehensive decision-making
Design sustainable strategies and improve digital process maturity and sustainability KPIs
Ecosystem partnerships to share end-to-end information in real-time to enable faster responses to unexpected changes, risks in supply or demand
Increase collaboration on sharing innovative tools across industry sectors
Eco-design and carbon pricing linked investment scenarios to operate within ESG thresholds
Infrastructure and digital platform set-up for circular economy principles
Start deciding new business rules on sustainability dimensions checkpoints to take conscious decisions in real-time to embed environmental, societal, and governance (ESG) at every step
Where do we go from here?
New guidelines, global standards, common targets, and collaborations are required to assess the entire supply chain performance within societal and environmental limits.
In the interim, sustainable supply chain management requires setting up science-based targets, Internal carbon pricing, developing sustainability metrics, and building relationships with ecosystem players across the chain.
The cross-industries collaboration will have to manage how they are spending the remaining carbon budget collectively. That's challenging, but advances in scientific understanding, new data streams and cloud computing allow us to connect dots to accelerate it.
There is no one-way approach for attaining a sustainable supply chain. It could be balancing short-term imperatives with long-term goals by doing business and applying sustainability. However, the winner will be the one who can embed sustainability during the digital transformation.
About the Author:
Avanish Kumar
SAP Practice Head, Tech Mahindra
Avanish has over 28 years of experience including both in Industry and SAP domain. Avanish is passionate to work in sustainability to drive business value driven S/4HANA sustainable transformation for the clients. He has extensive experience in developing sustainability solutions for different industries using SAP technologies and digital platform. He is a certified sustainable supply chain professional and regular blogger on the topic of sustainability, supply chain and SAP.