The NXT CME Reboot and Reinvent Strategy: TechM in the Nordics
There is no place like the Nordics – be it wanting to share a front desk to making communications history. This has been the home to some pioneering businesses in the telecommunications industry, and our customers are among the leading innovative telecommunications and technology companies in the world.
Leveraging our islands of expertise and excellence, Tech Mahindra is busy replicating the transformative business outcomes, which we have successfully helped our global customers achieve, in the Nordics. And the communication service providers (CSPs) we serve are fast becoming the digital service providers to their end user customers both in the enterprise and consumer markets.
While CSPs may face headwinds from OTT players, these disruptions provide technology partners like Tech Mahindra the opportunities to help them monetise their services differently, focusing on expanding to industries such as manufacturing, health, agriculture. This ultimately enables the application of emerging technologies that provide the competitive advantage to deliver high quality, highly secured, enhanced customer experiences.
The NXT.NOW™ Charter
At Tech Mahindra, we have been working with our customers worldwide to improve agility in rolling out and supporting networks of the future while increasing the returns on investment (ROI) for such a technology-led transformation.
We have achieved these by integrating several world class technologies and platforms in areas like artificial intelligence (AI), blockchain, BizDevSecOps, big data analytics, and 5G.
Together, with our customer community, we are helping make the vision of a 5G-enabled future a reality. Our NXT.NOW™ charter is to bet big on 5G – network of the future, and is focused on technology-led innovation to enable digital transformation for our customers globally.
Steeped in the Nordics Culture
We are bullish on the Nordics. We have been leveraging the investments made in NXT.NOW™— in our technology focused competency centres, in our highly skilled expertise— to lead in this region. We have a clear ambition to scale our presence, drive growth, and contribute business value for our customers.
The organizational structure is in place to integrate culturally, adapt better to the business environment, and become more local as we hire more local talent. These localisation initiatives will help us drive our responsiveness and ownership of solving customer problems.
We are aligned to the Nordics culture to run our business based on trust. Translating customer pain points, deciphering customer conversations better, and understanding the many nuances of customer requirements are key ingredients in our localisation strategy. As we pay more attention to language and communication, we steep further into this culture which helps us improve every day. This along with an in-depth understanding that customer communication is more touch and feel rather than what is transferred in black and white email messages is the key to success.
Sustainability, Partnerships, and an Inclusive Agenda
The Nordics lead the world in terms of the number of advocates for the environmental and sustainability agenda. This agenda is tied to corporate goals of our CSP customers as well. We help foster this sustainability agenda, drive value through our solutions that meet both their technology and social/environmental needs, and create an inclusively diverse work environment to enable these outcomes.
Being System and Organization Control 2 (SOC 2) certified, we are leveraging the best-of-breed technologies, including geo fencing, our prowess in physical, logical, people, assets, and most importantly, data privacy issues. This will ensure that our Nordic customers are shielded from cybersecurity threats and intensive regulatory pressures at play.
We are also utilising our partner ecosystem. Swedish, Danish, Finnish, Norwegian, Lithuanian, Latvian, Estonian companies, and the Nordic counterparts of key international hi-tech players, who may not experience the same global spotlight, play a critical part in enabling our customer successes. When we enable them to succeed, we and our customers also succeed.
Our leadership team is a good blend of gender, local and age diversity. Our country leaderships in the Nordics are experts who also have their feet strongly entrenched in their local cultures. This will continue to be a work in progress as we culturally integrate better with the Nordics.
Something to Talk About
Reimagining our business aligned with the Nordics way, the Nordics Communications, Media, and Entertainment (CME) leadership team was privileged to have our Head of Europe, Sandeep Phadke and our good friend Ulla Koivukoski, who keynoted the event, sharing her insights on building long term customer value in the region.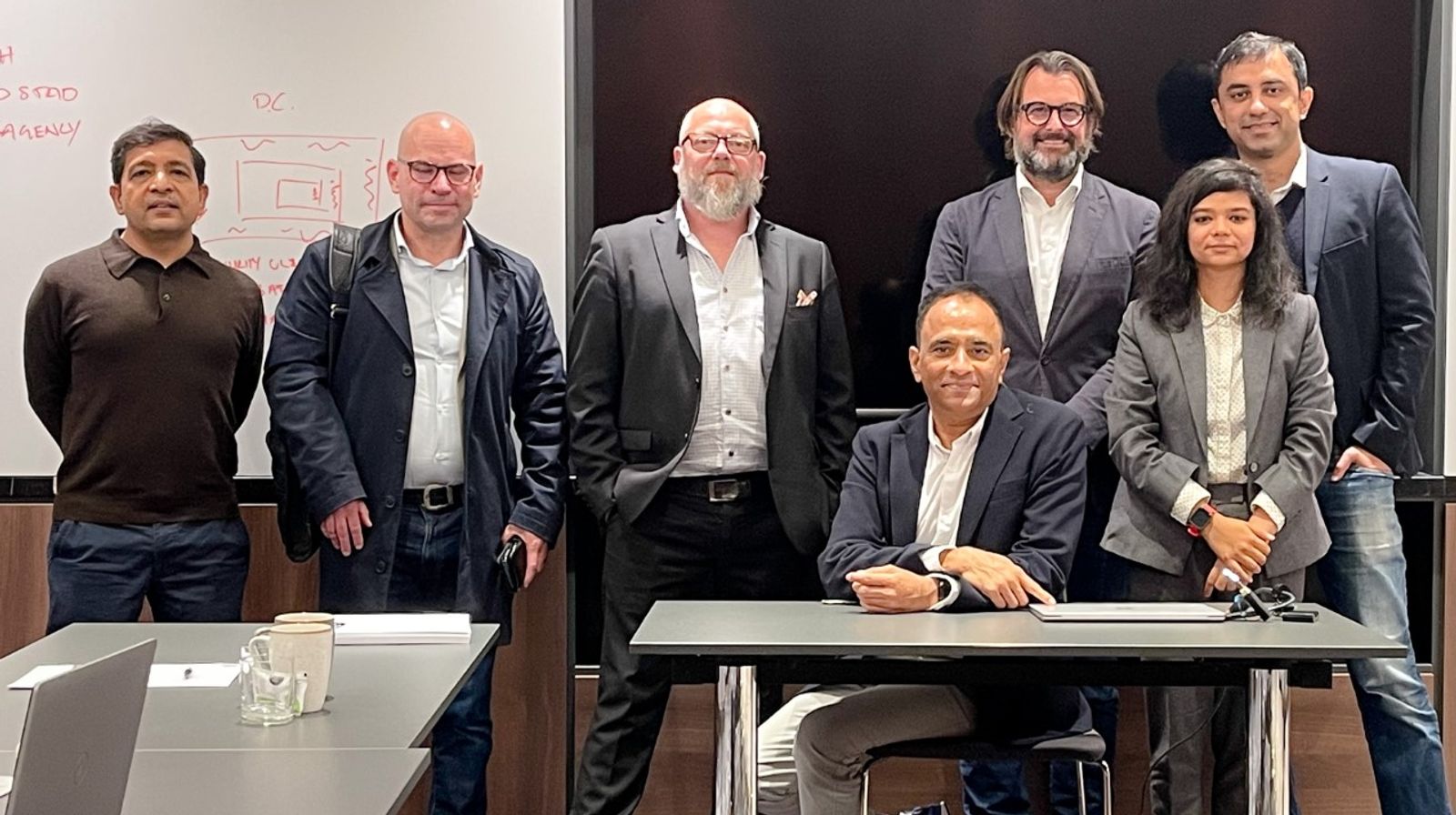 L to R – Avinash Mathur (CTO Nordics), Jakob Jan Tomas Stenstave (CISO Nordics), Roger Bjork (Head of Sweden), Peter Engel Moller (Head of Denmark), Amit Gogna (Head of Delivery), Shameen Saba (Head of Alliances and Client Partner, Nordics) and Sitting – Suresh Narasimhan (Head of Nordics-CME).
Ulla shared her rich experience in building cross-organizational, collaborative teams to turn around the cultures and business results. She inspired the team with over 30 years of experience in telecom and IT. She has authored books on leadership and business practices, and brought all that to bear on ramping up our team for our reboot mission.
Thanking Ulla for the inspirational keynote, Sandeep resonated our leadership views about the perfect start to reimagining the business in the Nordics.
Exciting Times Ahead
We are humbled to work with a vast array of experts across the breadth of the CSP operations framework. Telecommunications is in our DNA. We are excited and proud to work in an organization that has been imagining, building, and running the future of technologies, while creating a culture of sustainable personal and professional growth.
About the Author:
Suresh Narasimhan, Head of Nordics, CME, Tech Mahindra, is a seasoned telecommunications industry expert and a business leader with over 25 years of experience in this industry. Suresh has graduated from Birla Institute of Technology and Science (BITS), Pilani – a prestigious science and engineering institution in India. He also has a master's degree from George Washington University, US. Before joining Tech Mahindra, Suresh worked for decades with operators in the US, and with network vendors in Europe and Asia. Suresh currently leads a team of experts and seasoned leaders who are quite familiar with the Nordics.