Posted by: Sree Ram Edara
The Next Generation Claims Processing
Claims Processing is the moment of truth for every insurer. It is the time when every insurer is evaluated on the delivery of the contractual commitments made in the policy contract. Customer satisfaction from the product and insurer, customer retention and insurer brand image in the market are all integrally linked to an efficient claims management.
Hence, all leading life and general insurance companies make significant investments in improving and transforming the way claims are processed to overcome the following challenges:
Customer dissatisfaction and resulting brand damage.
High claims pay out and claims processing costs. These costs constitute the lion's share of an insurance companies outgo hence could be a strategic disadvantage over competition in an industry where margins are already under pressure due to stiff competition.
Several insurers in Australia & New Zealand are struggling to manage claims efficiently and are facing regular regulatory scrutiny and reprimand. APRA has set up the claims database and publishing regular reports on various aspects of claims settlement.
Provided below are some pointers that are reflective of the issues that insurers are facing in claims processing.
Life Insurance
Claims paid ratio is higher in case of group super as compared to group ordinary and more importantly individual advised non-advised, which shows that there are several issues in processing claims in the direct and individual lines of business. For Ex: The respective ratios for death and TPD are

Death: Individual advised (42%), Individual non-Advised (40%), Group Super (85%) and Group Ordinary (47%) *
TPD: Individual advised (49%), Individual non-Advised (35%), Group Super (95%) and Group Ordinary (69%) *

Declinations due to contractual definition not met and exclusion clause and other reasons constitute a major part of declinations *
General Insurance
Australian Financial Complaints Authority (AFCA) says there was a 17% increase in the average number of general insurance complaints received each month in 2020, compared to 2019 **
Most complaints received were about delays in claim handling (3521), followed by the claim amount (3171), and denial of claim due to an exclusion/condition (3032)
Insurers received the highest number of general insurance complaints (15,568), followed by underwriting agencies (2195) **
Longer cycle times for claims settlement are contributing to increasing disputes and regulatory scrutiny, not to speak of increasing customer dissatisfaction.
Where is the Struggle?
Life General Insurers are constantly working on increasing the claims processing efficiency, by opting for either replacement of the core claims system or reengineering the claims process or by modernizing the legacy claims platforms. However, they are not able to derive the targeted benefits for the following reasons
Despite implementing the latest claims management systems, many processes are being handled manually. Claims teams are spending significant time in manual tasks like extraction of data, preparing claims summaries or managing claims communications.
Legacy modernization is delivering limited benefits, as the modernization efforts are not factoring the changes occurring elsewhere in the ecosystem. Further, some of the must have capabilities are not being acquired during modernization
The continuing challenges around managing the huge document flow across the claims process
Non-utilization of emerging technologies like RPA, AI/ML, OCR/ICR that are offering significant capabilities in improving claims processing efficiency
Tech Mahindra's unique approach to Claims Transformation
Tech Mahindra has conducted an in-depth analysis of this industry wide challenge and designed a unique claims transformation framework that is aimed at solving the multiple pain points around claims processing in Life and General insurance domains. We have realized that, despite multiple attempts at claims transformation, insurers are still struggling with many of the following pain points.
Lack of an integrated intake of claims from all channels email, call centre, portals, handhelds and other partner systems
Longer duration in claims triaging and assignment
Longer cycle time (most of the times due to various manual tasks) in Identifying the claims requirements as soon as a claim is reported and sending efficient, unambiguous communication to customers and partners
Challenges in assignment and reassignment of claims based on the right skill set in the claims team
Heavy dependence of human knowledge and expertise in claims decisions and next best actions
Lack of value-added services to be offered during claims processing, to be empathetic with claimants
Our innovation labs have designed a futuristic solution framework that addresses all of the above challenges. The solution framework addresses the requirements of
Insurers who have implemented a new claims system, but still struggling to achieve targeted efficiencies
Insurers who want to continue with their legacy systems and are attempting modernization and transformation
Our solution involves building a wrapper on the existing claims management system/s that delivers the following capabilities.
Elimination of most of the clerical manual tasks in claims processing through process automation
Intelligent management of claims related documents focused on efficient indexing, data extraction and data ingestion
An artificial intelligence/machine learning based Cognitive capability that replaces human intelligence and provides efficient inputs to claims handlers across various stages of claims processing, on the best decisions and next best actions based on the claim type, complexity and other factors
Efficient integration of the claims system with the rest of the surround systems for faster processing of claims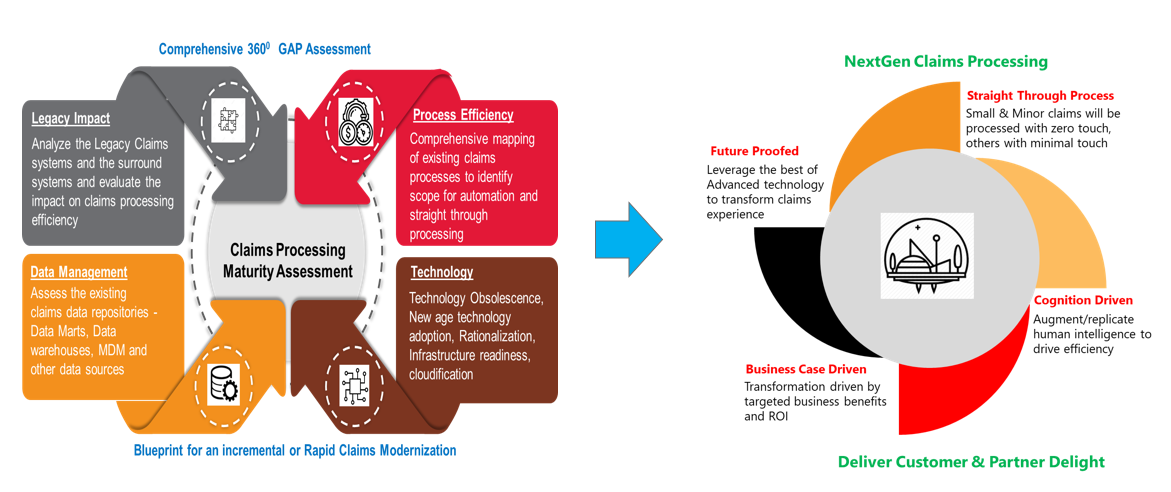 The key benefits that will be delivered by our unique solution framework are
A No Touch processing of most of the simple claims like Death, Funeral, windshield damage, minor collisions, that will reduce claims processing time in this segment of claims by up to 90%
A Low touch processing of medium to high complexity claims that will reduce the overall claims processing time in this segment by up to 50%
References:
* Life Insurance Claims and Disputes Statistics, June 2020 (Reissued 26 October 2020), Published by Australian Prudential Regulation Authority
** Article in Insurance News
Author:
Sree Ram Edara
Sree Ram leads the global insurance competency team in Tech Mahindra, that provides pre & post-sales support to insurance pursuits globally . He has over 29 years of experience in the insurance domain. He is focused on designing and developing innovative solutions for the insurance industry, leveraging the power of digital technologies like Robotic Process Automation, Artificial Intelligence & Machine Learning, Big Data and IoT.