Keep up with The NXT- Leveraging Customer Relationship Management (CRM)
Customer experience (CX), customer centricity, customer obsession, and customer excellence are the words we hear, discuss, and focus on in every decision an organization makes. Industry leaders understand the importance of customers at the core of everything they do. CX leaders are constantly looking for new ways to enhance customer experience and deliver what is next. More than ever, customers expect quicker resolution, 24/7 support, preferred channels, personalization, and self-serve. Below are some CX trends to make a note of: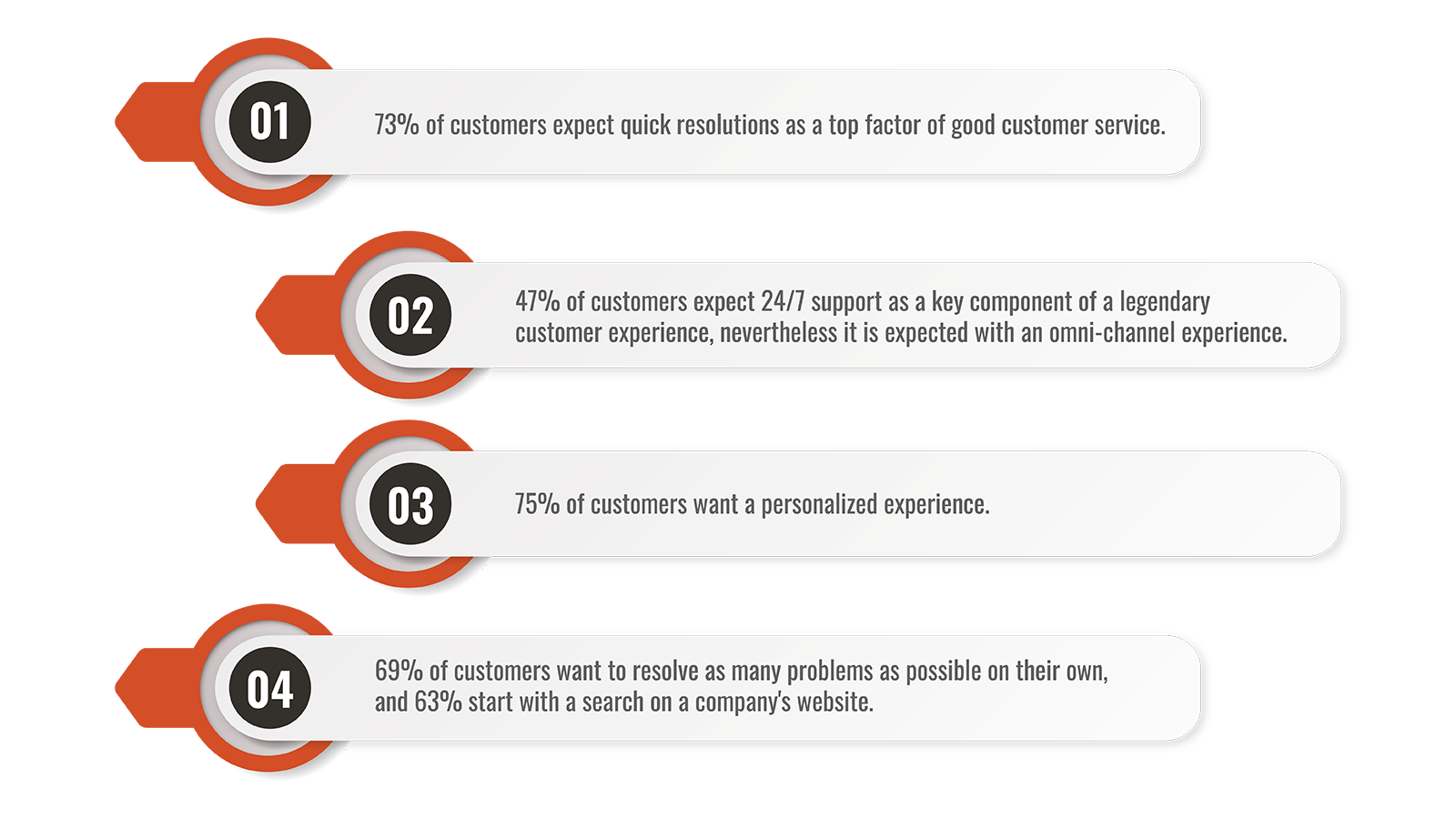 Our TechM NXT.NOWTM Approach
We explore industry changes, develop solutions which evolves with customer needs and ensure continuous business operations.

Imagine
Define how the industry will change and how we can proactively meet that progression.

Build
Develop systems and processes for to overcome and succeed through revolutionary change.

Run
Ensure stellar performance through continuous business operations.
With this, a CRM is the closest system we have after the frontline executives. Leveraging CRM capabilities with innovative applications to deliver a legendary customer experience is the key. CRM system is an interface between customers and everyone else in an organization. This system can be leveraged to understand the customer to the minute level.
Example from a finance service provider would be:
Customer persona (age, gender, language, geography) – Helps in personalizing the interaction with customers.
Customer transaction - Apart from the regular credit terminology as credit limit, current outstanding, EMI dues, etc., below can deliver better value:



Customer business value or customer lifecycle value (CLV) - visibility can also help deliver high priority to premium customers.
Customer purchase patterns – can be leveraged to design the promotional campaign at a customer level or even, in general, it will be more effective as your offerings will satisfy the customer need.

Interaction history – This visibility provides an edge to employees to understand the customer concern in advance and drive effective and efficient issue resolution.
When all the decisions are based on CX, it is important to have a CRM system that complements the customer's understanding.
What Should You Look into for a CRM System? Customer Expectations and Choice Of CRM
Not one size fits all


If you are at the start of your CRM journey and looking for a ready-made solution, you may find a leading service provider exactly provider who offers exactly that. However, you will find it difficult to meet your expectations as the business scales up. Major challenges are observed in workflow, integrations, personalization, data for insight, and the cost of extended licenses.

Workflow and automation


CRM should be capable of implementing automation. For example merging duplicate requests, customer records, auto-follow-ups, etc.

Integrations to deliver an effortless customer experience


You would not want your support team to switch between multiple applications and be distracted rather than focusing on one task to resolve customer issues quickly. This is recommended to have integration capabilities; this drives the overall efficiency and effectiveness of customer service.

Choice of cloud-based or on-prem implementation


This is more of a business decision and is also linked with industry and external factors. It is generally the question of who controls the data? Who manages it? Who bears the upgrades? A mature CRM provider can suggest the best options considering the requirement.
CRM Elements - Must Haves
Client System Integrations
Customer Telephony Integration
Process Automation & Workflow Customization
What is the Success Factor for CRM Implementation? A Long-Term Value Paradigm...
Creating a clear vision and documenting it with collaborative efforts from all internal teams and then also involving business analysts from project team to enrich this, will help in delivering a great system for all.
Understand your requirements and present and future customer expectations as this is a long-term decision
Collaboration of business teams, IT, product owners, operations, CX SMEs, CRM solution architect to conclude the workflows, integrations requirement at an early stage
Thorough testing of the implementation during user acceptance testing (UAT) stage with exhaustive test cases developed by the business team (efforts and collaboration at this stage from business team and project team are of paramount importance.)
Business as usual (BAU) support system - Clear support channels and point of contact for BAU support as any delay in problem solving could cause a disruption. Especially recommended for on-prem implementation.
Importance of training delivery to business teams and expertise of trainer. The involvement of the learning and development team at this stage is crucial to avoid bottlenecks in adoption.
Communication and managing the rigor till closure – project status, change requests, approvals, sign offs.
What's in Store NXT?
We aim to provide a strong foundation for the current state of research on sustainability-oriented CRM, which we define as the holistic integration of economic, environmental, and social sustainability issues, and the core areas of CRM, i.e., marketing, sales, and customer services. Both CRM and sustainability are multifaceted constructs, whose nature and origin are further elaborated below. We start by defining CRM and continue with a detailed explanation of sustainability. Finally, the definition of sustainability-oriented CRM is presented.


For any queries, please reach out to BPS BTS( BPSBTS@TechMahindra.com )