Posted by: Shourya Sarkar
In this first post we have delineated on why Utilities need a Robust and Intelligent Backoffice capability to mitigate potential risks surfacing out of increasing exception volumes in their SAP, and how TechM and its platform (BDEx) partner Basis Technologies addresses the broken processes and silos within the entire M2C value chain effectively.
Part-1 begins
Revenue and Productivity are two important KPIs to monitor utilities' business. It is essential to reduce deviations that impact either/both – be it missing data, mismatch between systems, or inaccuracies in business rules; all such issues can be heavy on human and financial resources if not calibrated strategically. At this point, utility transformation can play an important role to transform the processes.
Observing delays in managing exception conditions post new implementation, release or upgrade is important, as incidents can interrupt users during core jobs or interfere in the M2C process. Such instances can affect productivity, billing and revenue. Thus, it is important to devise a strategy on business exceptions handling by connecting to business process services.
Utilities Exception Management should be structured and efficient while resolving exceptions proactively. The solution should address and rectify standard errors a utility might encounter during ERP implementations, system changes, or upgrades. Manage the errors with the help of effective BPO services.
TechM's Intelligent BPEM services for utilities leverage the power of a digital platform called BDEx (from Basis Technologies) on Utility SAP for Proactive management and resolution of business process exceptions in the Utility Backoffice. TechM can proactively identify silos and broken processes throughout the M2C Backoffice, across entire billing & metering journey –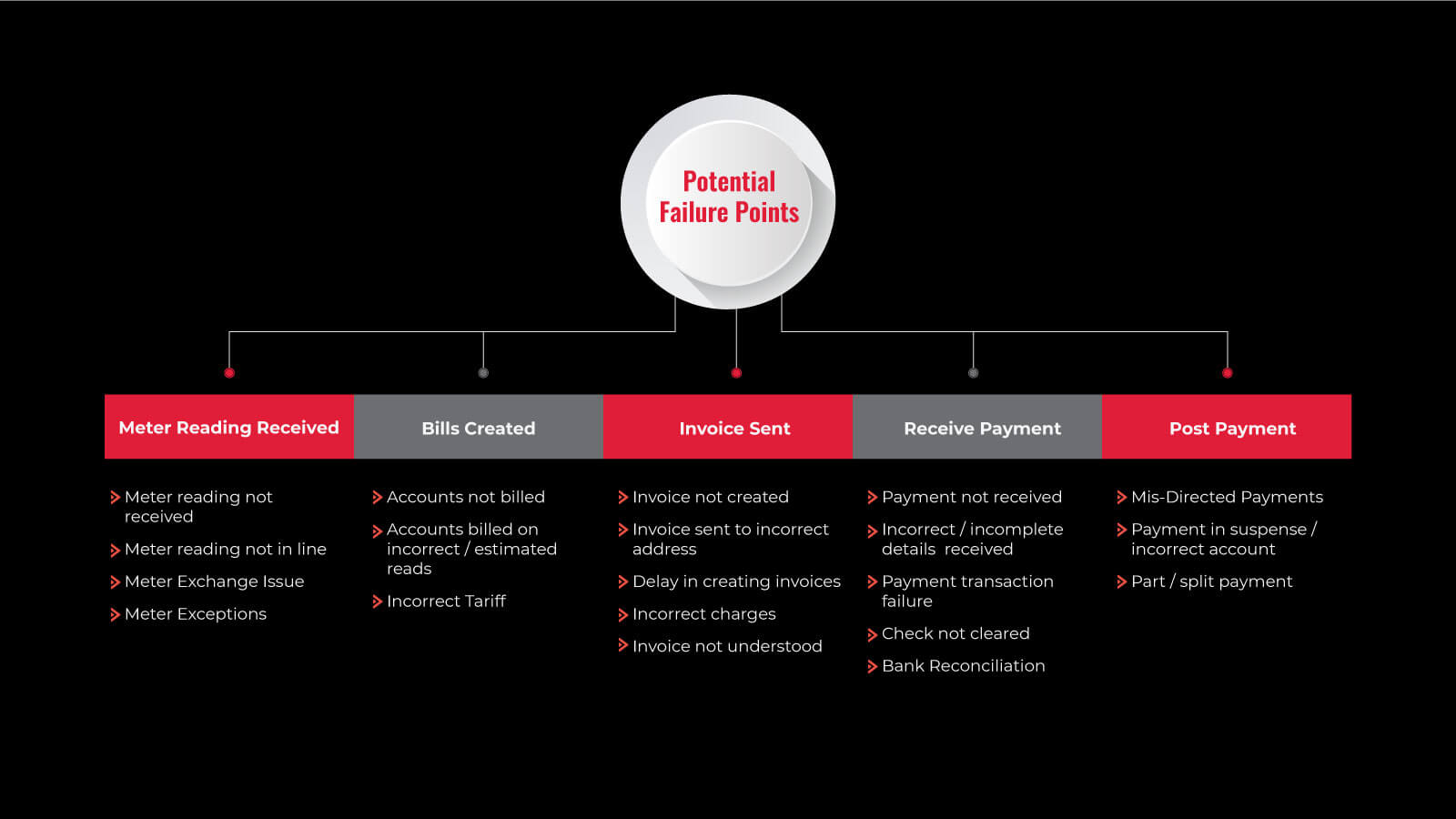 We can also fix the digital basics through platform led Backoffice by eliminating avoidable M2C errors and failure demands via process mining, simplification and advanced analytics resulting in benefits such as: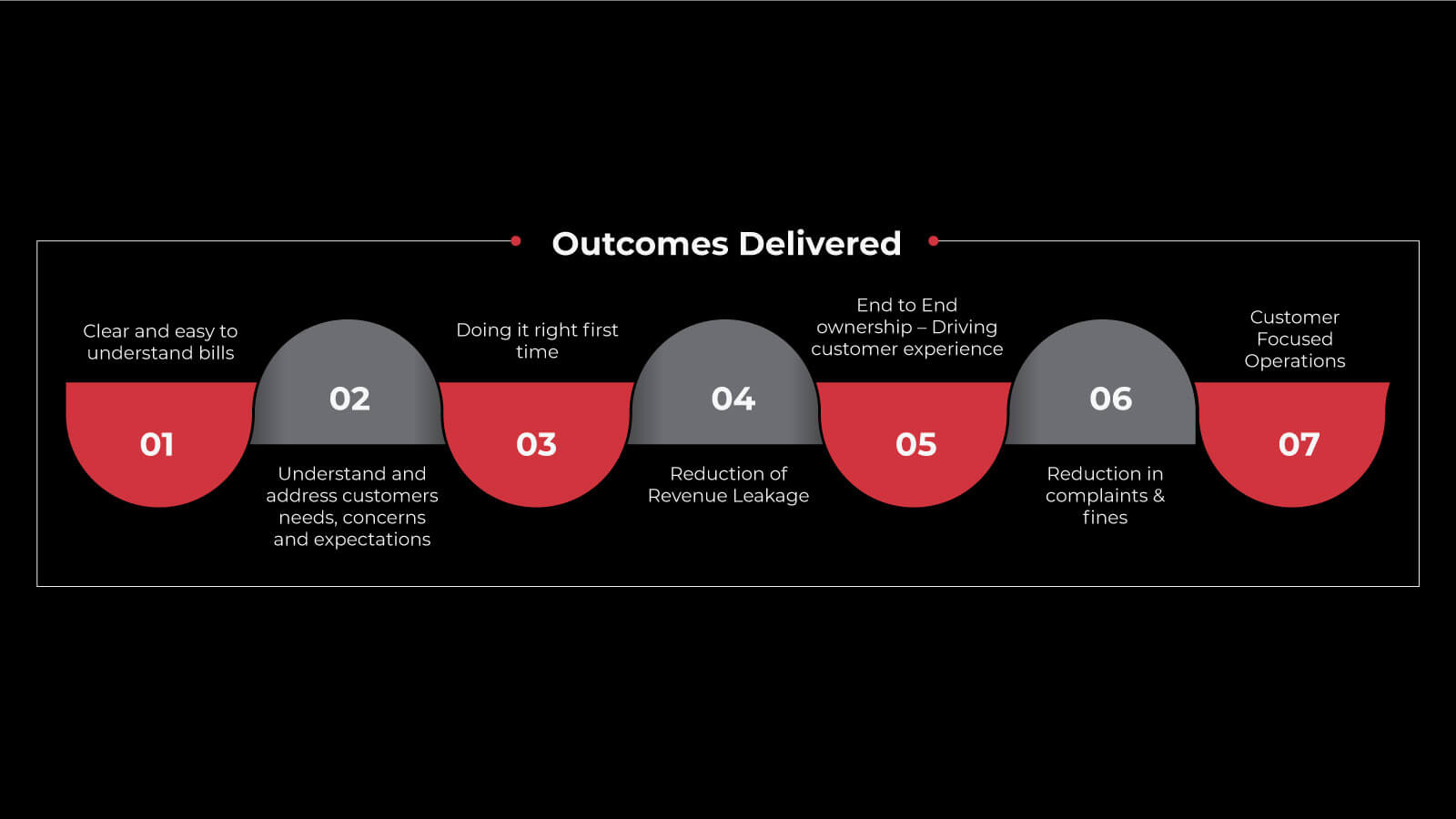 Together with TechM's managed process delivery expertise & BDEx platform's Customer Centric Hub we can jointly reduce the size of the M2C Backoffice exception volume significantly. We can also identify automation opportunities from broken processes and quickly align them for digital journeys with the help of effective digital business transformation tools.
The BDEx Customer Centric Hub presents all the relevant metering, billing, dunning and related customer information in one single, real time, customer centric transaction. BPaaS also enables in faster diagnosis and significantly uplifts user productivity. Typically, there is 50% faster improvement in average exception handling time, enabling Utilities to have a greater visibility of M2C processes.
Our platform-based business proces services can also help Utilities during system change & migration projects of the CIS-Billing platform & end of life systems. For instance, deployment of an integrated SAP solution such as SAP IS-U/CR&B can start to cause a backlog of exceptions while handling customer issues, which in turn can turn the process counterproductive.
SAP's out-of-the box approach to exceptions management is unintuitive, and sometimes it is difficult to track issue resolution and monitor timely billing process. Thus, having a holistic view of all exceptions become crucial across the M2C process. Preferably, utilities should go with a customer-centric approach to exception management with an easy-to-use holistic view of all exception related transactions. This can improve the Agent-Customer interaction by up to ~45% in most cases. We can equip agents with visibility into exception management actions, deflecting inquiries on status of billing issue resolutions. The effective business process services led to faster resolution and strengthens the link between exceptions and their root cause.
TechM and its partner Basis tech can seamlessly demonstrate business impacting outcomes by creating a sandbox exception management environment and deploying its BDEx platform on client's SAP Backoffice along with a core team of experts who can fix the exceptions by leveraging the SAP-BDEx duo, provide recommendations on broken processes, infuse 360-degree visibility, Backoffice simplification, and Automation for better CX.
Every Utility organisation look forward to delivering customer satisfaction at a lower cost, lower down customer churn and regulatory risk to enhance revenues. Most Utilities are aware of how digitalization can help them deliver personalized services to their customers and improve revenue plus CX.
Bur, even though Utilities eye the future, they're still very firmly focused at the present. For most, the key priority is to cultivate ways to improve management of exceptions, particularly in Backoffice, as skipping this would undermine CX, regardless of other forms of interactions.
Tech Mahindra along with its digital platform (BDEx) partner Basis Technologies is well-equipped to streamline and enhance CX by addressing backlog and ongoing exception volumes, while optimizing the resolutions/fixes through process reengineering & automation to measurable benchmarks. Tech Mahindra brings in-depth BPEM experience and understanding of the Regulated Utilities and Deregulated Retail Energy providers. NOW THAT'S NOT ALL!!!
Visit the second/last part of the blog post to understand how TechM & BDEx jointly spearheads customer success in utilities running SAP, addressing the major business challenges...
End of part-1
Author
Shourya Sarkar,
Presales Consultant – Energy & Utilities Practice,
TechM BPS
Manages digital transformation solutions for Energy and Utilities vertical globally. Responsible for Presales, GTM, Bids and Transformational Utility aligned Solutions. He has over 8.5 years of experience in ITeS/BPS space in various capacities. Started his career as a Programmer Analyst after completing his B.Tech, then he moved into IT Projects, Program and Transition management roles after completing his MBA, and then he has specialized & established himself in multiple cross industry Vertical Presales, Bids and Proposals Management. He works closely with global cross industry engagement teams to tailor compelling digital led proposals for TechM's E&U prospects & clients.