Posted by: Shailesh Rathod On June 18, 2020.
PORTNxT - 5G Solution for Next Gen 'SMART PORTS'
COVID-19 pandemic is a global crisis that has created a significant impact on businesses worldwide. Close to 90 percent of the global trade relies on maritime transportation and as per reports published by various agencies, several ports are witnessing a 15% to 20% decline in cargo volumes owing to the global slowdown triggered by the pandemic.
As businesses resume operations & many countries open up for trade, it is expected that there will be an upsurge in the shipment volumes. With new operating procedures and leveraging technology, the Ports are ready to enter the post COVID-19 world which is very different now from what it was before the pandemic.
Improving operational efficiency would remain a key focus for the ports worldwide.
There will be immense pressure on ports to reduce cost, ensure employee safety increase efficiency and productivity and ports would be needing solution that would help achieve the same. Ports are also exploring opportunity to increase their revenue through ancillary services. Smart solutions for ports would aid in reducing costs, improving productivity, and optimizing operations. Ports have to undergo transformation and upgradation for becoming efficient, safe and environment-friendly 'Smart Ports'. This will eventually help them in scaling up and meeting the growing business demands.
Effective usage of connected technologies such as 5G, IoT, etc. holds the key to the port's transformation to 'Smart Ports'. The advent of 5G will further accelerate the adoption of IoT, Analytics, and AI; which in turn will necessitate the various elements of the Port (i.e. infrastructure, Vessels, Containers, and Cranes) to be connected. These elements may no longer work in silos as they now have the capabilities to share data in real-time between them.
Advanced analytics and AI will enable the Port Authorities in deriving actionable insights from the vast amount of generated data. This will accelerate the port's transformation to optimized, cost-effective, and environment-friendly Smart Port.
PORTNxT - Tech Mahindra's 5G Solutions for Next Gen Ports
With a decade-long association with maritime industry customers, Tech Mahindra has the capability and technical expertise to offer innovative solutions across all process areas (Container Management, Asset Management, Traffic Management, and more).
Tech Mahindra's 'PORTNxT' portfolio of 5G and Edge solutions for Next Generation Ports leverages its in-house expertise and partner platforms for Mobile edge computing, analytics, and AI, along with solutions on Private LTE (CBRS), 5G and SDN/NFV.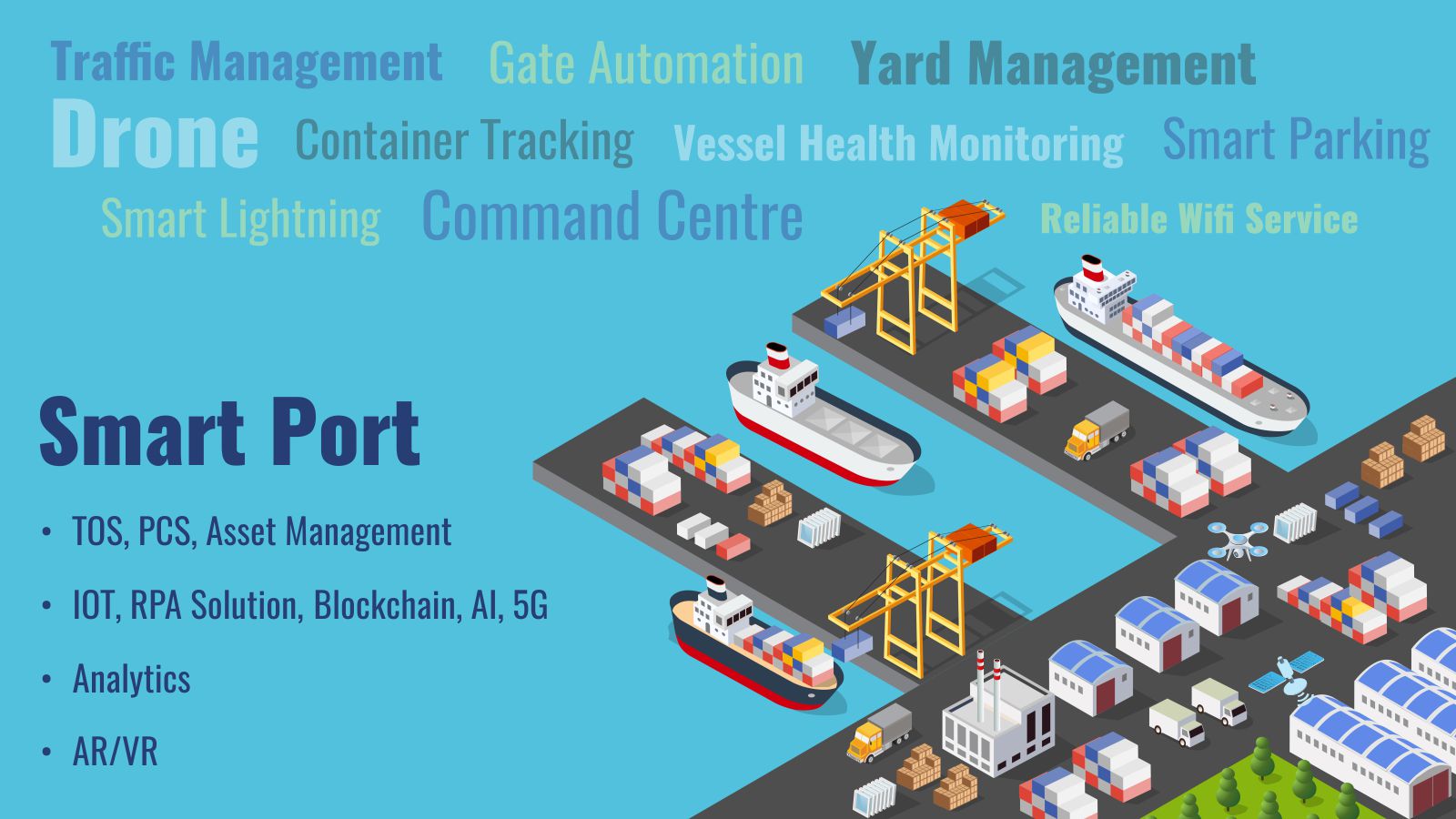 PORTNxT - Solution Offerings for 'Smart Ports'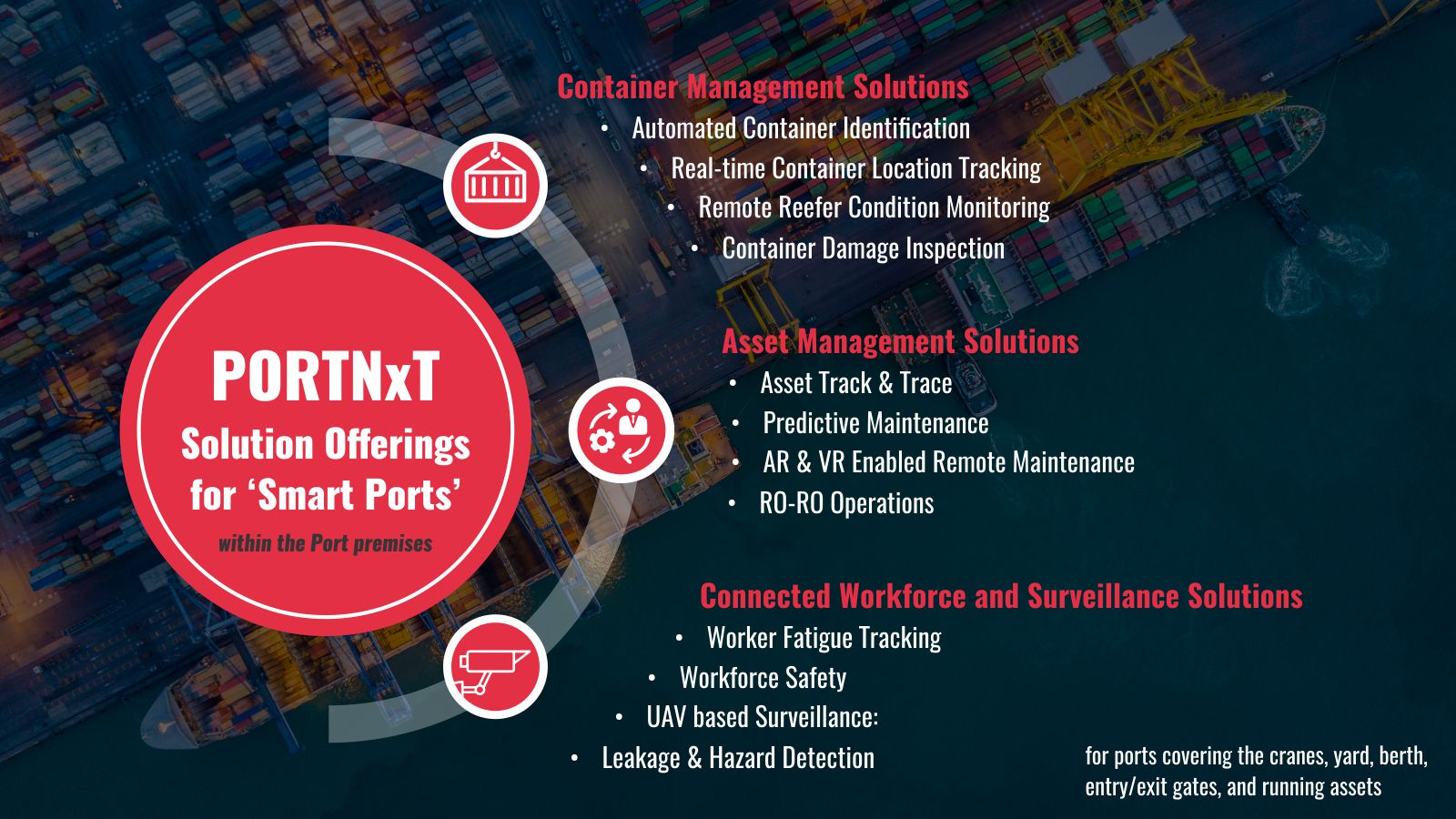 Container Management Solutions for the automation of container movements within the Port premises
Automated Container Identification: Container Management Solution leverages OCR (Optical Character Recognition) for automated identification and accurate tracking of container at points of work within a facility. Wireless cameras are mounted on ship-to-shore and gantry cranes, container moving vehicles, drones, gates, etc.
Real-time Container Location Tracking: The solution uses wireless technologies such as RFID/BLE/GPS sensors, along with optional video/AR technology for tracking every move within the port premises.
Real-time location data from thousands of containers is analyzed and updated in TOS (Terminal Operating System) or APM (Actions Per Minute) systems.
Remote Reefer Condition Monitoring: Conditions of reefer (or refrigerated) containers are monitored remotely using IoT systems.
Critical operating parameters (power, temperature, etc.) for hundreds of reefers within the port premises are monitored on a real-time basis. Periodic or conditions-based alerts are updated in TOS (or APM systems).
Container Damage Inspection: The solution supports automated container damage and content detection at the port premises. The camera feed is analyzed at the control centre for damage/content detection.
Asset Management Solutions for ports covering the cranes, yard, berth, entry/exit gates, and running assets
Asset Track & Trace - Real-time location monitoring of Port Assets such as cargo-handling equipment and vehicles, and other tools/devices, based on RFID/BLE/WB/GPS sensors.
Predictive Maintenance: Sensor-based remote health monitoring of container/cargo moving equipment for maintenance purposes like breakdown prediction, job rotation for service/overhaul, and predictive asset maintenance.
Predicting (and detecting) future failure patterns and anomalies improve the overall efficiency and maximize the equipment's uptime.
AR & VR Enabled Remote Maintenance: Effective usage of AR (Augmented Reality) and VR (Virtual Reality) for remote maintenance of ships, cranes, vehicles, and other cargo-handling gear.
RO-RO operations: Automation of RO-RO (Roll-On/Roll-Off) operations using AR/VR technology.
Efficiency in traffic and queue management is achieved through HD image/video-based analysis & damage detection, real-time visualization of all vehicle movements inside the yard area, and gates.
Connected Workforce and Surveillance solutions for 'Safer Ports'
Worker Fatigue tracking: 'Automated remote tracking of worker fatigue & sleepiness' for crane operators, drivers, and others using HD video-feed from the Control Centre. This leads to improved productivity and safety.
Workforce Safety: The port authority can perform 'worker safety and regulatory compliance audits' by monitoring data from IoT Sensors (helmets, safety suits, footwear, portable equipment, camera-enabled glasses, tablets, and camera feed).
The identification of workers not complying with the safety-guidelines is done through a real-time automation identification mechanism. Timely alerts are sent to the authorities for non-compliance (e.g. worker not wearing a helmet).
It also minimizes the chances of accident-like situations (e.g. fall, fire, etc.) as authorities are alerted via manual/automated identification of such grave situations.
UAV based Surveillance: Remote surveillance of the port area/terminal operation using drones, patrolling waterways for oil spills, and checking on clean-up efforts using video and thermal imaging.
The command centre of logistics provider/port authority can analyze the camera feed and thermal imaging feed for remote monitoring and analysis.
Leakage & Hazard Detection: Drones equipped with sensors for gas/chemical detection for potential hazards.
A heat-map like mapping of the port area that is created from the real-time processing of the sensor data from drones helps in the timely avoidance of hazard-like conditions.
Environmental Sensing: Sensors on buoys measure data such as tidal information, high/low tide, temperature, wind, etc.
The collective information is analyzed by the control centre for adherence to environmental parameters.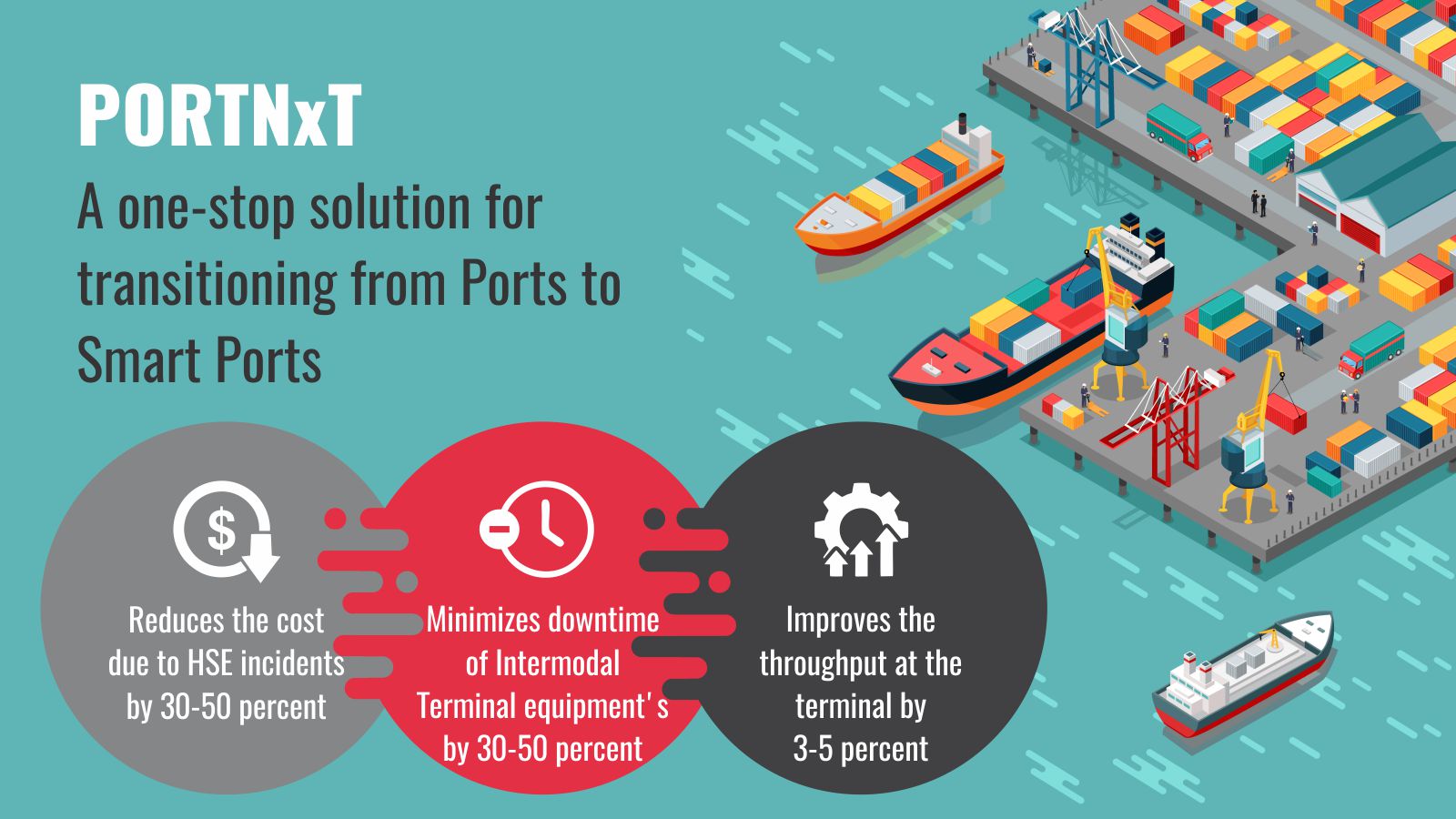 About The Author
Shailesh Rathod
Having experience in project delivery in conceptualization, visualization, development & deployment of comprehensive ICT solutions for Maritime industries. Good understanding and knowledge of port process. Created unique solution offering for Smart Ports, IOT, RPA, ChatBot's, Smart Shipping and Contact Centers. Ability to visualize end to end solution, thorough understanding of the business processes & IT systems