Posted by: Vipul Mehrotra
5G in Wind farms: Enabling farms to meet the global energy demands
Offshore wind energy is growing at a rate of 20% YoY globally and is recognized as one of the core components of sustainable energy initiatives. The need of the hour is accelerated enterprise focus on generating alternative energy to cater to the global energy demands.
The Big Question
The importance of alternative energy sources such as wind and solar, is widely known and accepted. As a general rule of thumb, when it comes to power generation, the larger the machinery, the greater the production yield. But, here's the catch - Turbines are expensive machinery that cost more than $1mn each, and their maintenance and repairs during failure are equally costly.
A failed gearbox repair could cost more than $200k. Half of that expenditure is on the crane roll alone and the rest on labour charges remove blades, lower, fix, and re-raise the rotor. There is a loss in energy production due to failure, which may account for a quarter of the cost in lost revenue.
Current Situation at the Site:
At an offshore wind farm site, users rely on VSAT connectivity for all construction and maintenance phases. These are low speed, expensive, and limited bandwidth satellite connections. Offshore wind farm construction schedules and worker safety are majorly impacted due to limited connectivity.
Under current methods, communication involves several very expensive satellite links, and each vessel requires links of its own, which are also costly to run. Additionally, these links have a minimal range and provide only voice communication, excluding scope for large data transfer, video, and internet connectivity.
The weak connectivity hampers communication channels necessary for workers to communicate with each other and the vessels and ensure smooth, effective remote operations. So, how do wind farms overcome these challenges, enable pre-emptive measure, and real-time monitoring of machinery?.
How Tech Mahindra's 5G enabled IoT solution can help
A single turbine can have more than 1,000 sensors, and one wind farm site could generate petabytes of data, which could be used to get insights into data that can enable real time monitoring and control. The Tech Mahindra 5G enabled IoT solutions for wind farms enables operators to switch to a 'smart' and 'agile' operating model.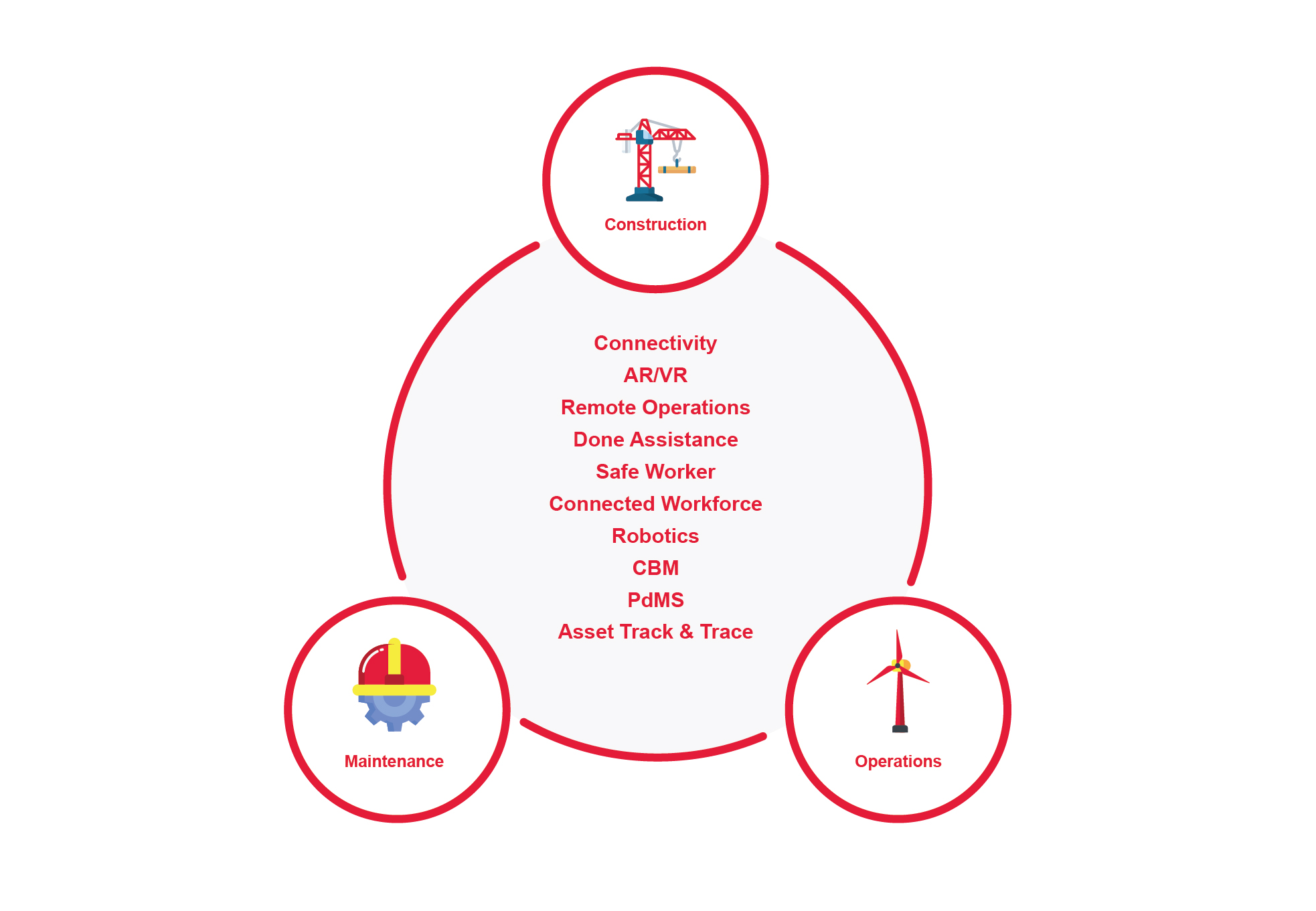 Monitoring wind turbines to prevent damage is essential, especially as turbine sizes increase and farms expand further offshore. IoT solutions powered by 5G enable predictive analytics to cut down maintenance costs and prevent downtimes that could help wind farms save millions.
Leveraging 5G and IoT sensor technology enables real-time data capture from machines, usage of cameras and drones for video surveillance, inspection, and private wireless networks for real-time monitoring and control. This ensures seamless and safer operations on-site, increasing productivity by 15-20%.
Reliable, uninterrupted network will allow the crew to remotely monitor and optimize wind turbine performance in real-time, reducing man-hours by 20-30%. This is not easily possible with traditional communication channels and SCADA capabilities.
Private wireless 5G network coupled with the ability to process data on premise, at the edge of the network, enables low-latency operations and solves the challenges like connectivity problems, network costs, and data security issues. It also allows co-workers to stay connected with multi disciplines in real-time with clear voice and video channels, even in far-reaching areas during construction, operations and maintenance.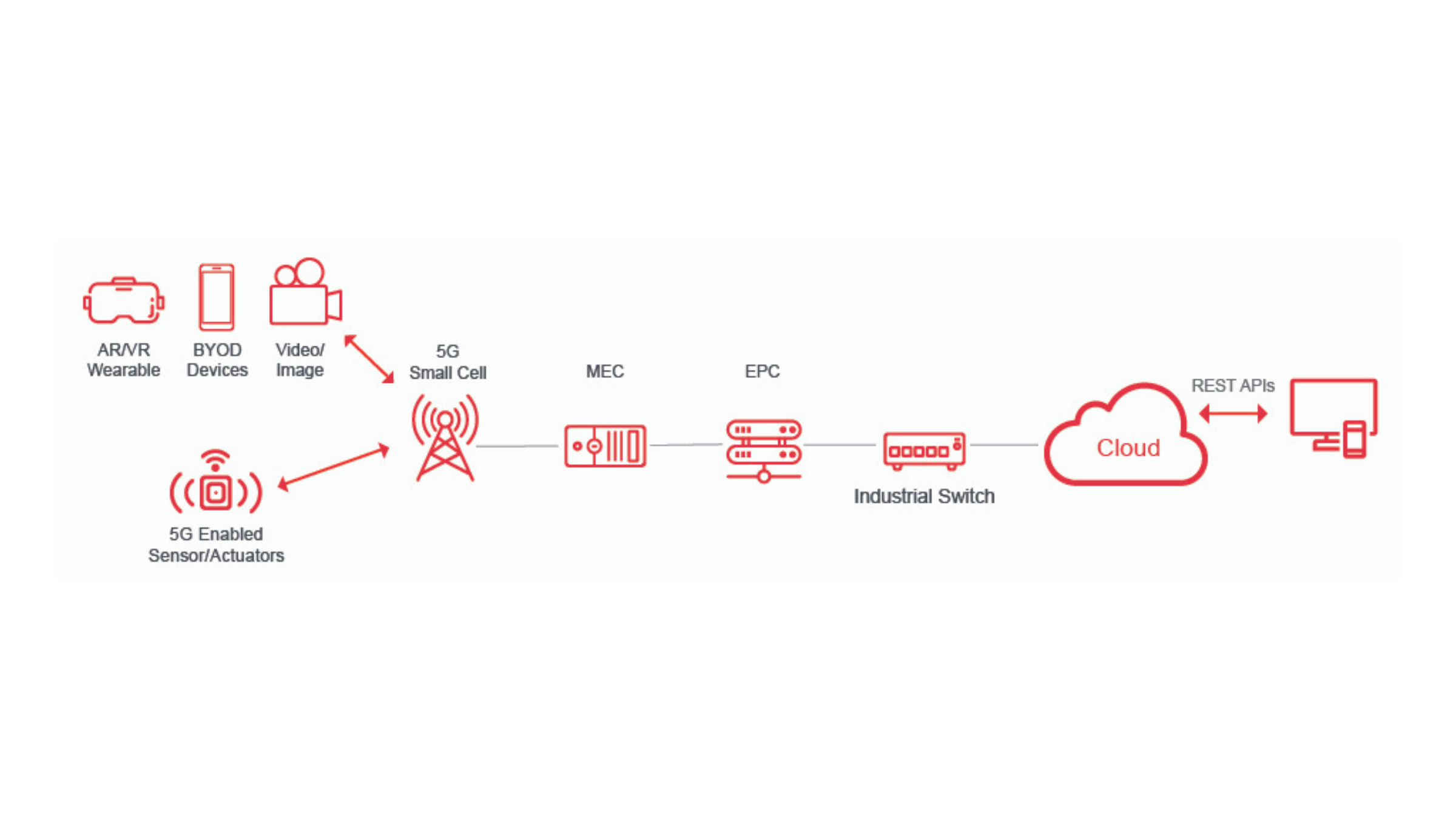 What are the business benefits of 5G enabled IoT solutions?
Most wind farms typically have optical fibre networks used by the control networks such as SCADA systems. Putting visual interfaces into sensors would make them very expensive to manufacture as well as install. 5G-ready private wireless networks, based on current 4G/LTE technology, provide a far more economical approach.
IoT solutions powered by 5G enable wind farms to shift from calendar-based maintenance to a predictive maintenance approach. The speed and reliability of 5G networks also enable safer operations, remote centers, and connected workers. This helps lower the Levelized Cost of Energy (LCoE), equipping wind farms to cater to the global wind power demands that are growing exponentially.
The ability to detect a problem in advance can help save high costs and prevent downtimes and losses incurred. Here's how a wind farm in northeast Iowa benefited from their 5G-IoT investment. While the wind turbine's blades churned steadily, 400 miles away, their data analytics software detected an anomaly - The turbine's gearbox was on the verge of failure. Predictive analytics enabled the wind farm's operators to avert a catastrophic breakdown. They dispatched a crew that performed a $5,000 repair job, which otherwise would have resulted in several days of downtime and $250,000 in lost revenue.
Author's Bio:
Vipul Mehrotra, Product Manager, 5G For Enterprise
Vipul comes with more than seventeen years of global consulting experience providing techno-domain expertise helping clients automating and upgrading their processes with latest technologies and deriving maximum monetary value. Currently , Vipul is providing expertise in enabling client with their 5G strategy, IIoT and edge to meet their future KPI targets.