Posted by: Pawan Khilari
Prosumer Rise – An overview
Futurist Toffler coined the term prosumer in 1980, and since then, the practical implications of this trend have come a long way, specifically in the energy and utility industry.
To put it into context, prosumers are energy consumers who are also generating their own energy and, in some cases, selling it back into the grid. With the increasing adoption of distributed generation, this concept is getting real traction resulting in tangible shifts in the utility-customer relationships.
As the number of prosumers increases, which it will soon, the traditional customer service structures will start breaking, giving way to more complex, intelligent customer relationships or, so to say, prosumer relationships. In this light, it becomes essential to decode the prosumer rise and analyze how future-looking utilities need to shift gears to prepare themselves.
Current Scenario – WHY?
Prosumers are key actors that both consume and produce energy. With the growth in number of small, medium and industrial agents using solar photovoltaic panels, smart meters, electric vehicles, home batteries and other 'smart' devices, prosuming offers the potential for consumers, electric vehicle owners, suppliers to re-evaluate their energy practices.
The advent of technology and regulatory initiatives across the globe has indeed helped more consumers to be prosumers and get actively involved in the whole energy system and have a higher footprint in the system as 'prosumers'.
With the advent of Prosumer era new market models like Peer-to peer ,Prosumer-to-grid, organized prosumer group have been more prevalent but not without challenges like cost of building and maintaining diverse distribution network, liability and accountability assurance for delivery of safe and high quality energy services, lack of more promising incentive schemes and regulations ,lack of integrated Supplier and Discomm systems enabling Prosumer experience, service and optimization and use of huge amount of prosumer data.
Situation is India is bit different though as consumers are yet to realize their true potential as Current Scenario in India is not very Conducive for Prosumers and small DER player due to lack of attractive incentives offered by the regional distribution companies.
GOI have recently come up with few handful of schemes like the KUSUM scheme which will support farmers to replace existing diesel pumps with solar PV pumps (with both on-grid and off-grid features). The scheme will allow farmers to become prosumers and sell power to the DISCOMs at a predetermined price. The scheme aims to add solar and other renewable capacity of 28 GW by 2022.
Other problem for lack of Prosumer conversion rate is that DISCOM's are not prepared to handle the change due to disparate systems, monolithic system architecture and unpreparedness to handle this complex billing and Incentive based ecosystem. Neither there is a strong Customer Experience and service related tools to encourage these Prosumers to continue or increase their capacity.
Having said that there is huge push to from the GOI, various state governments to change this situation very soon and recent economic stimulus of ₹90,000 crore liquidity injections is only a right beginning in this context.
Tech Mahindra Solution Ideation- Prosumer Beat: What?
Prosumer Beat for Utilities is Tech Mahindra's Integrated Billing and Customer Experience Solution for Prosumers and Small DER players by empowering and encouraging them to continue and expand their generation capacity. Provides better tools and system ecosystem for Discomm Companies to handle these prosumers in a better way, provide a better prosumer experience and encourage more such players by introducing attractive incentive programs for them.
Digital platforms such as Smart Energy Water's Smart Customer Mobile- the #1 Digital CX platform, will play a crucial role in catering to this trend. Build for flexibility and ready for future ecosystem changes, such platforms allow utilities to stay ahead in the game and not play catch up when prosumers become a norm or some other trends shakes up the traditional CX definitions.
Key Features
Prosumer Beat– Integrated Ecosystem - How?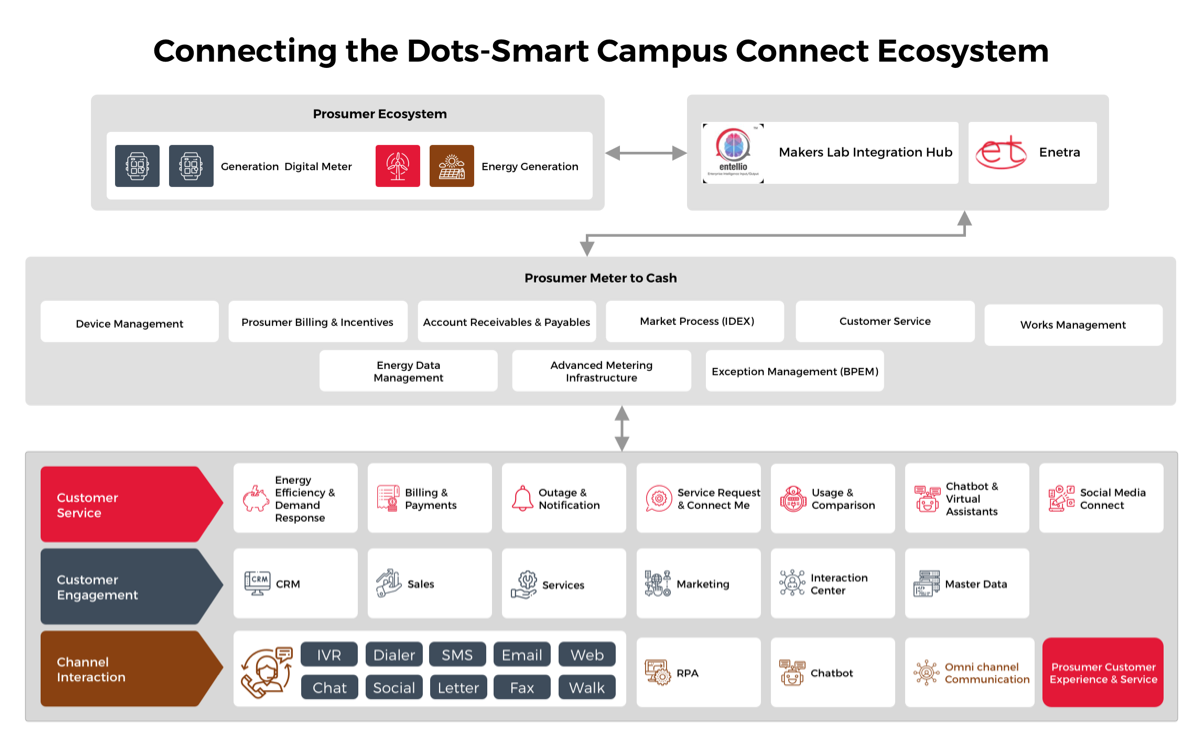 Prosumer Beat Ecosystem comprises of a renewable setup asset with Physical Meter measuring the Generation capacity.
This Ecosystem is Integrated with TechM's Innovation enabler Makers Labs developed Enetra solution converting the digital pulses into smart reads integrating with TechM's SAP Qualified Partner -Packaged solution Utility Rise.
UtilityRise is an S4 HANA based comprehensive and secure `SAP for Utilities' packaged solution to re-imagine and simplify the business processes with industry best practices. Utility Rise enables the real time pricing based Prosumer billing functionality with an Customer incentive driven approach based net Generation capacity transferred to the grid. This Packaged solution comes with 85% pre-built solution with ready to use Collaterals ,pre-built test cases, master data templates ,workshop plan and other templates and accelerators reducing the implementation timeline to 8-9 months with 30-35% reduction in overall implementation service cost.
With the changing scenario of technology innovation, changing needs of customers, partners and employees, and data-driven personalized service this solution will enable customers to have better experience for employee or stakeholders , better processes & use technology to create new business models.
This billing engine is interconnected with a Customer Experience engine comprising of our partner solution SEW 's Smart Customer Mobile. The platform is a cornerstone in redefining utility-customer relationships and harnesses technologies better to address today's and future customers' needs. SCM® brings customer centricity to utilities; empowers end customers and customer service agents (CSRs), alike- delivering utility services when, where and how they want. Utilities are tasked with promoting sustainable usage of resources (electric, water or gas), while at the same time, deepening their relationships with the customers/prosumers. To achieve the twin objectives- digital platforms such as SCM® take a center stage. Helping convert mountains of customer data into concreate insights, thanks to AI, ML, IoT technologies.
SCM® enables digital self-service via a single integrated platform, accessible through an online portal and native mobile app; facilitates 24*7 digital connectivity for personalized & proactive communication; offers 360degree visibility of customer interactions to utilities; and provides powerful customer insights with predictive analytics to build an intelligent, future-ready utility ecosystem.
Many DISCOMMs today have SAP as its ERP system which further makes it simple for the above ecosystem to be plugged in their system. This can also be integrates as Service based integration with any other non SAP ERP
Solution Benefits-Impact

Author:
Pawan Khilari
Principal Consultant, Tech Mahindra
Pawan has about One and half Decade, Energy & Utilities experience in Consulting, Innovation, Solutioning, Architecture and Delivery. His eexpertise in Utilities Domain includes SAP S4 HANA Digital transformation, Smart metering(AMI), AI/ML, Blockchain, IOT, DER, Asset Management, Customer Experience, know how of the regulatory regime as well as operating processes performed by various market participants in the UK, Australia and Middle-East.Pawan has been an Certified Design Thinking Innovation Champion for Energy and Utilities building more than 10+ innovative product and solutions in E&U space. One of his Innovation incubation has won an SAP HANA Innovation Award in 2015.