Posted by: Shourya Sarkar
Redefining Utility Consumer Experience in Digital Era
Many globally recognized analyst/consulting fraternities independently studied to find out that Utility industry is quite behind the curve when it comes to effectively rolling out digital experiences for their customer base as they find it hard to scale up from digital pilots – says a McKinney playbook on accelerating digital transformation for utilities .
Nevertheless, as consumers have started to anticipate convenience & personalization in all areas of their lives, utility companies are embracing the positive impact of CX. And many utilities have already embarked on their digital transformation journey to build stronger relationships with its customers, provide better service and establish itself as more of a 'lifestyle energy provider'.
Moreover, as most of the things can be done online nowadays, it indicates that those rare instances of human interaction are becoming increasingly precious for brand engagement, loyalty build-up, value addition & advocacy. The legacy CIS/Billing platforms may limit Utilities to quickly give power of energy usage in the hand of the consumer because they may lack a digital customer portal which has become an essential utility service add-on nowadays. Even Utility ERP leaders like SAP have adopted the Self-Service Accelerator from SEW as a strategic and competitive advantage to fast-track digital enablement.
Tech Mahindra's (TechM's) digital first customer service and engagement approach accompanied by Smart Customer Mobile (SCM®) digital platform from Smart Energy Water (SEW) which is powered by AI enabled BOTs and other data-driven intelligent systems can help utilities realize tangible business benefits even in scenarios of disruption like the current pandemic- COVID 19. Our joint offering is aimed at helping utilities who're challenged to enable their consumers with digitally powered solutions like meter reads, online home move requests, payments, online bills, etc. and how the Mobile phone can serve as a medium for volume deflection, personalization, self-serve, proactive consumer education and advance disruption intimations of planned/unplanned events, via smart notifications on outage, storms, maintenance, land digging etc. We envision to co-cerate exemplary digital journeys of connected utility customers producing meaningful information exchanges across the Meter-To-Cash service value chain.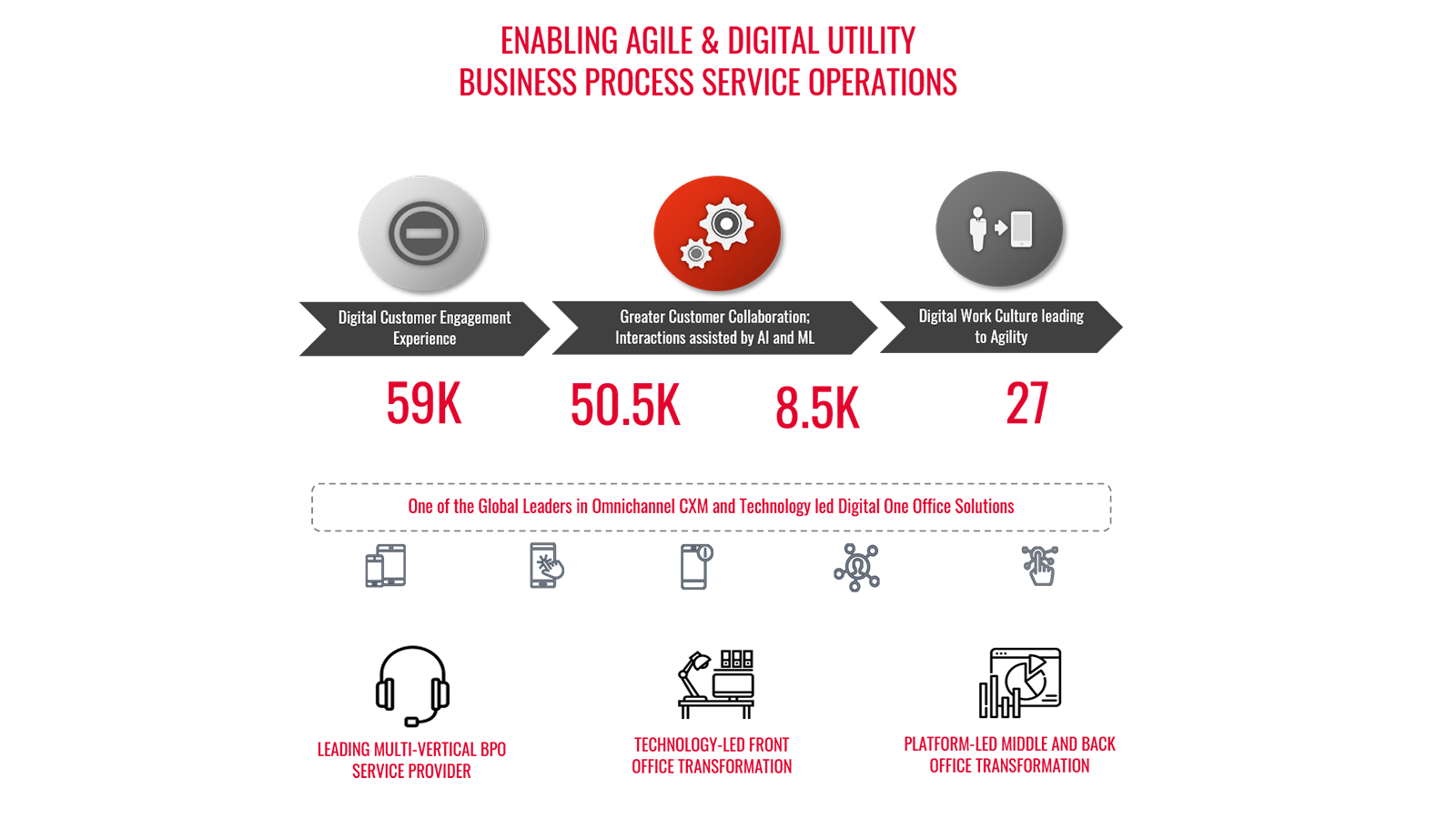 TechM is an experienced solution provider for the Utilities industry across Electricity, Gas & Water, EV, Renewables & DER segments/ecosystems. We can help them RiseTM by proving digital technologies, business consultancy, application development/maintenance, infrastructure network, security and platform and business process services by utilizing smart delivery models with intelligent operations, Automation, AI/ML, Analytics & Consulting frameworks to bring, technology & platform led Front, Middle & Back Office Transformations across the Utility Meter-To-Cash service value chain. We call this TechM one office experience (OFX). We also offer strategic Business Process as a Service (BPaaS) solutions that are tailored to help customers Run, Change, and Grow their businesses, while enhancing the user experience across channels.
Today- Energy, Gas and Water Utilities require super-fast, charged-up and cost-effective Digital CX (customer experience) solutions that drives business outcomes at lightning speed. To simplify this customer journey, we present Smart Customer Mobile (SCM®), an AI/ML driven digital platform that delivers the best-in-class customer experiences (CX) & services. Smart Customer Mobile (SCM®) is an award- winning Digital CX (customer experience) platform that transforms utility–customer relationships utility–customer relationships by enabling real-time, bi-directional communication streams. It facilitates utilities to engage, educate and empower their customers over multi-channel contact options and through its self-service digital portal and mobile application, delivering consumer-centric, highly personalized service all the time to address needs and wants while elevating experience at the same time.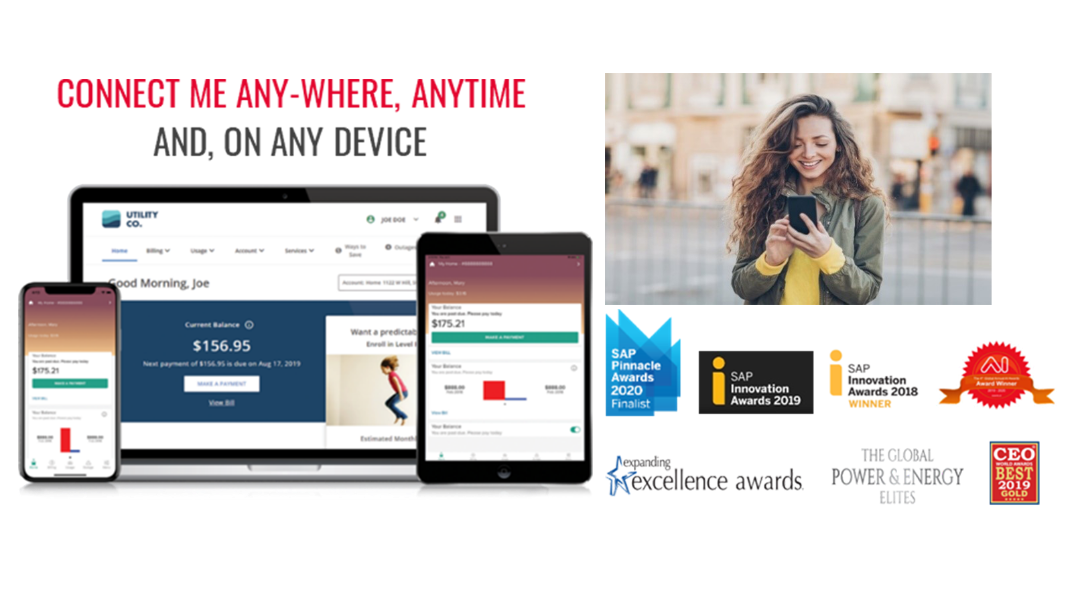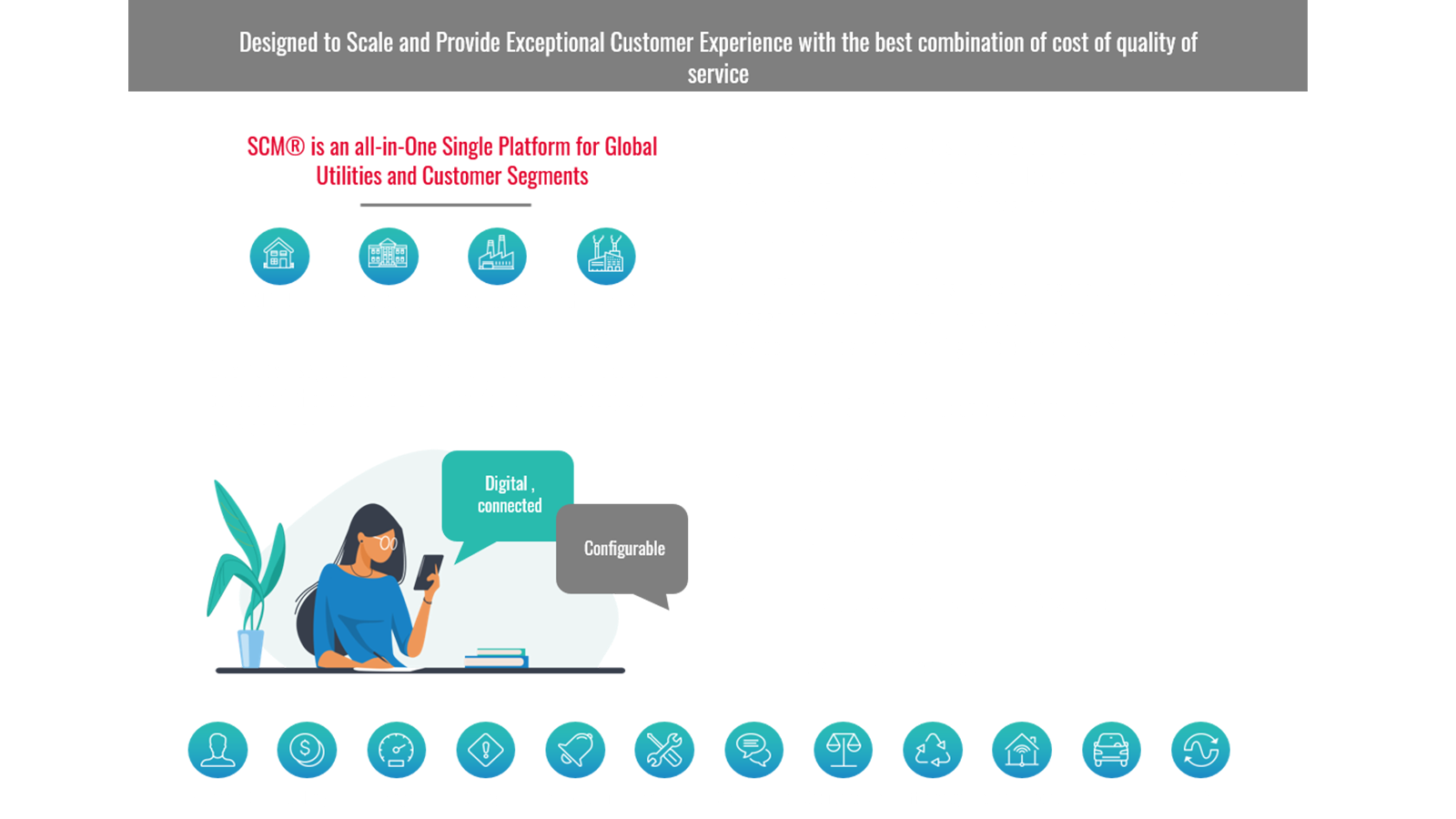 To address paucity of time, resources along with the issue of balancing solution functionalities, which is also now complimented by the ongoing COVID19 / anticipated pandemic situations globally – SEW and TechM have jointly rolled out a "Rapid Implementation Model" having the key attribute of accelerated timelines leading to faster modular deployments and seamless integrations while ensuring least possible impact to business continuity.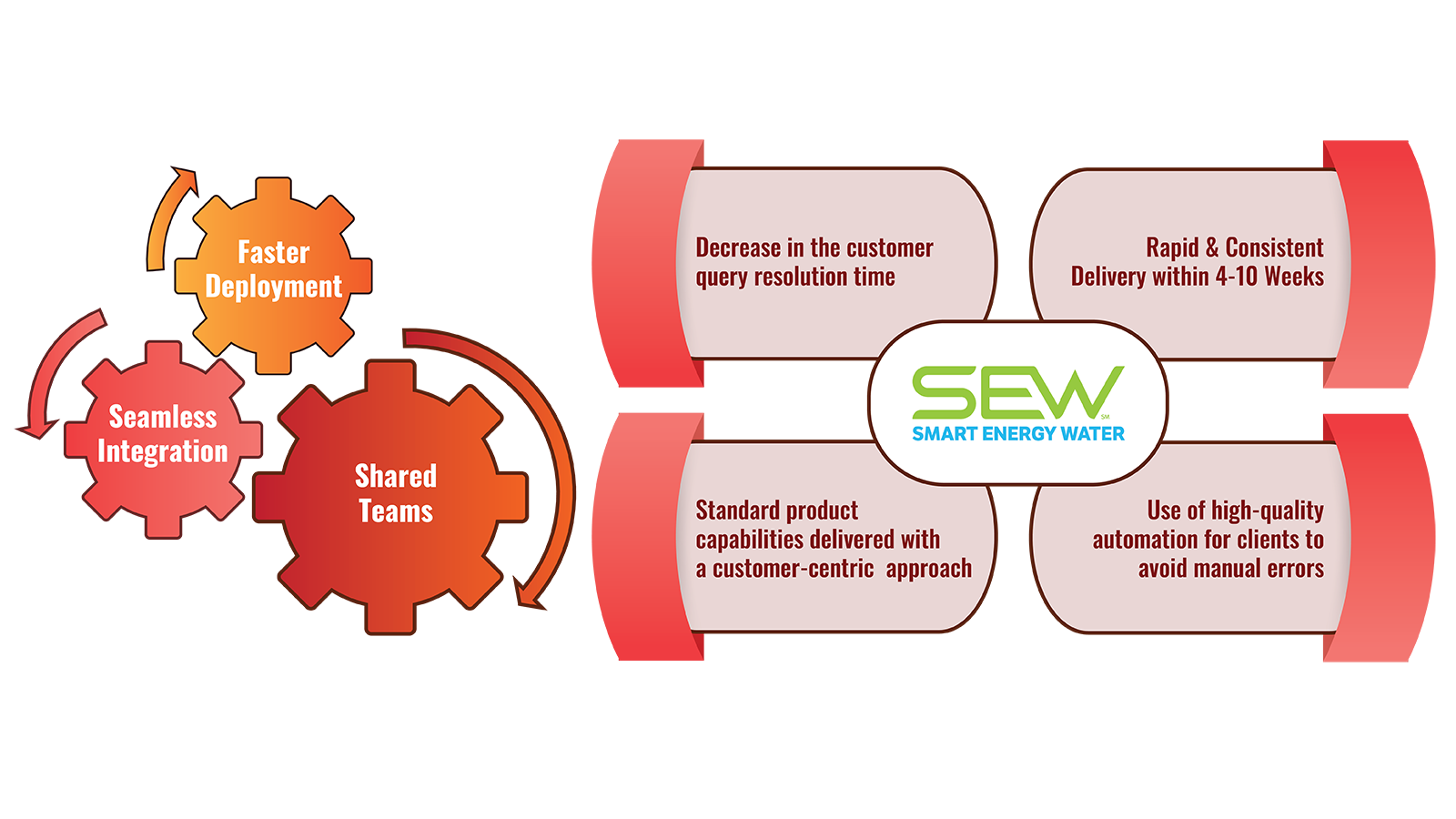 Powered by SEW's state of the art 'Smart Customer Mobile' (SCM®) platform, TechM is laying down the Digital foundation for connected utilities' and customers. Our joint digital CX solutions are designed to address industry challenges, like –
Longer time to become digital native
Disparate Utility Billing, CRM/CIS and other system of records
Lack of Integrated Customer & Employee Experience
Lack of Process Synchronization
Costly CX add-ons that doesn't produce desirable outcomes
Complexity, inefficiencies and gaps in utility customer journeys and relationships
We can jointly enable a truly digital utility operation, over multi-channel options using TechM's digital CX expertise coupled with SEW's industry leading digital customer engagement platform, and this can deliver:
Rapid modular deployment with seamless integrations
Device agnostic integrated solution with configurable modules
Real-time 2-way communications
Customer empowerment through native self-service mobile app
Intelligent, informed, personalized & connected experiences
Socially conscious, contextual & smart notifications
Greater Collaboration with interactions assisted by AI and ML
Digital Customer Lifecycle led approach leading to more Agility
Pre-built customer service BI/Analytics – powered by AI/ML
Potential business benefits that can be realized from the joint offering includes –
Up to 25-30% Call Volume Reduction
Up to 72% Customer satisfaction improvement
More Customer Savings- Up to 30%
Lower Operational Cost- Up to 45%
Higher Customer Adoption- Up to 90%
Rapid & Consistent Delivery within 4-10 Weeks
A large natural gas supplier in southern Pacific region of the United States has recently adopted SCM® to drive digital transformation across the enterprise by providing its customers with enhanced usage visibility and projected bill information to improve customer service and experience. The digital self-serve capabilities of the platform powered by AI/ML will provide consumers with better visibility of usage patterns and conservation of natural gas.
Tech Mahindra & Smart Energy Water would be eager to share their knowledge with Utilities on how to navigate smartly through the ongoing pandemic or any such crisis and address the #NewNormal through their joint futuristic service offerings to help adapt in the new connected world using connected solutions. We have realized the exigency of meeting the growing demand of cost-effective digital transformations and have recognized the value of smarter investments in Digital CX services and platforms that can drive business outcomes swiftly.
Author's Bio:
Shourya Sarkar, Presales Consultant – Energy & Utilities Practice, Tech Mahindra Business Process Services
Manages digital transformation solutions for Energy and Utilities globally. Responsible for Presales, GTM, Bids and Transformational Solutions for Utilities vertical. He has over 8 years of experience in ITeS/BPS space in various capacities. Started his career as a Programmer Analyst after completing his B.Tech, then he moved into IT Projects, Program and Transition management roles after completing his MBA, and then he has specialized & established himself in multiple cross industry Vertical Presales, Bids and Proposals Management. He works closely with global cross industry engagement teams to tailor compelling digital led proposals for TechM's E&U prospects & clients.