Posted by: Tuhin Borgohain
Rights & Permissions Sourcing - A managed service approach towards better value realization
An overview of Rights & Permissions (R&P) Sourcing
As per a report published by Forbes, the global publishing industry reached an estimated market size of $14.76 Billion in 2019, which was contributed by its various segments of books, magazines, newspaper, journals and academic publications. To achieve success in this industry, quality information expressed with clarity is of utmost importance. In order to ensure the integrity of these two parameters, the authors may use or reference certain assets, which are critical in expressing their intended viewpoint, yet the assets may be of someone else's work and as such protected by copyrights. To avoid copyright infringements and penalties, the publishing houses under whom the author would be publishing his/her work needs to procure the rights from the concerned copyright holders against the payment of license fees. This activity of acquiring rights and permissions to avoid copyright infringement comes under R&P sourcing.
A high-level view of a typical R&P sourcing process is as follows:

Types of R&P requirements across the publishing industry
Depending on manuscript requirement, an author may have to reference to a copyrighted textual excerpt from other publications. In such scenarios, before finalising the need for a license procurement, an assessment is carried out post the asset briefing to determine whether the asset is permissible, ineligible, non-permissible, comes under fair usage, is available in the public domain and so on.
In another scenario, an author may require an image containing specific elements and conveying a target message. For such asks, the first instance of action, unless the source is specifically called out by the author, is to procure some image based on the author's description (in the asset brief) from partner image libraries and consult with the author and publishing house editor for its finalization.
The third type of requirement may be an audio or video clip (esp. in case of digital editions of educational publications). Referencing the author-provided storyboard, appropriate media is sourced from partner asset libraries and an audio or video clip is made for review and finalization by the author and editor of the publishing house.
Challenges in R&P Sourcing
R&P sourcing is a resource intensive task with considerable volume and long handling times. It requires consistent pursuit, communication threads and negotiations between publishing house and copyright holder for acquiring license at the right price with the required set of usage permissions. Such an activity is further complicated by:
Discrete activity channels: A typical example is - project creation and asset briefing is done over excel (say), communication happens over multiple channels (e.g. email, instant messengers, phone text etc.), license fee is negotiated over phone and so on. In the midst of such disjointed activity channels, the following challenges presents itself:

Lack of cohesive view of the entire project which makes it difficult for efficient activity tracking
Higher probability for misplacement of critical files owing to it being exchanged over multiple communication channels

With the help of effective intelligent process automation services, businesses can reach new heights.

Lack of options for pre-setting frequently used steps: Owing to bandwidth availability and schedule conflicts, continuous pursuit of copyright holders has to be done. Follow-up actions, communicating acknowledgement etc. becomes an integral part of the process. In the absence of any option for circumstance-specific contextual pre-set action templates:

The R&P sourcing SPOC has to manually initiate the required action each time based on the context of the thread being responded to. This leads to increased average handling time (AHT) of each activity
Affects the standardization of similar activities

Inefficient workflow management: A lack of well-defined system for efficient workflow and resource management can lead to:

Operational bottleneck owing to non-allocation of right resource for the right activity.
Changing process methodologies (e.g. introduction of new R&P sourcing platform) without its alignment with the organizational structure would yield sub-optimal returns and can lead to confusion of job responsibilities, resistance from employee's side and ultimately rejection of the change.

Lack of rights management system: A persistent problem for almost all publishing houses, the absence of any particular system for record, search and retrieval of already acquired licenses of assets for a subsequent project leads to its inability to leverage its existing license and subsequently leads to:

Unnecessary resource allocation (time and people) and processing for license acquisition
Double payment of license fee
Leveraging R&P sourcing managed services
To address concerns of resource-intensive activities, a methodical approach to managed services for R&P sourcing is required for catering to the needs of world-class publishers. A high-level snapshot of the approach adopted by TechM can be seen below: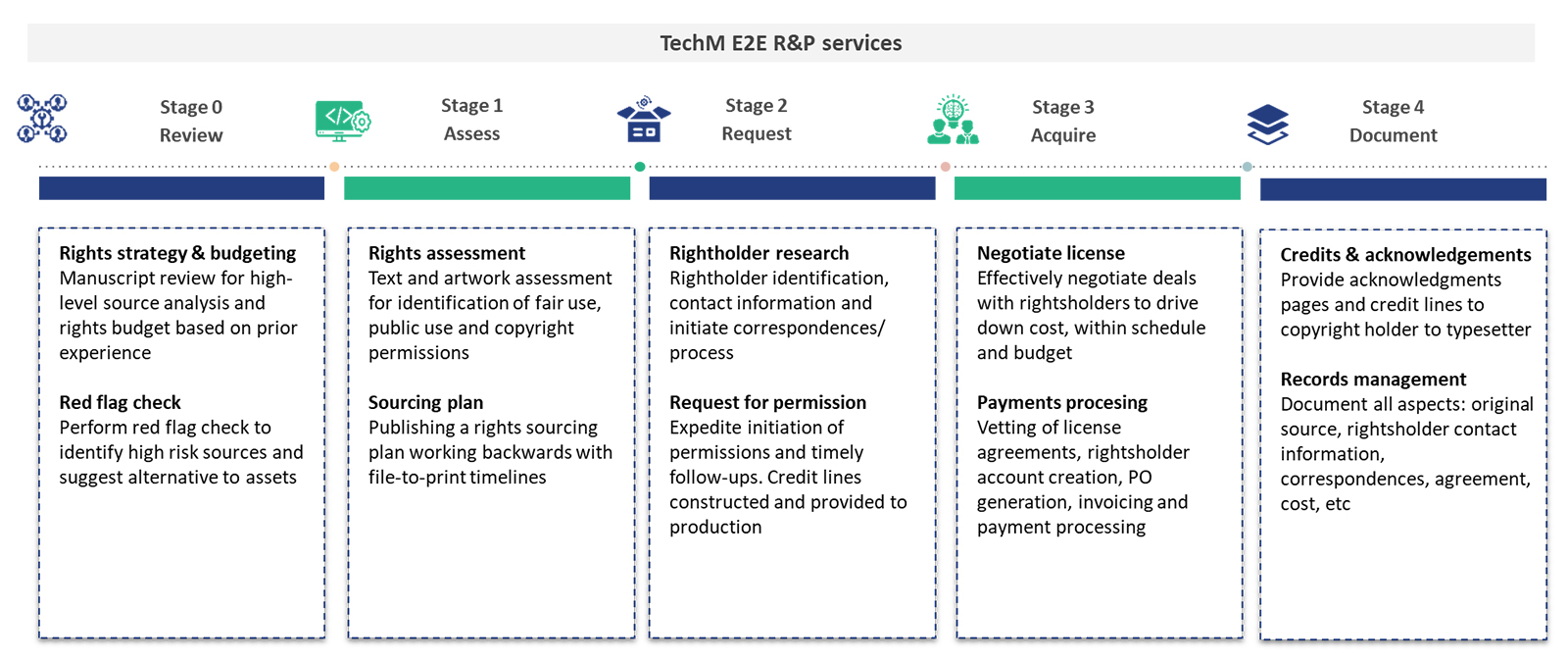 Some of the potential benefits that can be realized through structured managed services with the right governance framework and transformation approach are:
Lower operational cost: Decrease operational costs through delivery of service from offshore locations.
Increased resource availability: Free resources of publishing houses for critical tasks requiring immediate action.
Time-bound R&P sourcing: Time-bound sourcing of required licenses with necessary usage permissions.
Continuous process improvement: Through process mining led digital consulting, identify operational bottlenecks and help in process optimization through application of transformation levers like automation and so on. Such process improvements have the potential of yielding higher cumulative benefits over the years in the form of lower operational cost, faster processing time etc.
Using BPaaS, the overall task of payroll management, accounting, ecommerce, and more become quite manageable.
In addition to managed services aimed at decreasing cost and improving operational efficiency, to address the challenges of discrete, disjointed workflow of conventional R&P sourcing activities, some standard features of platform solutions that can further augment the R&P sourcing capabilities for any publishing house are:
Unified user experience for designing, planning and acquiring asset rights: Right from the stage of project creation till acquisition of asset rights, a platform aimed at augmenting R&P sourcing capabilities should provide a birds-eye view of all the activities, which help in efficient activity progress tracking and help in taking necessary action wherever there are any bottlenecks. Such platform should also offer integration of various email clients to minimize the necessity for switching activity windows and quicker retrieval of past communications and file exchanges online.
Harmonized view of rights across products and contents: R&P sourcing platform solutions should be configurable for record and retrieval of already acquired asset rights to eliminate chances of double license fee payment and redundant processing of previously acquired license sourcing.
Facilitate management and negotiation of complex rights and payment terms: Facilitating inter-team activity status visibility and facility for integration of email clients which helps in the effective management and resolution of issues related to complex license and payment terms internally as well as with copyright holders should be one of the standard features of R&P sourcing platform solutions.
Workflow optimization – budget & team assignment management and milestone maintenance: The platform solution should also facilitate budget tracking for R&P sourcing projects, maintaining vigilance over resource activity and progress direction of projects and management of activity assignment amongst the various resources to maintain uninterrupted operations.
In short, methodical managed services and platform solutions are aimed at reducing a publication's lead time to market and help publishing houses achieve this with minimal efforts while meeting all the required service level agreements. A phase-wise representation of potential benefit realization that can be achieved via parallel incorporation of managed services and platforms solutions is depicted below: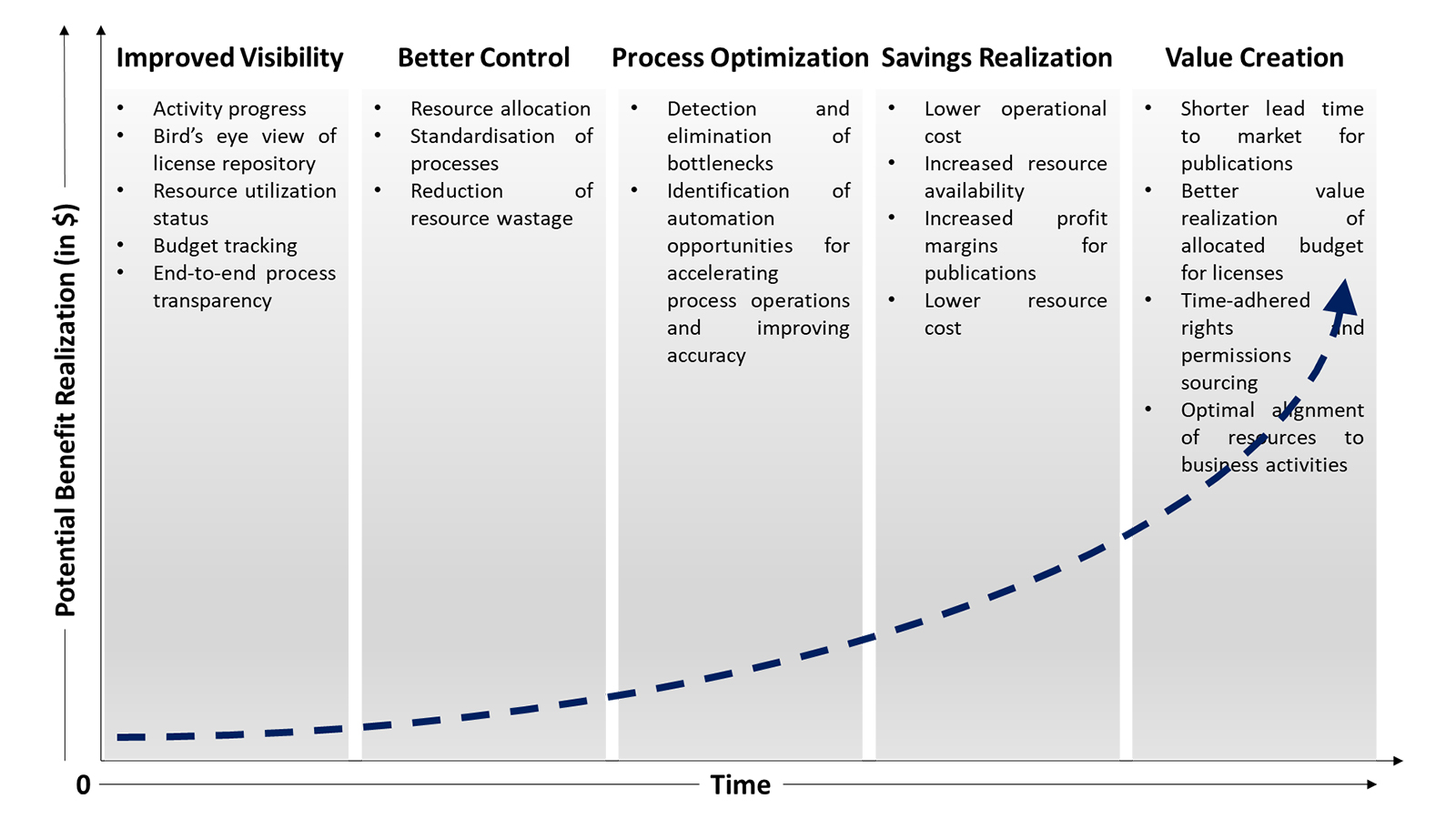 As we look forward towards a content-focused market aimed at releasing new content with high frequency to maintain customer engagement and viewership, acquiring necessary assets without copyright infringement within a short time would be a walk on a nail-laden floor, with each misstep entailing severe repercussions for the publisher. It is in context to such scenarios where R&P sourcing services and solutions can prove to be a vital support system for ensuring a smooth, uninterrupted and accelerated publishing cycle.
About the Author
Tuhin Borgohain, Business Associate – Business Transformation Services (Media & Entertainment) – TechM Business Process Services
Tuhin is an MBA graduate with specialisation in Marketing. He is currently aligned with the M&E vertical within Business Transformation Services team of TechM BPS. His role entails new capability development for BPS M&E, formulating Go-To-Market strategies for each of the offerings, process modelling, conversational design for chat and voice bots, competitive benchmarking and social media analysis of target accounts. Prior to this, he had been engaged in market development activities for a sports-tech company and subsequently for a downstream oil company. Outside of work, he is an avid reader of both fiction and non-fictional work. He loves to be in-sync with the latest development in the consumer tech and video game industry.