Posted by: Amol Jain
Role of 'Network Transformation' in shaping the Smart-Mining Industry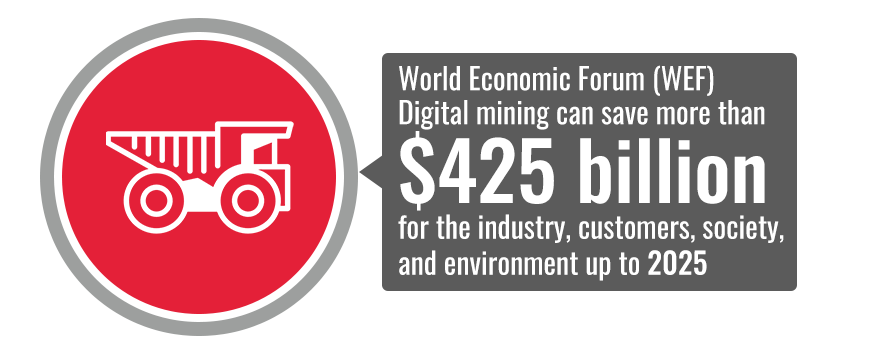 By keeping technology and connectivity at the forefront, players in the mining sector can unlock the potential in areas related to asset management, operations management, health & safety, and security & compliance.
Mining is largely attributed as a labor-intensive and asset-intensive industry. The work at mines is fragmented in silos and there is minimal information flow across departments. However, ample opportunities can be unearthed by replacing legacy networks with new age intelligent networks, increased sensorization and uncovering insights across value chain.
In mines, improved communication and coordination across departments help in improving safety standards, boosting productivity, and making the best use out of the resources (i.e. machinery, staffers in mines, etc.) on the field. Mining companies have to put their best foot forward to reduce environmental damage, deploy efficient water-management mechanisms, and address safety hazards that are plaguing the sector. It is essential to overcome these challenges, as advancements in the mining sector are crucial for the economic growth of several industries.

However, things are headed for a change and companies are increasingly looking at the digitalization of assets (in mines) to create impactful change across the mining value chain.
The transformation from static sequential production systems to smart mines would need the ideal usage of components like automation, modularization, remote monitoring, and self-diagnosis. Mines are generally located in remote areas where the public network is not good. Weak connectivity can be a deal-breaker for smart mining, as it is all about making data-driven decisions and integrating intelligence in asset management, operations management, security & surveillance, and more.
Dependence on an aging network infrastructure could be a huge dampener for mining companies who are willing to lead the change. Mines should have better control over their network equipments so that they can optimize the same for the betterment of their business.
A cellular network (LTE/5G) is a must-have in mines since fire optics cannot be used due to the constant movement of heavy machinery and the use of frequent blasting in the mines. Also, the footprint of a mine is large and most of the assets are mobile.
The connected usecases in smart mines can only be realized through network transformation (e.g. private LTE/5G) so that requirements related to reliability, scalability, and ubiquitous connectivity are met. The convergence of edge computing, IIoT, analytics, and private LTE/5G can help in improving safety & sustainability, and enhancing operational productivity.
The environmental consequences of mining can be minimized through environmental mobile measurement sensors that share data wirelessly with the Control Unit (CU) on a timely basis, based on which appropriate actions can be performed. 'Connected Worker' usecase can be implemented by leveraging information from the helmets fitted with a tracking device to monitor miner's location in real-time.
In smart mines, a private LTE network could enable long-range remote control for improving the transportation efficiency (or speed) of the mining trucks. Geo-fencing in mines can be implemented by enforcing virtual exclusion zones and regulating unauthorized access to unsafe areas.
The applications (e.g. autonomous driving, automated and remote operations, connected worker, geo-fencing, drone-based asset inspection, etc.) integral for transforming a 'mine' into a 'mine of the future' can only be realized on the backdrop of a stable, secure, and reliable network.
Tech Mahindra has been supporting its customers in the mining industry through digitalization and enabling them to develop integrated solutions. 'eLTE wireless network in the pit' from TechM is a smart-mine solution that supports fleet management, autonomous (or semi-autonomous) operation, and remote controlling of mines.
A large South African Miner, a coal and heavy minerals mining company based in South Africa, was facing frequent connection failures due to aging network infrastructure. The company executed its digital transformation strategy with TechM as the network consulting partner.
The e-LTE Network deployment at this large South African Miner resulted in massive improvements in safety and resource tracking across the site. With improved visibility in the operations, managers could take timely actions if there are drops in the haul rates. With reliable network connectivity throughout the mine field, uninterrupted up-skilling and training of operators and mine staff was possible since the learning could be done online.

The mining industry is at an inflection point where the adequate use of technology could separate the leaders from the laggards. The shift from a mine to a 'smart mine' is possible by giving-up aging network infrastructure and accelerating network transformation so that 'connected mine' usecases can be executed without interruptions.
Tech Mahindra is suitably positioned to help miners undertake this digital transformation to the 'Mine of the Future'.
know more about our offereings>>
Author's Bio:
Amol Jain, Heads Strategy for Global Energy, Utilities and Resouces Business.
He has 13+ years of industry experience and is an accomplished, innovative, results-driven professional responsible to drive Global Sales and has helped to close multi-million dollar deals. Apart from regular work, Amol reads about are emerging technologies across industries and how changes in other industries are affecting existing business. He has expressed his views on some of these topics through Industry Forums, Whitepapers, Articles, Blog, and Compilations.