Sustain and enhance your business through Accelerated Automation Capabilities
As the world is trending now towards the new normal, the way of business is also changing. The new normal business life cycle demands less FTE in office, lesser human interactions and lesser cost to sustain the business. Hence, there is an increasing demand of frictionless automation in business operations. This ongoing approach is to focus on the methodology, which can accelerate the automation in the best possible way to bring a frictionless automation experience in the business process operations.
What is frictionless automation?
In the traditional world, service providers are using different automation tools to automate some parts of the process, which is time consuming and need human inputs to initiate the automation process. The need of the hour is to remove complete human dependency and identify tasks that can be automatically triggered through process mining tools to initiate a two-dimension automation. This combination of tool driven process mining and two-dimension automation will accelerate the automation feasibility rate from 70-80% to 100 % and reduce human dependency completely for the relevant action area. The frictionless automation methodology enables digital process mining tools to determine which tasks should be triggered for automation tool / source system to execute the job. It takes the IT system data log in an automated way and generates actions for bots or any source system.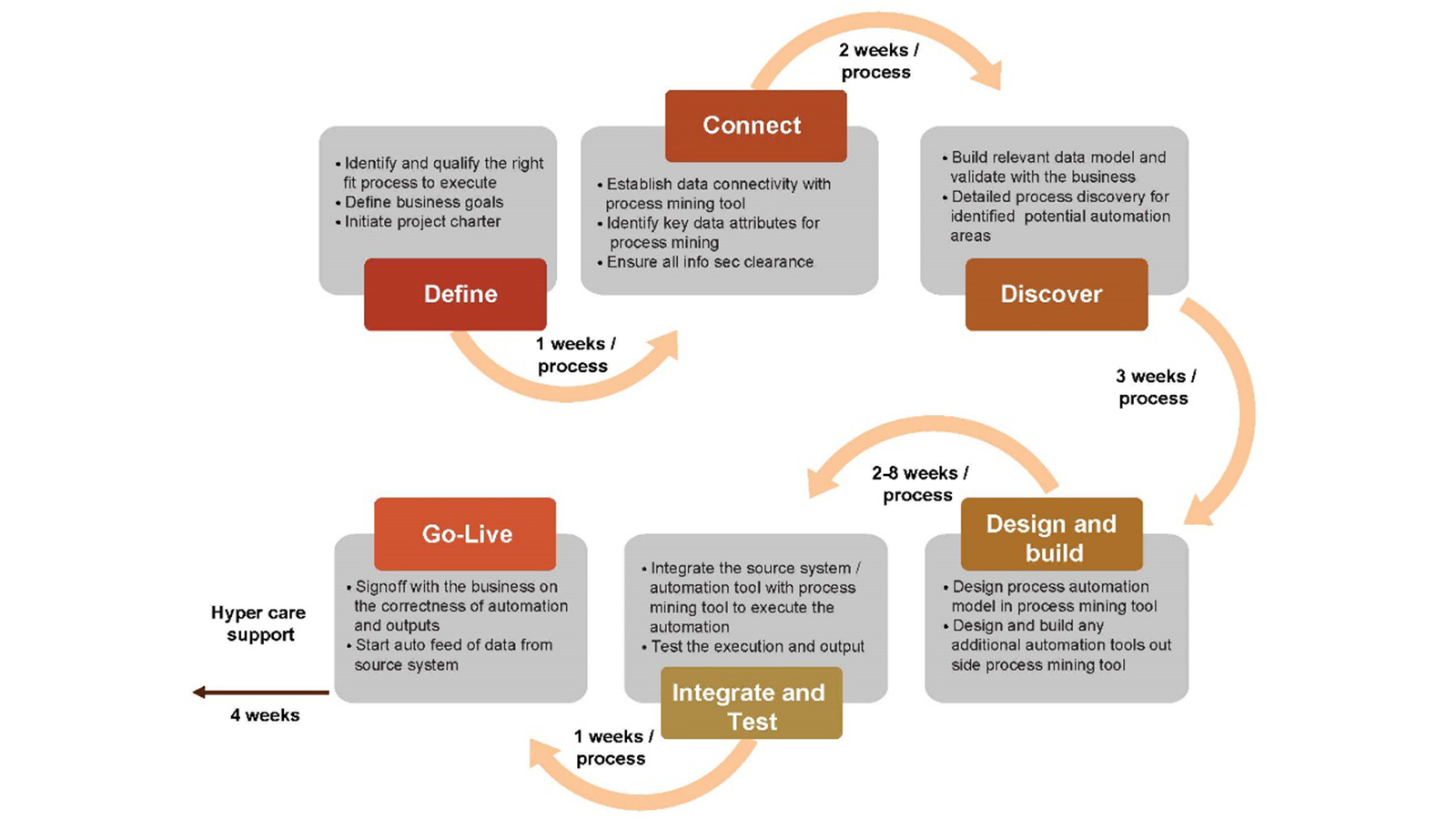 Organizations need to build hybrid (automation and process mining together) execution model to have a successful execution of frictionless automation methodology. There six key steps (Define-> Connect -> Discover -> Design & Build -> Integrate & Test -> Go-Live) that any organization has to follow to ensure optimum risk of failure at the later stage and also to ensure end to end governance across the implementation lifecycle.
Celonis is the recommended process mining tool, which accelerates organizational automation and has the following capabilities:
It captures data using a standardized multi- dimensional event log from the core processes
Its continuously improving machine learning model recommends the next best actions in real-time
It provides instant & continuous process optimization for desired business outcome
Celonis Process Automation accelerates actions by automating cross-system communication; actions are directly performed in 3rd-party systems (using API integration).
Benefits that Celonis Process Mining and Automation can bring:
Optimize the process mining timeline significantly
Reduce / remove RPA / automation tool development time
Generates end to end business insights and automation potential
Generates key stoke level process maps
Complete removal of human dependencies
Trigger actions and automation though process mining tool to reduce RPA tool cost
Action engine priorities the work on behalf of human
Action triggers through process mining tool and executes without human interventions
For more information, read our whitepaper on the Accelerated Automation Capabilities.