Hybrid Cloud Realization Challenges for Communication Service Providers (CSP)
Digital transformation necessitates 5G networks that are dynamic, flexible, scalable, and agile. Networks must adopt key technologies such as cloud native, dynamic network slicing, multi-access edge computing (MEC), smart IP networks, ultra-high bandwidth, and AI-enabled end-to-end 5G services to achieve this. A key enabler for digital transformation is the realization of telco cloud for mobile network operators (MNO) and enterprise private 5G. The telco cloud has primarily been enabled on private cloud on-premises bare metal infrastructure. With the rapid growth of 5G use case scenarios and traffic volume, there is a need to augment their existing on-premises bare metal infrastructure with public cloud provider such as AWS, who bring an extensive portfolio of services and provide inherent elasticity, resilience and tools needed to scale without compromising operational efficiencies. The need to maximize overall operational efficiencies with AWS and the want to optimize on-premises bare metal infrastructure results in business proposition for managed hybrid cloud deployments, to fuel the 5G growth. As part of the digital transformation, operators wanted to setup their networks locally to maintain data sovereignty, secure the data of the network. The localized, enhanced on-prem eco system help operators to keep up the high data demands, managing data ingress/egress cost management and help build and manage low latency applications for critical IoT at the network edge which might be already in place.
How Tech Mahindra Enables Hyper Automation­­ with netOps.ai?
netOps.ai is a directional intelligent operations automation framework for telco customers requiring either fully managed or self-service mode of operations. With netOps.ai, the goal is to simplify network operations, which is the most significant sources of expenditure for hybrid cloud networks, by offering fully automated pipeline framework for the entire lifecycle of the 5G network functions, including configuration, deployment, and maintenance. To build frameworks for hybrid cloud network, the expertise Tech Mahindra in building toolsets from managing private on-premises private cloud infrastructure such as OpenShift and bare metal infrastructure operations, such as firmware/OS lifecycle and compatibility management with the overlay cloud infrastructure including container-as-a-service (CaaS) layer an important component for building the netOps.ai hybrid cloud hyper automation framework. A key enabler for hyper automation is the observability paradigms, which helps bring visibility across the telco cloud, including telemetry from the AWS cloud infrastructure, workloads including performance and fault data from different network functions (from multiple telco vendors) into a single pane of glass, which can be used in AI/ML pipelines to drive intelligent insights. The insights can drive control automation which controls both cloud and workload deployment lifecycles, which includes DevOps and continuous integration (CI)/continuous delivery (CD)/continuous testing (CT) models. Having a framework which can manage lifecycle and CI/CD/CT workflows across multiple vendors and multiverse of 5G network functions in a hybrid cloud environment needs the expertise and experience of a system integrator (SI) who are able to manage both AWS and the on-premises infrastructure.
netOps.ai has been the manifestation of a curated, knowledge base of the experience and expertise of Tech Mahindra as a system integrator, being at the forefront of building 5G telco cloud on both private on-premise infrastructure and on AWS. netOps.ai facilitates observability and control of the hybrid telco cloud. By investing in end-to-end frameworks for automation like netOps.ai and associated working practices, customers will be able to deploy and manage 5G networks, to deliver dynamic and diverse services.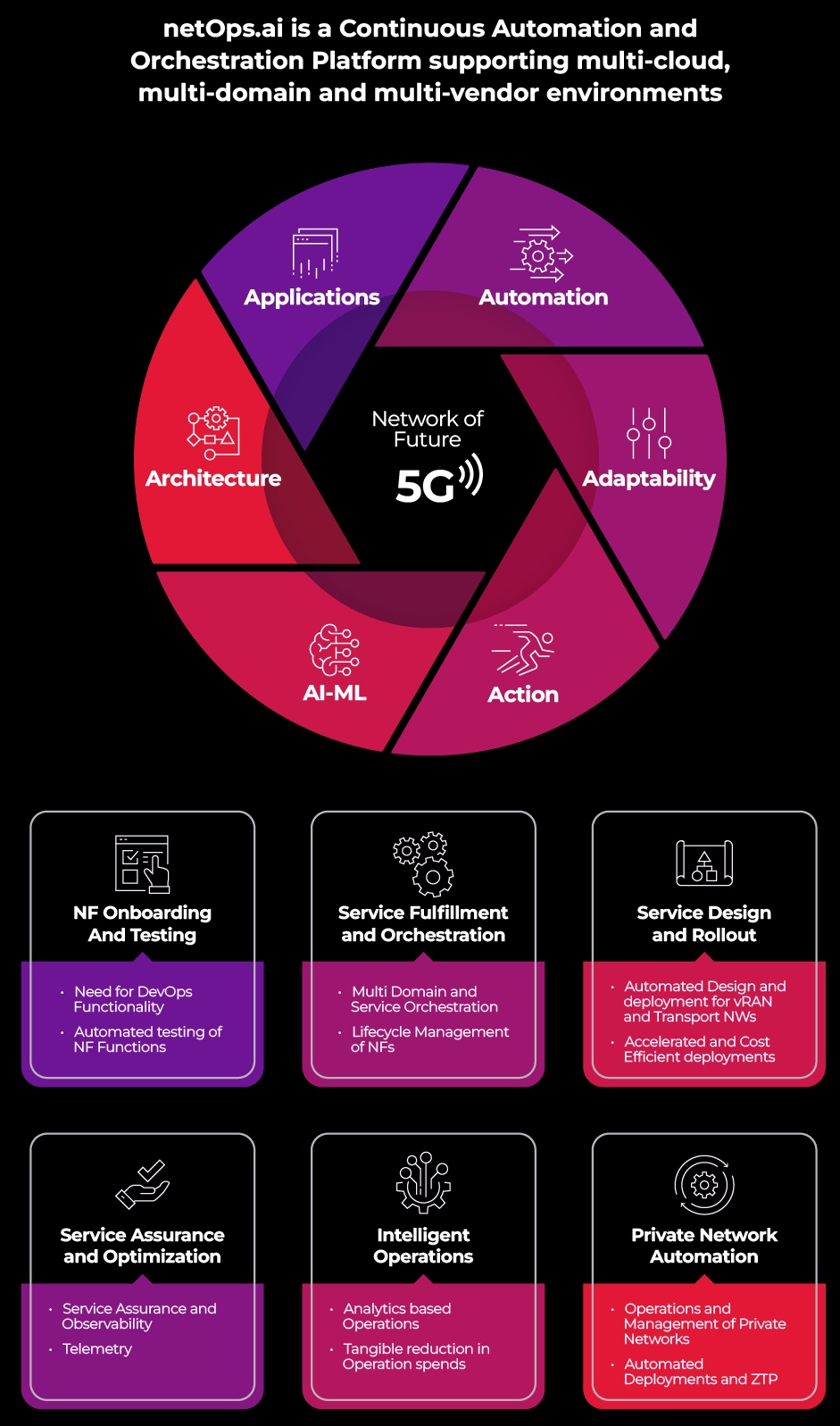 Hybrid Cloud Realization on AWS with EKS Anywhere and netOps.ai
AWS is a pioneer is bringing elasticity and resiliency to infrastructure and services. EKS or Elastic Kubernetes Service is a managed Kubernetes service which scales based on the demand on the application. EKS has been tested and used for deploying 5G CNFs on the AWS virtual private cloud (VPC) in an on-demand manner. netOps.ai has been working with telco vendors to deploy and manage their 5G CNF workloads on EKS. To complement the AWS VPC and help with customers on their bare metal infrastructure, AWS has introduced EKS Anywhere and Tech Mahindra is a launch partner. netOps.ai has been extended and enhanced with following features per our collaboration and participation in service beta for EKS Anywhere.
Leverage existing private cloud infrastructure operations best practices to manage OS/firmware on bare metal infrastructure from different vendors like HP and Dell
Manage the hardware and OS dependencies of the EKS Anywhere releases
Deploy EKS Anywhere service at scale across an on-premises bare metal infrastructure
Manage EKS clusters for telco workloads with the observability and configuration control automation framework, along with networking requirements for telco
Lifecycle management and flexibility to help deploy 5G CNFs across EKS or EKS Anywhere by abstracting the deployment orchestration templates and controls for the customer
To help realize an end-to-end hybrid 5G core cloud operational model for customers, Tech Mahindra and AWS collaborated with the Casa Systems for the 5G core components, ENEA for the 5G subscriber and policy management components and Keysight for their 5G RAN simulation test framework.
Casa Systems 5G core CNFs are modular and provide the control and user plane separation (CUPS) capabilities on AWS EKS. This capability was leveraged to deploy and manage 5G user plane functions such as UPF on the bare metal hardware using EKS Anywhere, with the 5G control plane residing on AWS virtual private cloud.
The Casa Systems 5G core was complemented by ENEA subscriber management services such as UDM, UDR and PCF on the AWS VPC. The federation capabilities of the ENEA subscriber management services on the bare metal infrastructure using EKS Anywhere was demonstrated as well, with the netOps.ai workload orchestrator.
Along with end-to-end testing of the 5G core and CI/CD/CT lifecycle management, netOps.ai also integrated the Keysight 5G RAN simulator toolsets to facilitate enterprise-wide call flows and generate traffic. netOps.ai enables the continuous testing by running functional, regression, sanity, and wraparound testcase. through Keysight IxSuite store.
Like ENEA , the federation capabilities were demonstrated and in cases of edge test frameworks, Keysight components can be located at the edge to help with reducing latencies for testing frameworks.
To summarize, the demonstration of end-to-end lifecycle management and flexibility offered by EKS Anywhere to deploy 5G CNFs on AWS VPC and edge was demonstrated with real 5GC workloads.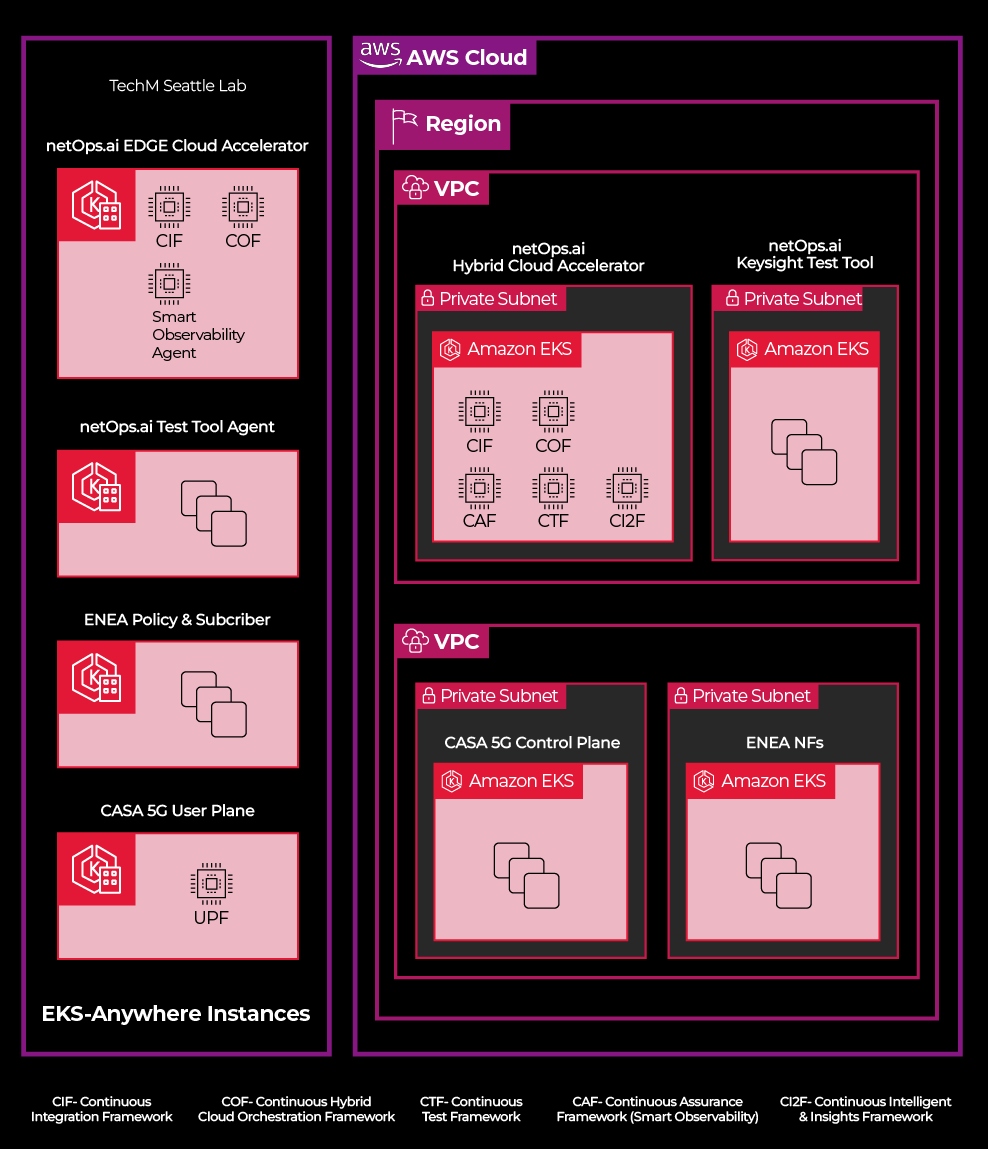 Let us Build a Fully Managed, Customizable AWS Telco Hybrid Cloud with our Automated Cloud Platform
Tech Mahindra and AWS have collaborated with Casa Systems and Enea to deliver a fully featured 5G core, which has the flexibility to be deployed on AWS VPC or on-premises bare metal infrastructure with AWS EKS Anywhere. netOps.ai can facilitate fully automated lifecycle management for the partner workloads and help the customers realize their 5G use case scenarios. netOps.ai has a reference model for deployment with our partners and can translate this immersive experience and tailor it to your business needs, whether it is a fully managed system or self-service system, it can be customized and automated for your needs and cost transformation models.
About the Author
Tulasi Ram Bora is a Chief Architect and Engineering Head, netOps.ai at Tech Mahindra with 15 years of experience in network services. He is a professional with a passion for enterprise applications architecture, micro services, cloud-native engineering, and intelligent operations, with a focus on performance, resiliency, and scalability.
Krishna K Bellamkonda is a Principal, Partner Solutions Architecture, Global System Integrators(GSI) Telco, AWS. He is a proven technical leader with over 18 years of progressive experience in wireless systems engineering, intelligent automation, innovation, connectivity solutions and products. Specialties include 4G and 5G wireless technologies, vRAN, applied AI/ML, sustainability, software, design and architecture, systems design, testing, product management, and project leadership.