Enterprises today are adopting or starting to adopt cloud and microservices for hosting and running their applications. This adoption of cloud-native services, such as AWS, in the form of containers, serverless compute, infra as code among others creates too many unknowns across the application and infrastructure layer for traditional ITOps. Thus, forcing many monitoring commercials off the shelf (COTS) vendors to move beyond to observability. ITOps and DevOps now require a single view of application services and infrastructure so they can be equipped with the right observability solution to provide comprehensive solutions to capture system-wide visibility. Hence ensuring stable cloud and container infrastructure for modern apps. Most of solution from COTS vendors in the market poses challenges to customer in terms of ROI (value vs cost), licensing terms, complexity of usage among other things. While a fully custom solution becomes expensive to develop and maintain.
How Tech Mahindra Provides Flexible Solution With Unified View Through SMART
Built on top of AWS observability and telemetry services, Tech Mahindra's Smart Monitoring And Resolution Tool (SMART) 1.0 observability solution provides a single dashboard for all observability needs. In addition to the deployable model from AWS Marketplace, TechM takes a consultative approach that customizes the solution for the enterprise. It provides single pane of glass view, with all applicable source of truth, delivering valuable information, presented in a meaningful way – so operations team can resolve issues faster and make more informed decisions. SMART 1.0 deals with the three pillars of observability: logs, metrics, and traces to combine observability, artificial intelligence/ machine learning (AI/ML) algorithms, the right data sets, and other automation tools to get a complete picture of the systems being managed.
It categorizes the solution approach in three segments
Platform Spotlight: Full stack infrastructure observability
Application Spotlight: Single pane of glass for application segments with enriched tags and metrics
Error – Cause and Action Spotlight: Root cause analysis prompts, insights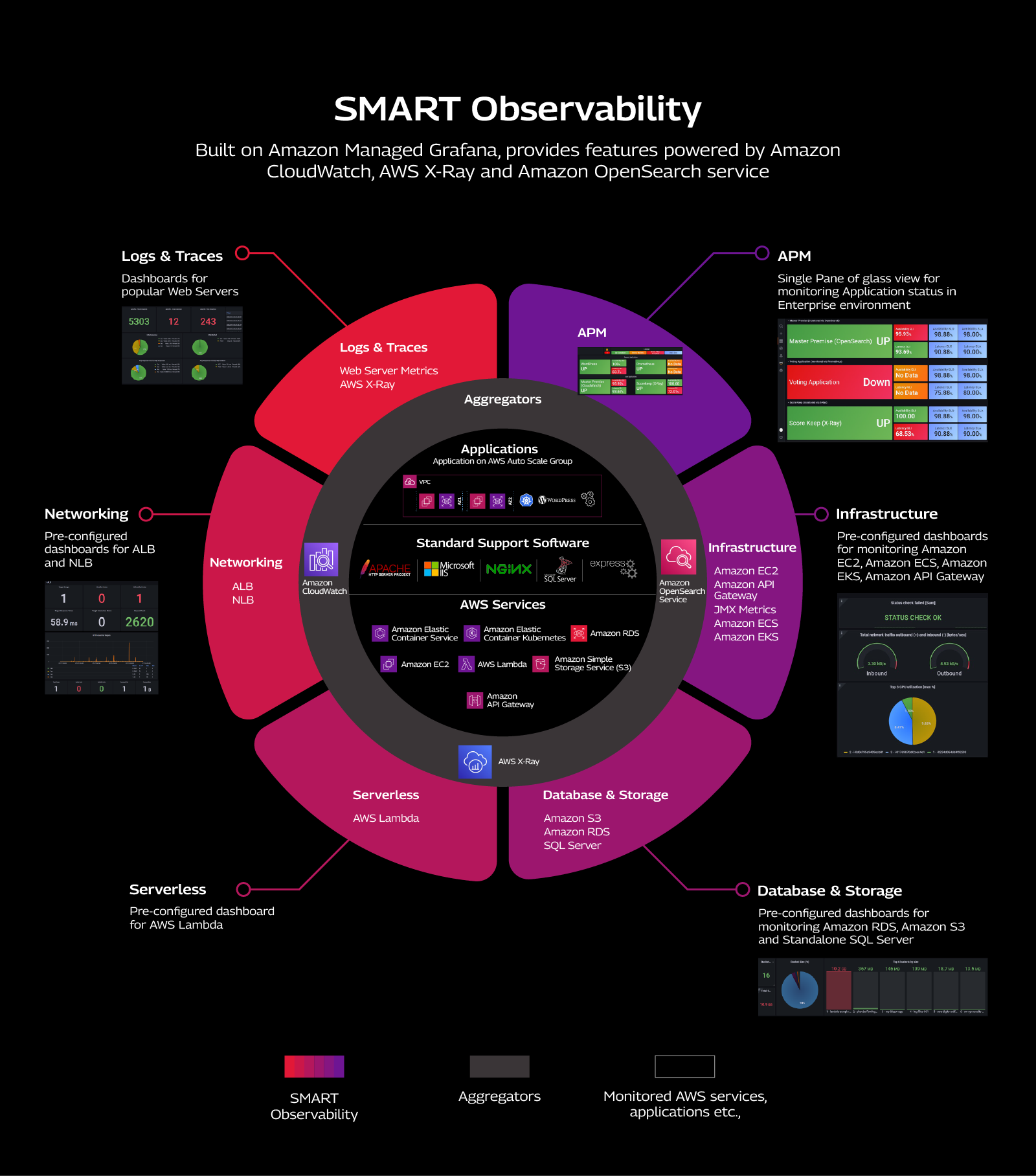 SMART primarily has 3 layers
Outer layer – SMART 1.0 Observability dashboards on Amazon Managed Grafana
Middle layer – AWS services for instrumenting applications and Infrastructure services
Inner Layer - monitored services, webservers, and applications.
Glimpse of SMART Dashboards
APM and Infrastructure - Pre-configured Dashboards provisioned to monitor Amazon Infrastructure as Code, Amazon Platform as a Service, Amazon Elastic Load Balancer, Amazon Network Load Balancer. Landing dashboard comprises of application status monitoring in enterprise environment to give quick glimpse of Application health.
Database and Storage- SMART cover dedicated database dashboards for monitoring Amazon RDS, Amazon S3, SQL Server. It helps in identifying any issues related to databases in three tier or microservice architecture.
Serverless - Many Organizations are going in serverless deployment and to address their challenge in the observability space we have pre-configured dashboards for AWS serverless services like Lambda.
Networking – Networking is key component for cloud native deployment adoption in any organization and SMART has given equal weightage to monitoring Networking components. SMART has pre-configured dashboards for Amazon Application Load Balancer and Amazon Network Load Balancer with the relevant metrics to analyze and resolve any issues caused due to glitch in network layer.
Logs and Traces – SMART has unique IP in terms of tracking health of popular web servers like Apache and Jboss. There are dedicated dashboards for it and it can help application team in case of doing rot cause analysis (RCA).
A Faster, Smarter Services Management, and Monitoring Solution with SMART 1.0 Observability Powered by AWS Cloud.
Tech Mahindra and AWS have collaborated to build SMART 1.0 solution that covers assumptions, hypothesis, and discoveries to enhance the fact-based decision making. SMART 1.0 is an evolving observability and monitoring tool kit built on top of AWS services. Tech Mahindra foresees the benefits across:
Cost
Operational Efficiency
Application Performance Management
Adherence to SLAs
Here are some of the application scenarios that testify the usability of SMART:
Single pane of glass view for Monitoring in a complex distributed system landscape

Migrations and Modernizations are conducted for complex customer environments where KPI's from large numbers of applications need to be captured and analyzed. SMART offers Single Pane of Glass view across AWS services and external data sources as well as SRE Metrics.
Consolidated data monitoring, aggregation and metrics reporting in hybrid cloud scenarios

When there are applications running in a hybrid cloud environment–such as a combination of AWS public cloud and on-premises infrastructure–it's important to not only monitor across all the different domains but also to correlate those insights back to the business.
SMART uses Amazon Managed Grafana for visualization which can be integrated with multiple data-sources, ticketing tools, alarm channels like Slack, Teams, Email or easily integrated to SNS.
Proactive management of platform security and enabling intelligent DevSecOps

SMART provides customizable DevOps and SLA metrics dashboard based on goals and SLA's terms. Based on the account, user can see the DevOps dashboard where DORA metrics and other metrics related to deployments, change and success rates are plotted.
Longer term application performance trending and optimization

SMART has pre-configured built-in dashboards for multiple AWS services. These can predict lack of resources, or a system running out of capacity in case of any major activity like new product or service launch, festival sales etc.
Data driven Troubleshooting and Improved SLA Adherence

SMART provides support for Modern Application health status (slowest transactions & common errors). Productivity of developers increases – percentage of time spent in bug and defect fixes reduces. Early detection of issues – helps avoid negative customer feedback.
Low code configuration deployment and cost optimization

SMART is an easy to deploy product which offloads workload for DevOps resources in terms of understanding and deploying configuration/code changes.
SMART provides lot of flexible pricing model with no lock-in period. We estimate savings from 50% to 60% compared to commercial tools in market.
Building SMART Enterprises
SMART is an easily configurable tool with no lock in period. SMART has been designed in a way that it doesn't force enterprises to search for any additional DevOps skill set for implementing and using it. SMART comes with an affordable pricing.
SMART future releases comprise of abstractions that correlate data from metrics, logging, and tracing systems to provide additional contextual information for troubleshooting. The roadmap includes support for intelligent automated RCA and issue resolution, by detecting deviations in metrics for various use-cases to help speed up incident response.
About the Authors
Harish Sidenur
Program Delivery Head, Cloud, Tech Mahindra
Harish Sidenur leads the Platform Engineering team and Enterprise architect, Cloud Native Engineering at Tech Mahindra. Harish has over 26 years' experience. In solution architecture, design and deployment of enterprise solutions and project/product/platform delivery leadership across technologies and domains.
Kunwar Naveen Singh
Product Manager, SMART Solution, Tech Mahindra
Naveen is a Cloud Solution Architect with background in GCP/AWS/Mainframe. Now he is spearheading the SMART Observability Toolkit that we are building with AWS. He also oversees the initial accounts where we are implementing SMART observability.
Nitin Chahar
Sr. Partner Solution Architect, AWS
Nitin Chahar is a Senior Partner Solutions Architect at AWS in EMEA. He has several years of experience in implementing large scale NexGen solutions to drive innovation for clients across healthcare, manufacturing, banking, and financial verticals. He works with global system integrator (GSI) partners to help customers succeed with their cloud journey by providing strategic and architectural guidance aligned to their business objectives.