London, 10th June, 2023:
The Global Chess League, the world's first and largest official franchise league of its kind, continued its multi-city chess flash mob tour with an exciting event in London's Russell Square Gardens on the afternoon of Saturday, 10th June.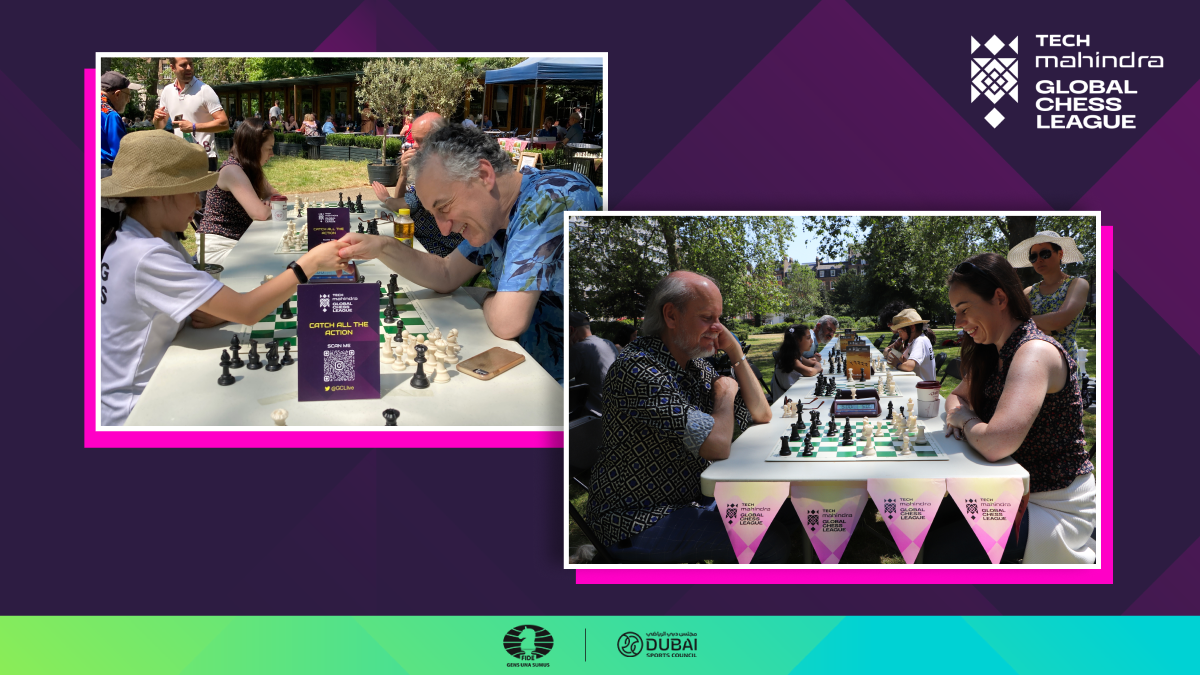 The meet-up offered the unique opportunity for chess enthusiasts and members of the public to 'Challenge the Chess Master' in a game of speed chess against legendary English Grandmaster, International Master and commentator Stuart Conquest and author, chess influencer and International Master Malcolm Pein, who also hosted the day's activities. Participation was open to everyone free of charge, with prizes awarded to winners.
The setting was Russell Square, a beautiful early 19th century public square in the historic Bloomsbury district, famed as a cultural and intellectual hub at the heart of central London. The park boasts a dedicated chess area after three concrete chess tables were installed last year adjacent to Caffè Tropea. There was a fantastic turnout, with 50 people playing simultaneously at all times and over 200 attending across the afternoon.
This builds on the success of the recent flash mob in Mumbai, with further events planned in Berlin and Paris, as part of the build-up to the inaugural season of the Global Chess League, which will take place from 21st June - 2nd July in association with the Dubai Sports Council. The league will feature renowned chess players, including Magnus Carlsen, Hou Yifan, Viswanathan Anand, Ian Nepomniachtchi, among others.
Thomas Glen, a 27 years old member of the public, said, "The chess flash mob was full of energy, and the speed chess tournament was the main highlight of today's event. The Global Chess League is a fantastic initiative by Tech Mahindra and FIDE. It will serve as a catalyst for inspiring the next generation of players. I am looking forward to Global Chess League."
Jagdish Mitra, Chairperson of the Global Chess League Board said, "It was brilliant to see such enthusiasm and great participation at our London chess meet-up, demonstrating how the popularity of chess is growing, attracting more fans and learners eager to try it. This is just the beginning as we set out to transform the chess world with our newly launched Global Chess League, a one-of-a-kind initiative with a never-before-seen format that we're taking global."
Global Chess League recently held the first draft for its inaugural edition, in which 36 of the world's best chess players were drafted by six franchises: Ganges Grandmasters, Triveni Continental Kings, SG Alpine Warriors, Chingari Gulf Titans, upGrad Mumba Masters, and Balan Alaskan Knights. The players were divided into four categories: Icons, Superstars Men, Superstars Women, and Prodigies.
About Tech Mahindra Global Chess League:
The Global Chess League is the world's first and largest official franchise league of its kind, with chess players from all over the world competing in a unique joint team format. It is a joint venture between Tech Mahindra, a part of the Mahindra Group, and FIDE. GCL will feature male and female chess champions competing in the same team. Playing on the popular Rapid format, the league's joint male-female teams will have the rare distinction of being a unique multiplayer team in the world of professional sports. In addition, the League will be the first ever Live televised chess event of its kind that will help offer fans a unique viewing experience. Tech Mahindra and FIDE will explore innovative ways to promote the game through interactive technology-enabled platforms by leveraging next-generation technologies such as 5G, artificial intelligence, and virtual reality, among others.
For more information on the Tech Mahindra Global Chess League, visit https://globalchessleague.com/
For more information on Tech Mahindra, please contact:
Abhilasha Gupta, Global Corporate Communications and Public Affairs
Email: Abhilasha.Gupta@TechMahindra.com; media.relations@techmahindra.com
Media Contact
Global Media Relations
Media Kit