New Delhi/ Nagpur – 13th April, 2023:
The Hon'ble Union Minister of Road, Transport, and Highways, Shri Nitin Gadkari Ji and the Hon'ble Deputy Chief Minister of Maharashtra, Shri Devendra Fadnavis Ji, visited Tech Mahindra's new digital delivery centre in Nagpur. CP Gurnani, MD & CEO of Tech Mahindra was also present during the visit along with other key dignitaries.
During the visit, Shri Nitin Gadkari ji and Shri Devendra Fadnavis ji interacted with the management team of Tech Mahindra to understand the companies' technological capabilities, cutting-edge solutions that are being worked upon, and its expansion plan.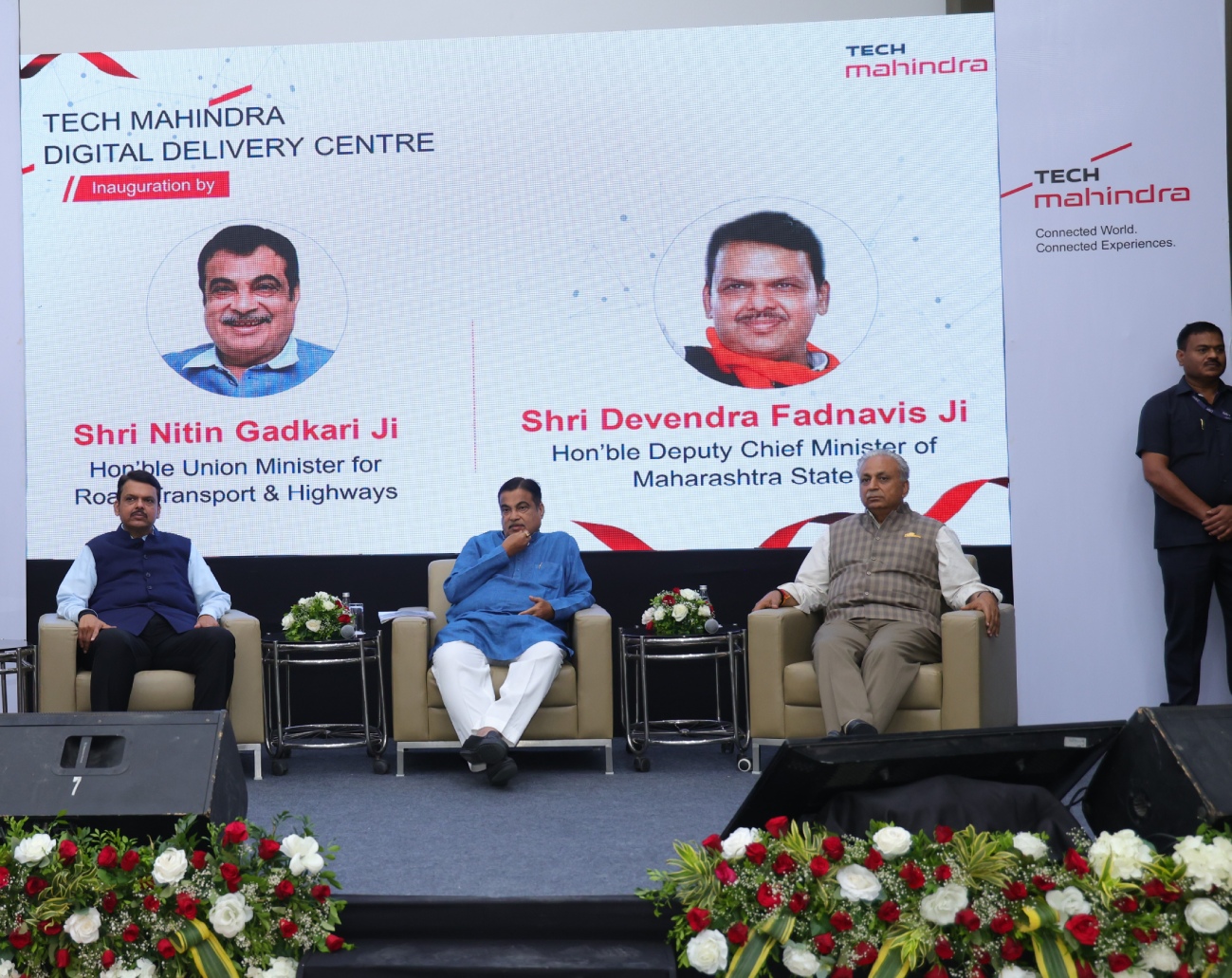 On the occasion, Hon'ble Union Minister of Road, Transport, and Highways, Shri Nitin Gadkari said, "As India is set forth on its vision to become a five trillion economy, cities like Nagpur can play a significant role in achieving this goal. Over the last few years, we have brought renowned educational institutes to Nagpur to transform it into a knowledge hub and now we are happy to welcome corporates like Tech Mahindra to the city to unlock the huge opportunity that the city offers especially for the IT industry owing to a robust infrastructure and skilled workforce. We believe that strategic initiatives like these will provide numerous skilling and job opportunities for the budding youth of the city."
Hon'ble Deputy Chief Minister of Maharashtra, Shri Devendra Fadnavis, said, "With 25 unicorns in Mumbai and over 30,000 start-ups registered in the state, Maharashtra has become the start-up capital of India. Now, to become the next business hub, we are creating adequate and affordable infrastructure with immense opportunities for enterprises. The Tech Mahindra digital delivery centre will be a crucial addition to our vision for Maharashtra. The new digital delivery centre will open new avenues of job opportunities for the budding youth of our nation."
CP Gurnani, Managing Director and Chief Executive Officer, Tech Mahindra, said, "Nagpur is transforming into the next digital hub in India, powered by Maharashtra's focus on Ease of Doing Business, presence of superlative infrastructure, and availability of skilled workforce. At Tech Mahindra, we are committed to unlocking the opportunities in India's tier II cities, while also ensuring stellar global customer experiences and seamless delivery of innovative solutions. We thank Shri Nitin Gadkari ji and Devendra Fadnavis ji for gracing the centre with their visit and for their consistent guidance and support in our endeavours."
Connect with us on www.techmahindra.com

Our Social Media Channels Facebook Twitter LinkedIn YouTube

For more information on Tech Mahindra, please contact:
Abhilasha Gupta, Global Corporate Communications and Public Affairs
Email: Abhilasha.Gupta@TechMahindra.com; media.relations@techmahindra.com
Media Contact
Global Media Relations
Media Kit