Posted by: Shailesh Patwardhan On July 07, 2020.
One OSS
It wasn't very long ago when everyone was doubting future of Operations Support Systems (OSS) with the emergence of NFV and entire MANO/Orchestration ecosystem around it. Extreme views were put forth stating; there is going to be an end of OSS era!
OSS has evolved from the ITU TMN FCAPS days to today's highly sophisticated cloud native, Micro services architecture based, real-time systems. This evolution to this date is largely incremental, preserving its core characteristics and principles – plan & build networks, provision services and operate networks/services.
So the question is where does OSS go from here?
As 5G/Network-as-a-Service becomes mainstream, network operations need a quantum leap forward. towards achieving the web-scale operations tenets. OSS that is going to enable these operations needs to be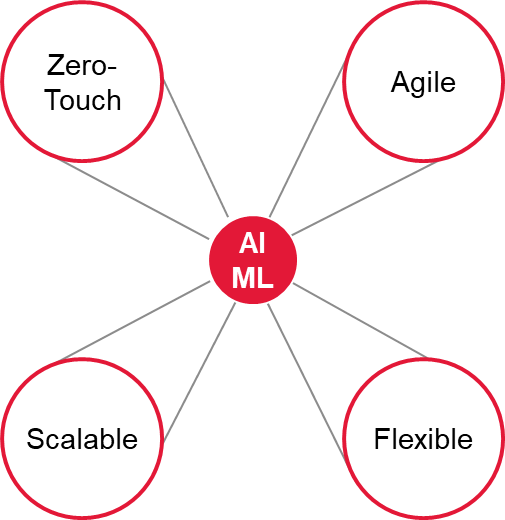 Figure (a): 5G Operations – a quantum leap forward
Zero-Touch, which couldn't be described better than what's stated in a TM Forum Article - "Tomorrow's network operations center will have only a man and a dog, the man will be there to feed the dog, and the dog will be there to make sure the man doesn't touch any of the computing systems".
Agile to support rapid change. 5G networks are inherently cloud-native, where rolling out new features/changes at a faster pace is critical for the differentiation. Hence The OSS needs to be able to keep pace with the network changes/features to operationalize them quickly.
Flexible, so that emerging 5G architectures using private or public clouds, edge data center locations, and VNF/CNF can be on-boarded quickly in the OSS. Furthermore, a flexible OSS will also be an enabler to emerging 5G Business Models.
Scalable to be able to manage massive number of devices, connections, applications, and traffic volume to ensure the services running at the desired levels and customer experience is ensured.
Last but the least, OSS needs to drive its functions using an embedded Intelligence (AI/ML) to make the operations predictive so that critical events are preempted and automations can be executed based on cognitive decisions.
So, having looked these characteristics, it's clear that repurposing or incrementally evolving the existing OSS is just not going to be adequate. Yes, its an end of OSS era or more accurately end of OSS as we knew thus far. This calls for a radically new approach to OSS, which we call as One OSS.
Let's look at important system characteristics of One-OSS and see if it fits the demands of achieving web-scale operating tenets described earlier.
One Platform – Traditionally OSS functions have implemented through separate OSS applications or stacks, which meant the single-view of the networks wasn't readily available for rapid operational decision making. Integration did solve the problem to an extent. But for 5G we need to move away from "integration or pre-integration" to "unification or One Platform". Only One Platform approach can provide e2e context and visibility to enable use cases such as self-healing of a failed VRAN CU/DU site.
Modern Architecture - Model-Driven, Micro-Services, Open-Source, Cloud-native OSS architecture are the essential mantras of Agility. When coupled with DevOps/SRE automation, will bring a step-change is Service Velocity
AI/Ml and Analytics Native Architecture – Legacy OSS looks at Analytics & AI/Ml as an adjunct function, which prevents its true power from getting fully realized. Whereas native Analytics & AI/ML architecture enable real-time insights, seamless learning & prediction across the functions.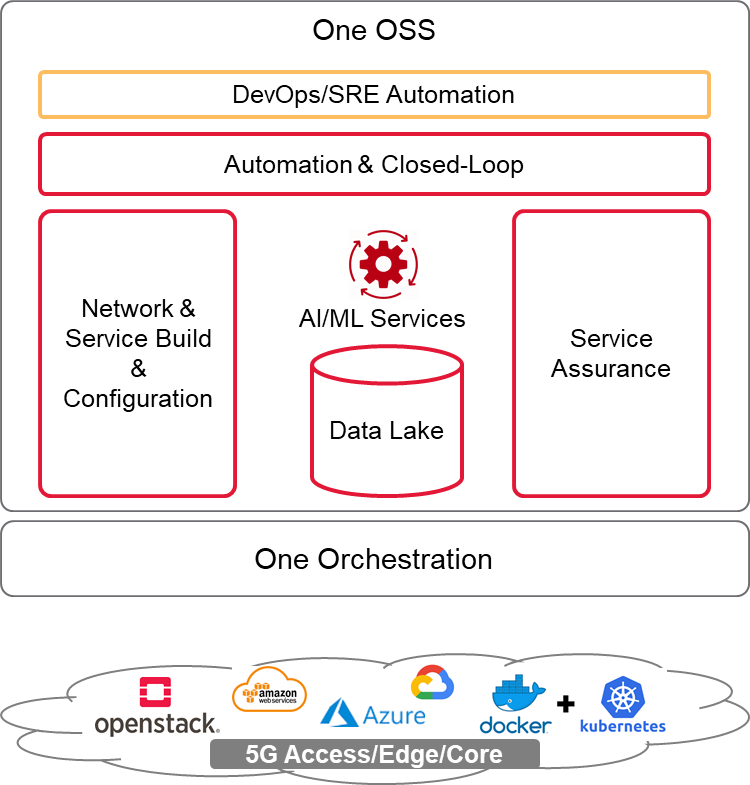 Figure (b): New Approach 5G Operations – One OSS
One-OSS is our vision for Future of OSS that enables Communication Service Providers (CSPs) meet the hyper-automation demands of 5G service lifecycle.
To summarize, OSS as we knew over the years has reached its end and the future is One-OSS.
About The Author
Shailesh Patwardhan, Enterprise Consultant
Over 22 years of extensive experience in Solutions for Telecommunication Networks, Operations Support Systems and their Integration. Shailesh is a lead consultant for OSS Transformation consulting for various service providers including Tier-1 incumbent operators. His primary area of expertise is Consulting, Solution Architecture and Design for Service Fulfillment, Assurance, Inventory Management and Network Policy Control Solutions for a wide variety of networks and services.