Posted by: Carolyn Rostetter and Rajesh Kambaladinne On July 03, 2020
Ramp-Up of Production Facilities after Covid Lockdown in Safe & Reliable Manner
The world has been under lockdown and many manufacturers related to non-essential commodities have been forced to stop their production. The majority of countries are gradually lifting the lockdown and allowing manufacturers to start their production activities again. But to make any production facility is operational after a prolonged outage, plant managers have to carry out certain inspection and maintenance activities to avoid any catastrophic failures. This process is similar to a turnaround/shutdown/outage management process, which manufacturers carryout at regular intervals in the normal course of business to maintain their critical assets. But according to the current situation, making the production facility COVID proof is an added critical requirement.
Manufacturers will face following challenges to make plants operational post pandemic recovery:
Carrying out mandated tasks to make equipment and facilities ready for operations like inspection activities, cleaning, lubrication & repairs as needed and equipment trials to ensure reliability and safety
Availability of workforce - both inhouse & contract workers - to carryout above mentioned tasks and their health status. Manufacturers have to ensure that no person having tested COVID positive has entered the plant or other related premises, such as corporate offices
Enforcing the mandated social distancing rules in the workplace in addition to ensuring the employee safety from other workplace hazards like heat exposure, confined space, gas emissions, etc.
Start-up of plant operations without proper inspection of equipment can cause catastrophic failures leading to huge losses, sometimes endangering human life. Any delay in turnaround has a huge impact on the production plan thereby causing delays in fulfilling the customer orders or even loss of orders. For example, one day's loss of production in a 4000 tons-per-day cement plant amounts to approx. $350K USD. In the case of an automobile plant having capacity of 480 vehicles/day, the estimated losses are up to $410K USD.
The goal of manufacturers is making their production facilities operational ready in a very short time span and at the earliest possible without comprising safety and reliability. A smart turnaround management solution can help manufacturers in achieving this goal. The solution components include:
RAMP Readiness: Solution to plan, schedule and execute the mandatory tasks for making production facilities ready, including disinfection of buildings, shop floor, equipment inspection, lubrication, cleaning activities and mandatory overhauls of critical equipment, etc. End to end visibility is required across the work management process - starting from planning, assigning the tasks, and tracking the progress and completion - all with well-defined workflows, approvals, and audit trails to record the execution and proof of inspection. Another feature is to check and keep track of changes to employee health condition in the wake of COVID-19.
Critical chain project management (CCPM) : Framework based on Theory of Constraints (TOC) principles for optimizing the above turnaround schedule. CCPM methodology allows manufacturers to complete their turnaround activities as per schedule, sometimes even ahead of schedule.
Connected worker solution: Screening the employees at plant entrance gate as well as monitoring on the shop floor for their safety and productivity and enforcing the social distancing norms while working. This solution will also help to monitor proximity between people for social distancing, and people and machines to prevent accidents in machine running condition, and analysis of the worker's productivity while on the job.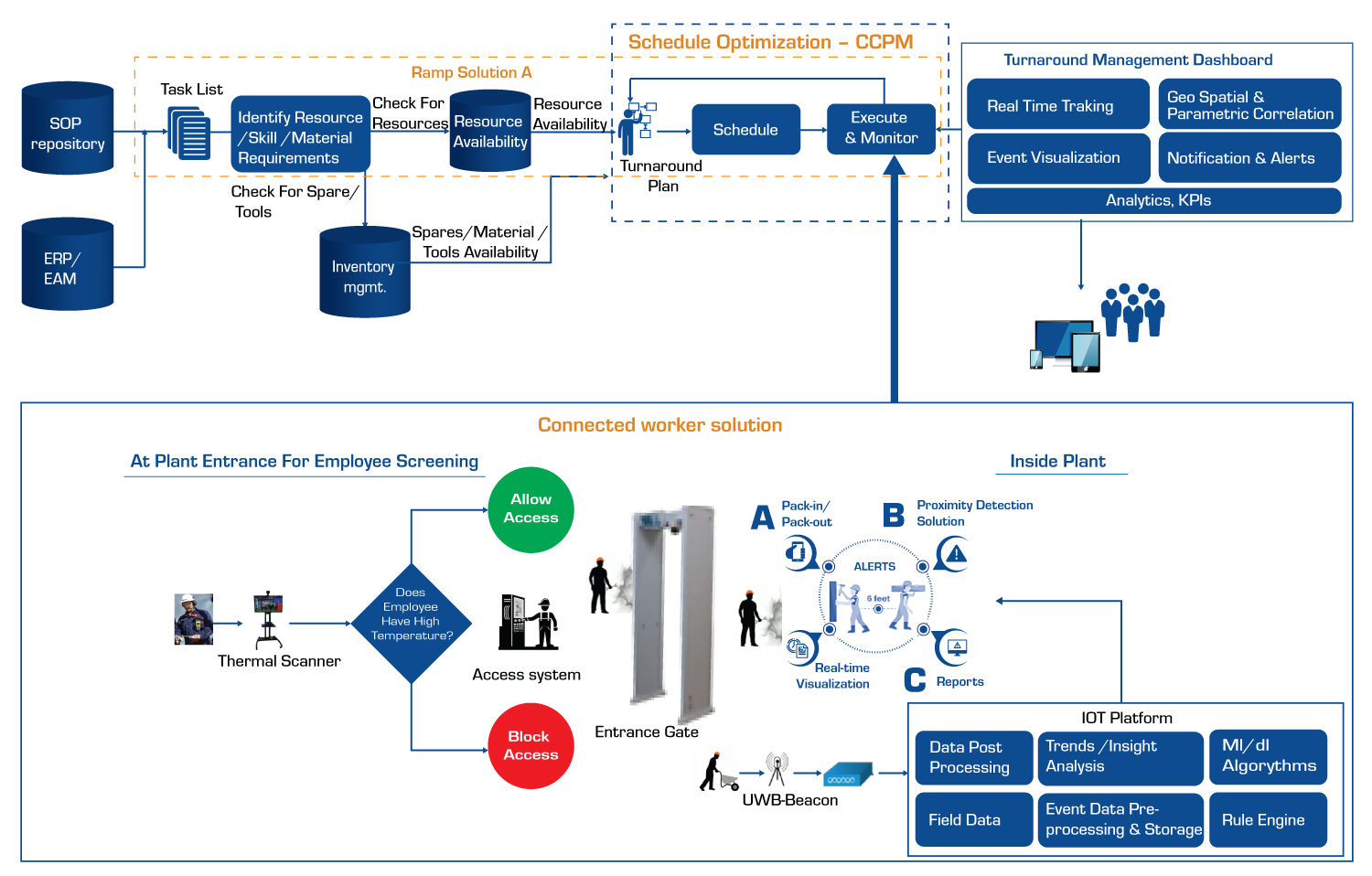 Smart Turnaround Solution
The benefits of a smart turnaround management solution include faster ramping of production facilities, enhanced worker safety from both the COVID-19 pandemic and an occupational hazard perspective. This solution can serve as tool for audit compliance.
Our experience with multiple asset intensive industries for turnaround schedule optimization shows the savings in the range of 10-20% through schedule optimization by applying CCPM techniques alone.
To learn more about how Pega and Tech Mahindra are helping manufacturing clients:
https://www.pega.com/crisis-response/manufacturinghttps://www.pega.com/crisis-response/manufacturing
https://www.pega.com/services/partnerships/tech-mahindrahttps://www.pega.com/services/partnerships/tech-mahindra
https://www.pega.com/insights/resources/tech-mahindra-manufacturinghttps://www.pega.com/insights/resources/tech-mahindra-manufacturing
About The Author
Carolyn Rostetter
Carolyn Rostetter, senior director and industry principal for Pega's Global Manufacturing, Automotive, and High-Tech markets, helps clients increase productivity, streamline operations, and provide outstanding customer experiences through digital transformation
Rajesh Kambaladinne
Rajesh Kambaladinne is a principal solution architect for manufacturing vertical of Tech Mahindra ,helping the customers in achieving manufacturing excellence through digital transformation and domain expertise.